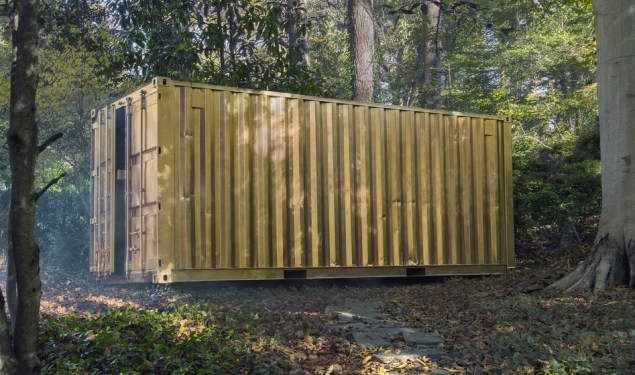 Scientists haven't quite nailed teleportation yet, but one artist has gotten very close. Artist Amar Bakshi's public art project Portals allows viewers to "teleport" to select locations around the world virtually, and converse with strangers face-to-face.
Since December 2014, Mr. Bakshi has been connecting thousands of people in five global cities: New York, New Haven, Tehran, Herat, and Havana. The artist has created a series of "portals" using specially-designed, gold-plated shipping containers decked out with audio and video technology. Inside, viewers can live video chat for 20 minutes at a time with anyone located at one of the sister portals—all you have to do is sign up online for an appointment.
"They're taking 20 minutes in a space," Mr. Bakshi told ABC News, "to do nothing but admire, appreciate or dislike another human being as a piece of art." Whether the participants end up singing, dancing, or simply chatting, is up to them.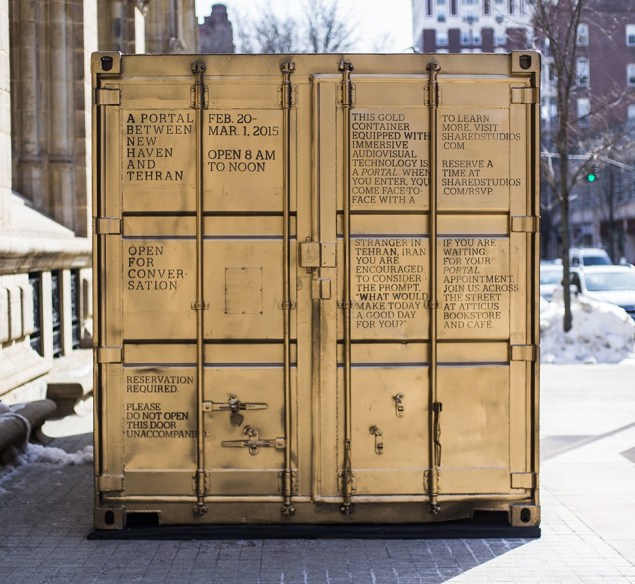 But Portals has also received some criticism. Since a few of the containers have been placed in countries with restrictive governments, "Some people disapprove of engaging people in Cuba or Iran because they disapprove of the government," Mr. Bakshi told the Observer. This, however, defeats the purpose of Portals; the shipping containers were placed where they are based on interest, he said, not politics. "We want to be radically inclusive."
"We have people that come in that have not spoken to someone of the opposite gender in a room before," Mr. Bakshi told ABC News. "They do it here. And it's OK because it's not the same room."
Mr. Bakshi received a law degree from Yale in 2015, and is the founder of Shared Studios, an art and technology collective that focuses on global communication among disparate cultures.
In October 2015, the artist plans to open a new portal in an undisclosed gallery in Chelsea, he told the Observer. He also hopes to bring the project to more remote, underdeveloped areas, such as Khartoum, Sudan.