No idea what products to use on your hair, and sick of endless searching and experimenting with crappy products that turn your hair to straw, or a tangled rat's nest, or a terrifying mixture of both? Thankfully, a new subscription box service à la Birchbox has you covered.
Launched this morning, a new service called The Match-Up delivers monthly boxes of full-size hair products, all expertly tailored to your own personal needs. The self-proclaimed tech-first service, powered by an algorithm, uses a 12-question survey—How long is your hair? What is the thickness of your hair? Do you highlight your hair?—to determine which products will suit you best.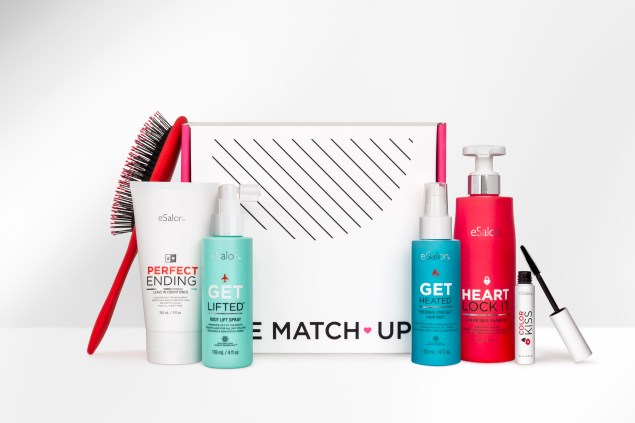 "It's a very smart system," said Francisco Gimenez, CEO and cofounder of eSalon, the company behind The Match-Up.
The $30-a-month service is so smart, it even knows when to replenish certain products based on how often you use them. Someone with a short 'do who washes her hair every other day might only need a bottle of shampoo every three months, Mr. Gimenez explained, whereas someone with long hair who works out and shampoos every day might need a new bottle on a monthly basis.
"Argan oil, you might only need every six months," Mr. Gimenez continued. "They'll know based on your hair length and styling habits."
The Match-Up doesn't require you to let its algorithm choose your products for you. Those who shy away from "Discover" mode can opt for "Manual" mode, which lets you choose the exact products you'd like to receive in each monthly shipment.
The Match-Up is powered by eSalon, a beauty ecommerce site known for matching clients with customized at-home hair color. The company's flagship offering, Made For Your Hair Color, boasts over a million shipments and pulled in $17 million in revenue last year.
So what types of products can you expect in your Match-Up box? There are items that style, volumize, repair damaged hair, and help maintain color treatments. There are also products for brows, as well as styling tools like brushes and shower caps.
"We're giving people the same type of professional products they'd find at high end salons," Mr. Gimenez said, "but going directly to consumers."