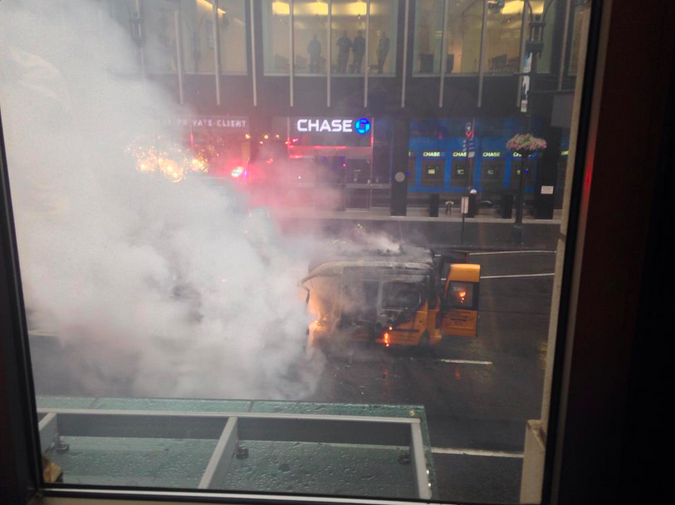 Earlier this evening, a taxi cab burst into flames in front of the Chase Bank branch on Madison Avenue between 47th and 48th Streets.
Nick M, who works in a nearby financial firm on the West side of Madison Ave, is "one of *those* finance types who refuses to have his name be Googleable so he asked not to have it printed in full."
Nevertheless, he bears witness to the chaotic scene, where the minivan style yellow cab continues to smolder:
"Apparently there was an electrical fire, maybe under the dash? The entire cab went up in flames right on Madison. It was like war-zone levels of car fire. The carcass was still there between 47th and 48th around 9. I looked up from my window and saw a shit load of smoke and was really afraid the building was on fire. The car was totally engulfed. By the time I got down there, they were half through putting it out."
Shortly after the fire erupted, FDNY had arrived on the scene to bring matters under control. Note how many Chase bankers are still hard at work after 9 pm, breaking only to watch the action in the street.
So there you have it. Given the bad blood the Observer has chronicled between the taxi industry and the ride-sharing apps, look for both sides to tweet-blame each other for the mishap.