Uber (UBER) has found itself fighting the city once again.
Today, the Council Transportation Committee introduced a bill that would limit the number of licenses handed out to for-hire vehicles drivers. Worried about its future, Uber made itself heard on the steps of City Hall.
The bill, backed by Mayor Bill de Blasio and sponsored by various city council members like Stephen Levin, Ydanis Rodriguez, and Costa Constantinides, would require the Taxi and Limousine Commission (TLC) to temporarily limit the issuance of new for-hire vehicle licenses, a total nightmare for Uber, Lyft, and their competitors. Licenses would be limited through the completion of a study on the impact of growth in the taxicab and FHV industries on the environment, or until August 31st of 2016, whichever comes first. The study would focus on the FHV industry's effect on traffic, air quality, and noise.
The timing of the proposed bill, intended to limit how much car services grow in an effort to control congestion, comes a month after the TLC threatened to interfere with app design, even though they backed out of that idea about a week ago.
In highly organized fashion, Uber supporters lined up on Broadway to get into City Hall grounds around noon on Tuesday. Although most in line were drivers, some passersby joined after being offered free t-shirts and sandwiches to protest. The Observer reached out to various drivers for comment but requests were declined. Supporters entered the grounds five at a time and joined the protest once they passed the security check point.
Notably, Uber also used its own cars to get participants into the protest. The company offered free uberPOOL rides to and from City Hall between 10:30am and 2:30pm.
According to Uber's New York's General Manager Josh Mohrer, who spoke at the protest, the proposed bill doesn't make any sense. Sure, City Hall is right to be concerned about congestion, but the problem here goes beyond that. Mr. Mohrer believes that Uber is being targeted—it actually makes up less than one-percent of the daily 2.7 million cars on the road in New York every day.
Mr. Mohrer defended Uber as one of New York City's best job opportunities, and said that if the bill is passed, Uber would only be allowed to add 200 vehicles in the next 14 months. Every week, 25,000 New Yorkers take their first Uber ride, he told the crowd.
"We project that over 10,000 such new drivers will join Uber in the next year," Mr. Mohrer said. "This reflects one of New York City's best job opportunities at a time when city unemployment is higher than the state's and the nation's. The bill being heard today would limit Uber to adding only 200 vehicles in the next 14 months. That means 9,800 of those job opportunities will be lost."
Since June 15th, two weeks ago, over 500 new FHV licenses have been issued, and over 900 appointments have been made for licenses appointments.
In a statement released today, Uber claims that it's actually "proactively working to reduce congestion." Through uberPOOL, Uber's ride-sharing option, Uber has been trying to take nearly one million cars off the road. If the bill is passed, Uber says it would be harder for new drivers to offer congestion-relieving services to customers, the opposite of what the TLC claims it wants.
According to Mr. Mohrer, the bill would limit Uber's services in outer boroughs, where it is seeing its largest growth in rides, requiring the company to focus mainly on rides within Manhattan. In a statement today Uber said it would be "impossible to keep up with rider demand, making Uber as unreliable as a taxi in the outer boroughs, resulting in higher prices, longer wait times, and in some instances, no ride at all."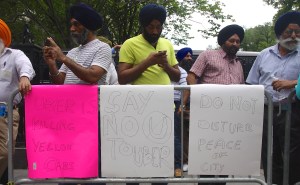 Throughout the protest, yellow cab drivers stood outside City Hall with signs rallying against Uber and told the Observer that, unlike Uber, they weren't allowed to go inside.
Jaspreet Singh, 34, who's been driving his cab for over three years, thinks companies like Uber are a disrespect to the taxi industry. Mr. Singh, like thousands of tax drivers in the city, paid over a million dollars for his medallion. He joined about 15 drivers outside, but said there were over 150 inside the City Hall hearing supporting the bill.
"Uber is ruining the yellow cab industry," Mr. Singh said. "There are no rules or regulations for Uber. This bill will put a cap on Uber, and right now, there is no cap. For yellow cabs, there's always a cap. There's been a cap since 1937."