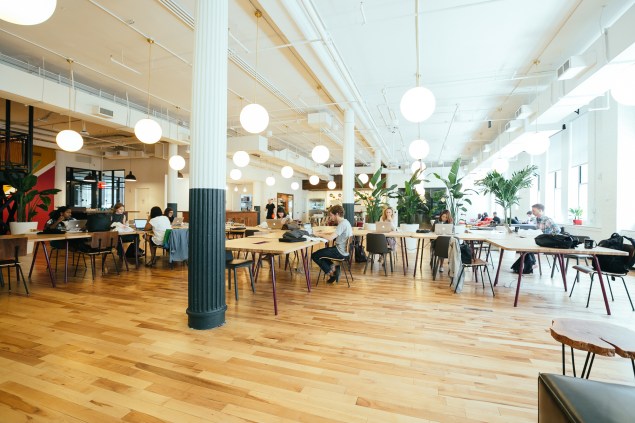 On Wednesday, the Observer reported that cleaners at WeWork facilities, who make less than half of what their union counterparts in the same buildings do, were launching a campaign to bring their wages and benefits in line with 32BJ SEIU maintenance workers.
The WeWork cleaners, who are employed by Commercial Building Maintenance, or CBM, which has a contract with WeWork to provide maintenance services for its co-working spaces, make on average $11 an hour without benefits, as opposed to the $23 an hour with benefits that union cleaners receive.
Today, 32BJ is claiming that a WeWork executive told CBM executives at a meeting Wednesday night that all the cleaners at WeWork locations should be fired for trying to organize. "Someone at that meeting sent 32BJ the executive's comments in writing and that is the basis for that charge," according to 32BJ spokesperson Rachel Cohen.
WeWork denies the allegations. "This allegation is false… We absolutely did not and would not threaten the employment of any one who works at one of our locations because of any union activity. Moreover, since all of these individuals are employees of our contractor, we do not even have the right to terminate their employment," a spokesperson for WeWork said in a statement.
32BJ says yesterday it filed an unfair labor practice complaint with the National Labor Relations Board; a WeWork spokesperson said the company had not received any charge from the NLRB.
WeWork, which has a $5 billion valuation and 15 New York locations, has been praised for its forward-thinking ethos and identifies its mission as "to create a world where people work to make a life, not just a living."
According to 32BJ, if CBM, a small, non-union shop, recognized its workers as 32BJ members, they would be covered by an industry contract with starting pay of $18 an hour and $23.98 an hour for more experienced cleaners, as well as full benefits. The vast majority of commercial office cleaners in the city are unionized: 90 percent of workers across the five boroughs and 98 percent in Manhattan are union members, according to 32BJ.