Efva Attling, designer of the most recent watchface for the Android Wear watch series, has a gripe with the way we approach time. "In the Western world, we say that time is passing and we are stressed out by the fact that time is slipping away. In the East, the expression 'time will come' gives a more relaxed and peaceful way to consider time," she claims.
Her design for Android Wear, available at Google Play, is meant to emphasize this particular Eastern approach to the notion of time. For every 10,000 steps the watch wearer takes, one of Efva's philosophical, free-thinking mantras materializes on the watch face. The wearer is meant to keep track of time traditionally, while embracing Ms. Attling's fortune-cookie-esque concept of chronology.
"There was a period in my life when I was running too fast, making decisions too fast, it was such a stressful time. I met this wise woman who taught me, time will come. To sit back and not to force things. In this digital world, it was a reminder to seize the day. It made me take a breath," Ms. Attling told the Observer in an email. And thus, in her proverbial way, she is attempting to encourage the wearers of this watch to do the same.
Ms. Attling, a native Scandinavian raised in Stockholm, is renowned as a jack of all trades – she has worked extensively in the modeling business, the music industry, and the editorial world, only to settle in on jewelry design. With seven stores spread across Sweden and the United States, including one in New York's Meatpacking District, she has clearly built her empire successfully within the design sphere. She refers to her pieces as "beauty with a thought."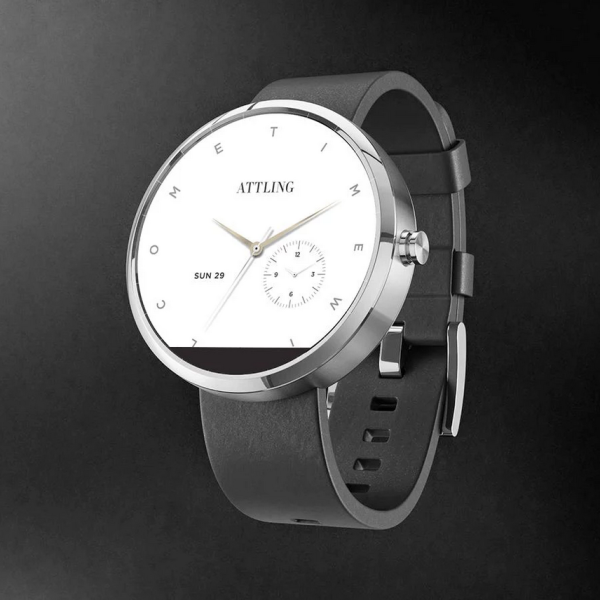 The watch face is simply a digital remodeling of Ms. Attling's best selling watch series entitled Time Will Come. It comes in black, white and pearl, with gold or silver hands available for two time-zones at any one time. Produced by Mediamonks, the watch face can be downloaded for free, for current owners of an Android watch.
Following the release of the Apple watch, Android was quick to produce a smart-watch of their own. According to Android Wear, wearable technology is the next major step for tech developers worldwide. Ms. Attling's design, however, serves not as a mantra for accelerated, forward thinking, but rather, emphasizes the importance of slowing down – of remembering that "time will come."