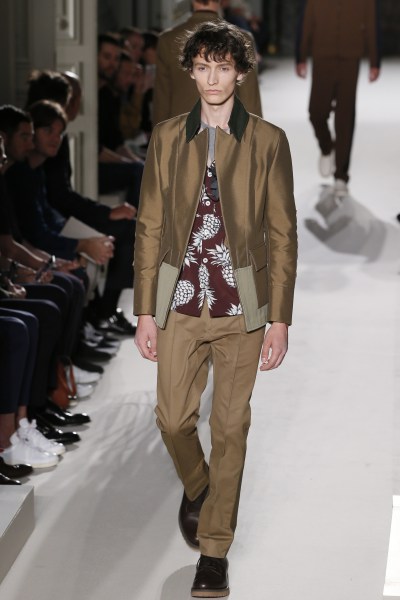 Forget about the fact that the front row for Valentino's Spring 2016 show was dominated by a duo of former boy band members, as Joe Jonas, of the Jonas Brothers and Zayn Malik, formerly of One Direction, vied for the spotlight. Our attention today was on the runway. And this season there was no shocking Zoolander cameo. Instead, tropical delights were abound. Most notably, the pineapple.
Emblazoned on leather clutches and pouches that were fastened at the waist or accenting a pair of espadrille/sneaker hybrid shoes, this fruit stole the show. A pineapple silhouette was also splashed across short-sleeve button-downs, which would remind some of the Hawaiian shirts that dads tend to wear on vacation. But alas, this is Valentino. When layered under another button-down shirt, this time in baby blue leather and paired with a crisp pair of khakis, the look was more fitting for the streets of Paris, France than a Holiday Inn near Paris, Texas.
Sweet fruit aside, the Valentino runway was also ablaze many outstanding jackets, which is not quite the norm for a summer collection. Silk bombers were printed with either hibiscus or orchid blossoms while a highlighter yellow take on the style was streamlined and simple. Army jackets were reinvented too, touched up with patches of various shades of green and the classic peacoat was spruced up with tribal embroidery.
As is expected for Valentino, the lengthy show included 74 looks. While some would beg for designers Maria Grazia Chiuri and Pierpaolo Piccioli to edit down their designs a bit, having too many options is a great thing when it comes to this particular brand.