Want to get to the High Line? The M3 and the M23 buses are old news. Now, you can share a SUV that'll pick you up on the Upper East, and it'll drop you off right in Chelsea, for the low price of $5.
Via, New York's ride-sharing startup, has announced that it has finally expanded its coverage zone, according to a statement from the company. The app is now operating between 14th and 110th streets in Manhattan, thanks to $27M the company received in funding earlier this year. Via CEO Daniel Ramot told the Observer on Thursday that this is only the beginning. The company plans on growing significantly over the next year. "This is the first in a series of expansions that we have planned through the rest of the year," Ramot said.
Sounds a lot like Uber (UBER) and Lyft, right? A ride that you book on your smartphone?
But here's the catch. Via has a more communal aspect. In fact, Via rides are almost always shared, sometimes between two people, but sometimes, between five, an experience that makes it different from competitors like Uber and Lyft, who offer mostly private rides. To get a free ride on Via, you'd have to get lucky, or unlucky, depending on if you want to share or not. "The whole way we look at it is a true shared economy service," Ramot said, "You're sharing your ride with other people."
Via launched in September of 2013, at the time, only providing service between midtown and the Upper East Side. Now, it runs from 110th to 14th. It's been out for a little less than two years now, but it's been offering New Yorkers thousands of rides a week. Over 60,000 members have downloaded the app and signed up for the service. All drivers, over 500 of them, are TLC-licensed and only drive black vans or SUVs. Today, Via, whose headquarters is in the city itself, also announced that it has reached 500,000 rides.
Ramot and his team have relied heavily on data to run the show, and the data they've collected over the past few years have always dictated their next steps, including this most recent expansion downtown.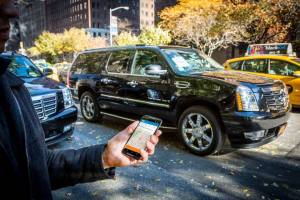 "We've looked at taxi data that we obtained from the TLC, just where taxis pick ups and drop offs happen in the city, and that informs us about demand and where we can expect demand," Ramot said. "We look at our own data. We get a lot of requests for service outside of our current zone, and we can see where those requests are most prevalent and we can project where there'll be a lot of demand."
The cost, like the ride, is split. On Via, users pay $5 a ride plus tax, if prepaid. If not, they'll pay $7 for a single ride. A ride on the subway or the bus is currently $2.75. Uber's minimum fare in New York is currently $8, and so is Lyft's.
But why would you choose Via if you've got the subway or a bus? After all, the MTA is cheaper, and don't New Yorkers share rides on the bus all the time? What's the point of Via then?
The answer, according to Ramot, is simple. Ramot believes Via is all about sharing and cooperation that makes it different from every all other transportation in the city. "There's this element of sharing that's really embedded in the service," he said. "We connect you with a seat, rather than with a car. You don't get the car to yourself. You have to walk a little bit to meet your driver, which helps make the whole system more efficient." For a little less than twice the price of a MTA subway or bus fare, Via shortens the gap between public transit and expensive luxury car services. You get the more luxurious aspect––a black SUV––but you also have to share your space with others.
The Via model is efficient. Relying on complex algorithms, somehow, usually under 10 minutes, every user is picked up. Via's algorithm uses GPS coordinates to match users with nearby travelers. That way, many riders get in the SUV and head the same way. It's a fancy 1 train. But unlike Uber and Lyft, your ride won't come to your feet. Sometimes, Via users have to walk a block or so to the driver. But according to Ramot, that's part of the whole community aspect of the app.
Ramot found the inspiration for Via in Israel. Ramot and Oren Shoval, Via's other co-founder, once led engineering projects for the Israeli military, and in Israel, citizens rely on shared vehicles called sheruts to travel quickly and inexpensively, mainly on busy roads.
Like Uber, Lyft and other transportation-service apps, Via has been in constant communication with New York's Taxi and Limousine Commission to make sure they're playing by the rules. The experience, Ramot said, has been very positive.
Ramos said he expects the service to expand to another city by the end of the year. He cited Chicago or Washington D.C. as possibilities. But first, Ramot wants the app to expand to all of Manhattan. Reaching Wall Street is immediate priority.