It's been quite the year for Viking Global Investor CIO Daniel Sundheim. He stopped having to share his title with co-CIO Tom Purcell at Viking, which manages some $24 billion in assets, and Institutional Investor finally named him to its Rich List.
Something else Mr. Sundheim and wife Brett won't have to share anymore: the 15th floor of 778 Park Avenue. Back in 2011, the couple scooped up the old Astor apartment at a huge discount (down from an initial $46 million ask to a mere $21 million), which comprised the entirety of the co-op's 16th floor, but only some of the 15th floor. We imagine that the Sundheims must have felt the missing piece keenly. After all, who wouldn't?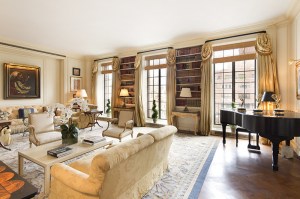 Fortunately, after only a few years of waiting, the couple has closed on the nine-room apartment downstairs for $28.5 million, according to city records, this one also at a steep discount—the spread, listed with Kathy Sloane at Brown Harris Stevens, had been asking $38 million since it hit the market last September.
But like the Astor apartment, the remainder of the 15th floor—nice as it sounds with a "wood paneled living room includes a wood burning fireplace and features three Juliet balconies, rare for Park Avenue and a special Candela addition, which welcome a nice breeze into the room"—was an estate sale. The place was most recently occupied by the late TV executive Roone Arledge and his wife Gisele, who died in 2002 and 2010 respectively, before the hot-shot hedge funder moved in upstairs.
For what it's worth, though, the Arledges had excellent taste and very gracious apartment. They left up the original bird and floral chinoiserie Gracie wallpaper in the dining room (as we hope the Sundheims follow their lead) and reconfigured the four bedroom into three master bedrooms, all with en-suite baths. The Eastern-facing living room, meanwhile, opened to "a cozy library for entertaining or drinks a deux by the fire," which sounds just about ideal in cooler weather. Cognac, anyone?
Though nice as we're sure the Eastern-facing living room is, we expect the new owners are just grateful that they'll never have to fret about which which way the windows face again, now that they have four exposures on two floors.