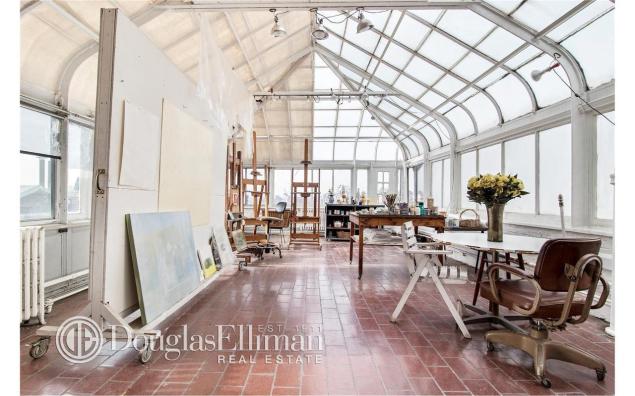 Many a "penthouse" listing boasts of its truly "spectacular" and "unmatched" characteristics, their palatial terraces and colossal master suites, walk-through closets and stunning city views. But few are possessed of a 1,000-foot greenhouse atelier from the 1920s accessed via a stone staircase that can serve as an "entertaining space, starlit living room, or studio."
Such was the uniqueness of Jane Freilicher Hazan, an iconoclastic Abstract Expressionist painter of "lyrical" cityscapes, still lifes and Long Island landscapes, that it even extended to her real estate. Freilicher, who died last December at 90, spent many a winter painting from penthouse B at 51 Fifth Avenue, a spacious three-bedroom perch atop the Greenwich Village co-op. (She started spending her summers in Water Mill in the 1950s.)
But while Freilicher's unusual style in an era dominated by abstractionists kept her, despite being represented by blue chip galleries and counting among her fans the poets John Ashbury and Frank O'Hara, an artistic outsider throughout her life, according to her obituary last year in The Times, —"My work was deviant enough to explain why I was not rising through the ranks," she once told the paper, adding that she enjoyed the freedom of her only modest fame—her apartment proved extremely popular when it hit the market in January asking $7.7 million.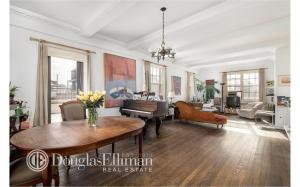 Despite the shifts in prevailing tastes, it seems that a classically beautiful Village co-op is never out of fashion. The duplex features three large terraces, beamed ceilings, views from four exposures, as well as "high ceilings throughout, a woodburning fireplace, detail dating back to the Jazz Age, and an authenticity that makes this an exceedingly rare offering," according to the listing, held by Douglas Elliman's Leslie Mason and Steve Halprin. All of which led to its swiftly entering contract and selling for $8.4 million to 51 PHB LLC, city records show.
The new owners, it would seem, share something with the apartment's last occupant: they seem to have little interest in chasing fame, at least in respect to their real estate purchases.