In Morris County, voters delivered a split ticket verdict with the edge to the team backed by state Senator Joe Pennacchio (R-26) and big labor dollars in a rancorous election characterized by an influx of heavy independent expenditure PAC cash and vicious political war wounds splitting onetime friends.
Unofficially, incumbent Freeholder John Cesaro of Parsippany won reelection, dealing losses to his former running mates turned fierce adversaries, Freeholders John Krickus and David Scapicchio.
Also victorious were two women, Cesaro's running mate Mendham businesswoman Christine Myer (right); and veteran Denville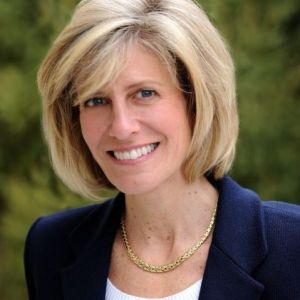 Councilwoman Deborah Smith (pictured, below), the sole member of the Krickus-Scapicchio team to win.
Angelo Tedesco, an East Hanover firefighter, was the only member of the so-called Cesaro slate to lose.
A candidate unaffiliated with either team, Tom Mulligan, also lost.
Morris County GOP Chairman John Sette backed one out of the three winning candidates, top vote-getter Smith, a 19-year veteran of the Denville council.
"You could see bullet voting for women," said Sette, referring to absentee ballots, when PolitickerNJ asked the chairman if voters repudiated men tonight.
"God bless America," he added. "We're all Republicans. There was over $300,000 put into this race [behind Cesaro's team] and Deb Smith was the number one vote-getter. I'm not sure all those people [the controversial labor and Democratic-affiliated PACs behind Cesaro] got a good return on their money."
In the undercard to the county GOP Primary, the Parsippany Council race mirrored countywide results in terms of the split ticket result. Smith's ally, Council President Paul Carifi, won with 17.70% of the total vote, but had to wince with the victories of local Cesaro (and Democratic Party-affiliated PAC aided) allies Councilman Michael DiPiero (17.43%) and Loretta Gragnani (16.72%).
From the Morris County Clerk (unofficial totals):
John Cesaro
9,374
15.65%
Christine Myers
9,427
15.74%
Angelo Tedesco Junior
8,713
14.55%
David Scapicchio
9,073
15.15%
John Krickus
9,167
15.30%
Deborah Smith
10,006
16.70%
Thomas Mulligan
4,064
6.78%