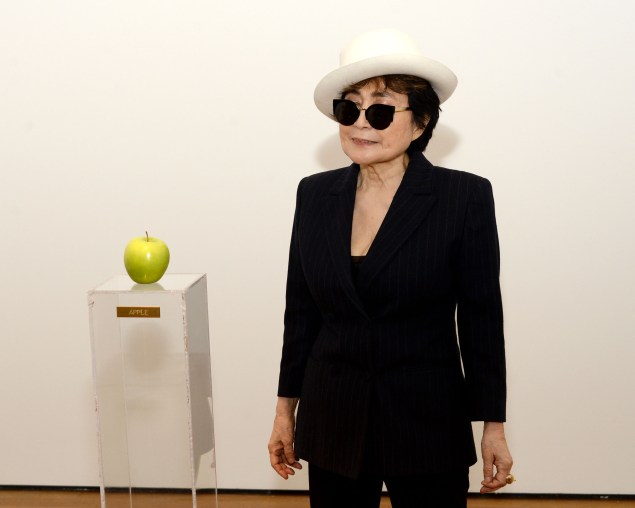 Feeling stressed? Just look at the sky.
Such is the advice of the art world's own celebrity lifestyle guru, 82-year-old Yoko Ono, whose early work is currently the subject of a concise survey at the Museum of Modern Art. Titled "Yoko Ono: One Woman Show, 1960-1971" and organized by MoMA drawings curator Christophe Cherix, the exhibition includes about 125 of Ms. Ono's best-known word pieces, objects and films, including Bag Piece (1964), Cut Piece (1965, in a film by the Maysles brothers), Fly (1970) and a complete typescript of Grapefruit, Yoko's legendary 1964 collection of Fluxus instruction pieces.
For Yoko devotees, and she certainly has her share, a visit to the exhibition is mandatory. For the rest of us, well, it's fairly painless and, as the artist's aesthetic proclaims, it all happens in your own mind anyway. You get out of it what you bring to it.
Looking back at her barely heralded art career, Ms. Ono has a righteous claim to being a proto-conceptual artist. Her Zen-like instruction pieces of the early 1960s, performed for audiences in New York, Japan, Germany and elsewhere, were preceded by the new music "scores" of John Cage and George Brecht as well as the theater-style "happenings" of the late 1950s (and by Duchamp, of course).  But they anticipate the more rationalist word works of male artists like Joseph Kosuth and Lawrence Weiner, who successfully made the commercial gallery world their stage.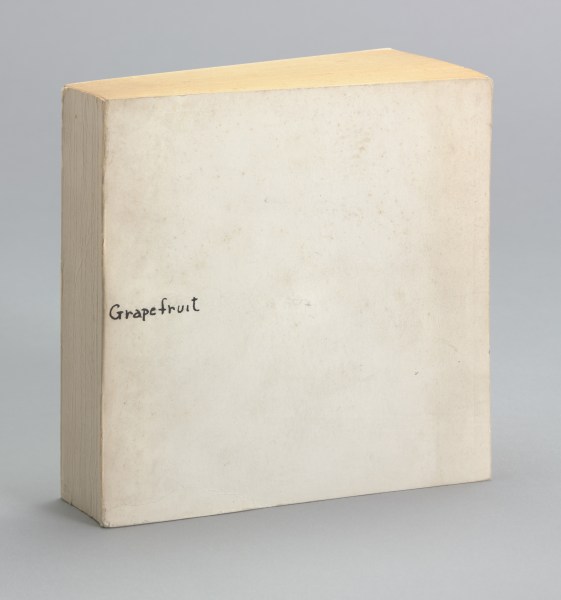 For Ms. Ono, this particular career trajectory was dramatically deflected in 1966, when several of her early works in a show at Indica Gallery in London enchanted a guy named John Lennon. The rest is history, or perhaps we should say legend. Yoko and John became a celebrity couple, whose antics like their post-marital Bed-In (1969), represented at MoMA by an hour-long montage of news footage, and the John Lennon / Plastic Ono Band anthem "Power to the People" (1971), traced the trajectory of the counterculture in the Vietnam War era.
The MoMA show does feature a new version of Apple (1966), the green apple on a plinth that John supposedly bit into, in an almost too-good-to-be-true reenactment of that scene in the Garden of Eden. Also on hand is Ceiling Painting (1966), the white-painted step ladder leading to a canvas on the ceiling imprinted with the word "yes." An affirmation that seems to have been just what the tripped-out tapped-out rock God needed. Back in the day, audience participation was required to complete artworks like these. In the present, needless to say, as visitors flood into our museums, the rule is "please do not touch."
The hardworking MoMA museum guards are on hand, keeping a constant eye out. It's an eerie feeling, no doubt unplanned. The rather shabby if historic ladder has next to no "aura" at all, sadly, and the untouchable green apple, now emblematic of the Beatles' corporate music juggernaut rather than some primal desire, seems unlikely to decay much during the course of the show, as required, its natural vulnerability all but bred out of it by scientific horticulture.
Ms. Ono's artistic claim on the sky—grandiose, absurd, cosmological, transcendent and anticipatory of the idea of James Turrell's entire oeuvre, if not its visual realization—could be said to frame the MoMA show. At an early chronological remove is a 1961 "instruction painting" that calls for cutting two holes in a canvas in order to look through them at the sky. Meanwhile, a major new work made for the show, titled To See the Sky (2015), is a freestanding black metal spiral staircase that lets museum visitors, one at a time, clamber up and view the heavens through a museum skylight. After a short wait in line, people dutifully climb the stairs, look out and return to ground level, experienced but apparently unenlightened, to judge from their demeanor. The art has been preserved, but the museum visitors are much more blasé.
Her trajectory was deflected when her works attracted John Lennon. The rest is history, or perhaps we should say legend.
Thanks to our temperate climate, the sky above MoMA is likely to be a matchless blue, which can be calming indeed. Sometimes it's raining, which isn't so bad for the farmers, gardeners and water-table aficionados in the museum audience. It's too easy to forget that for some people the sky has held menace, and still does. We're lucky that our skies are free of drones—Ms. Ono is a pacifist, and such subjects are within her ken—not to mention things like the B-29 Superfortresses that firebombed Tokyo in 1945, when Ms. Ono was 12.
Japan's postwar privations provided an origin for Ms. Ono's own art-as-idea. When food was scarce, Ms. Ono recalls, she and her brother would gaze up at the stars and exchange imaginary menus. The expressive depth of the atom bomb era is echoed in her 1970 film Fly, which subjects a naked female performer to the casual inspection of a housefly for 25 long minutes, to a soundtrack of Ms. Ono's signature wailing. This is a demonstration not merely of a Buddhist forbearance in the face of everyday annoyances, but a reminder that pestilence follows human disaster. After Hiroshima, the only thing moving were the flies circling over the bodies of the dead. It's a much better reason to embrace a "deskilled" vocal technique than mere rejection of musical convention.
Similarly, Cut Piece, which preceded by a few years the Body Art actions of Vito Acconci and Chris Burden, is one of the few works in which Ms. Ono turns the tables on herself. Rather than asking her audience to perform some anodyne action—to breathe, say, or sit and wait until an alarm clock goes off—she instead submits to the whims of a presumably well-behaved art audience, which might after all include a genuine nut, allowing its members to gradually cut off her clothes. Sitting on her knees in a traditionally submissive feminine pose, Ms. Ono starts out in the Maysles film with a stony stillness. By the end, she is visibly discomfited, and protects her semi-exposed bosoms with a modified Venus Pudica pose. The film is solemn, and though perhaps no longer disturbing, it does seem somehow more powerful than carrying a mattress around.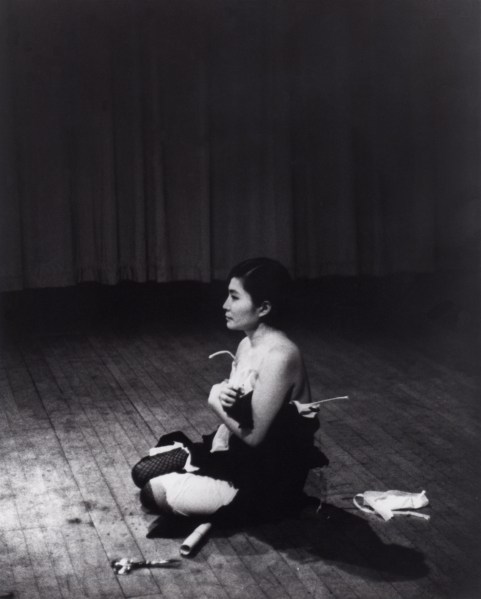 Ms. Ono likes to say that her works are never finished, as if they extend endlessly back and forward into time. For this, I found my rewards in a casual perusal of Grapefruit, via the 152 yellowing index cards typed with a sentence or two, half-filling one of the larger galleries. Forgive me for noting that several of them seem like formulae for today's Zombie Formalism.
For instance, Ms. Ono's Mend Painting (1962) calls for "an old scarred painting" to be washed, powdered and perfumed, a process not unlike the one successfully adopted for his show last year at Marlborough Gallery by the New York artist Lucas Ajemian. Other Yoko Ono word pieces include "Painting to be slept on / Hang it after sleeping on it for more than 100 nights" and "Painting to be watered / Water every day." Surely, someone has done these kinds of works in her wake.
In closing, what is there to say about "art as idea"? We can all agree that any art that exists in our minds is going to be almost unbearably fascinating. But we can also occasionally use some outside input.