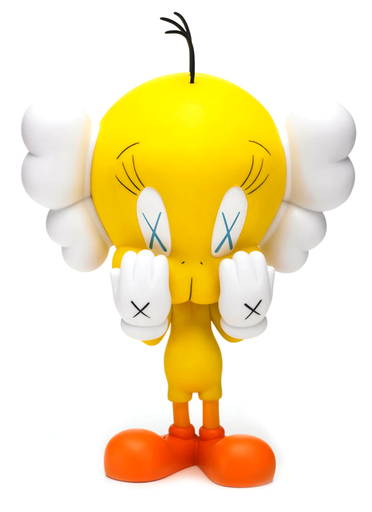 The market for collectible toys is no game, evidenced by the prices in online auction house Paddle8's Art Toys sales. The online sale—the house's third of its kind—runs through June 23, and features 27 vinyl figurines by contemporary artists Brian Donnelly, Jeff Koons, Yoshitomo Nara, and established toymakers like Ron English.
"There's a hunger for this stuff," Paddle8 art specialist Simeon Lipman told the Observer. Art toys are a substantial yet niche collector's market. Prices for the sale range from $400 to $13,000. A set of three approximately 14-inch-tall Mickey Mouse figurines capped with Albert Einstein hair is currently in a bid war among 22 people. The going price is $5,500.
Mr. Donnelly, also known as KAWS, has the most works in the sale with 19 toys that cleverly shrink the themes and characters of his fine art to toy-size. The New Jersey-born artist has worked in the rare art toy niche since 1999 when he first collaborated with Bounty Hunter, a Japanese Harajuku toy and clothing company, to create vinyl figurines. Michael Lau is credited for kickstarting the urban vinyl movement that same year in Hong Kong. Mr. Donnelly also worked in graffiti early on, leaving his mark all over billboards and bus stops, according to an article in Interview. Then, he ended up at Disney where he contributed animations to films like 101 Dalmatians, and popular TV series such as Daria, and Doug.
KAWS makes pointed commentary on pop culture by transforming cartoon icons like SpongeBob Squarepants, Tweety Bird, and the Michelin Man into three dimensional toys—with a dark twist. His figures range from 14-inches-tall to over 10-feet-tall, and vary in monochromatic schemes, but they always have KAWS' signature X's painted over the hands and eyes. (His six-ton wooden sculpture along the way was recently acquired by the Brooklyn Museum.)
Prices listed on Paddle8's current sale are reasonable compared with similar past auctions. In 2014, Sotheby's sold KAWS' (ORIGINAL FAKE) COMPANION in Hong Kong for $1 million HKD (about $128,940 USD), according to Artsy. In 2007, Sotheby's New York sold Yoshitomo Nara's The Little Pilgrims (Night Walking) for $360,000. Paddle8 does not release prices realized for its auctions, but prices fall more in line with with sales listed on Ali Express, eBay, and Phillips.
At those prices, art toys can be an accessible entryway into the art market. The toys are not as cheap as the mass-produced Marvel action figures, but they're usually not as pricey as a $30,000 Games of Thrones replica throne, if you're into high end collectibles or are a fan of any of the artists in the sale. Mr. Lipman explained that toys attract anyone from young enthusiasts to seasoned art collectors. "This is something for everyone. If you like contemporary art, this is your way in," he said. "It's affordable and it's fun."
Paddle8's next Art Toy sale will run from June 25 through July 9.