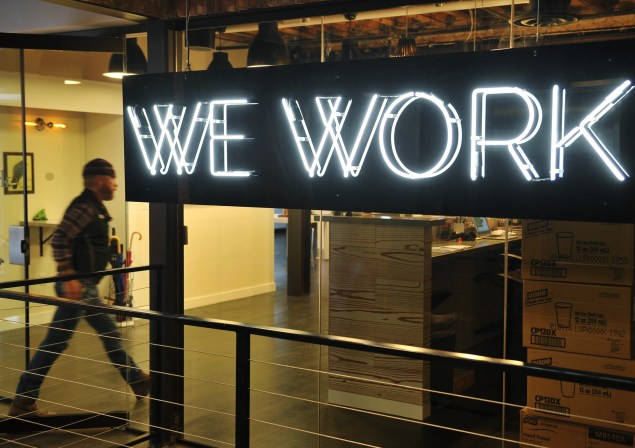 Over the past four years, WeWork has transformed from a fledgling operator of co-working spaces to a company with 15 New York locations valued at $5 billion, using a business model that is increasingly seen as prophetic in our rapidly shifting economy. As The Real Deal recently noted in a feature on the co-working giant, it "tripled in value [in just nine months]. It was suddenly worth more than twice as much as global brokerage giant Cushman & Wakefield."
Now, the workers who clean the company's co-working spaces—who make on average $11 per hour, without benefits—say it's time the company paid the city's industry standard for maintenance workers, which is more than twice that amount. The vast majority of commercial office cleaners in the city are unionized, according to SEIU 32BJ: 90 percent of workers across the five boroughs and 98 percent in Manhattan are union members, and earn more than $23 per hour with full benefits.
But WeWork maintenance workers are employed by a small, non-union company called CBM, or Commercial Building Maintenance Corp. CBM workers are now hoping that the newly cash-flush WeWork will agree to pay, if not the prevailing wage, then at least one much more in line with it. Neither WeWork nor CBM responded to a request for comment for this story.
"I've had several other jobs in custodial maintenance that started at $14, but I'm only making $11 right now and there's no incentive, promotion or pay-raise at any time," said Pete Vega, who cleans WeWork's space at 79 Madison Avenue. "It's pretty low, especially considering the costs of living in New York. WeWork has had a lot of success in the first 5 years of their operation—to be treated on the low-end is a little unfair."
His colleague Christian Diaz, who makes $12 per hour, said that the $1 hour raise came only after he told CBM that his increased cleaning load—from three floors to seven—was too much for him. Workers said that overtime is not available through the cleaning contractor.
The wages, they said, make it nearly impossible to afford rents in New York City; Mr. Vega said that he shares a one-bedroom in East New York and Mr. Diaz has a $700-a-month one-bedroom in Jackson Heights, Queens.
Saul Madera, another WeWork office cleaner at 115 18th Street, also employed through CBM, said that he likes his job "and the way they treat me—I get good communication with the management," but that he was surprised to find that union cleaners who worked on other floors of the building were making $24 an hour with benefits like health care and pensions. "I got a baby coming, I have to look out for any opportunity coming," said Mr. Madera, who commutes to work from a studio in the Bronx that he shares with his wife.
Meanwhile, according to The Real Deal, WeWork is getting discounts from the quoted rents at a minimum of six of its 15 New York locations, according to CompStak. A number of building owners are eager to land the glamour tenant, which often leases large amounts of spaces and renovates them with hip, high-end materials.
Mr. Vega, however, opined that the company's forward-thinking ethos was at odds with the wages of its office cleaners. "We make $440 a week before taxes; after taxes it's like $320. I would like to see a little more justice, a fair shot, a piece of the pie, the American dream. We keep things how they want them to be kept. I think we're deserving of a fair shot, or at least some type of health benefits."