It was fortuitous and convenient that today's Supreme Court ruling that created a right to same-sex unions nationwide coincided with LGBT Pride Month—many celebrations of diversity in sexual identity were already planned for June in New York. But the unexpected decision has prompted some arts organizations to offer some kind of event or perk for revelers intending to observe the occasion. Here's a roundup of LGBT programming around the city in the month of June. #LoveWins
MoMA/ March
If taking part in tomorrow's 23rd Annual Dyke March on Fifth Avenue, crane your neck for an original Rainbow Flag, which coincidentally was recently acquired by MoMA. "It's a happy coincidence," a MoMA staffer told the Observer, that they'd snatched up the iconic flag, created in 1978 by artist Gilbert Baker in San Francisco this month. The museum is rushing to get it installed so it can be on view by tomorrow as we speak, the staffer said. "The rainbow flag will be installed in our Architecture & Design galleries on the 3rd floor this afternoon," a spokesperson confirmed, adding that it will be visible from the museum's sculpture garden as well as from West 54th Street, and you may be able to make it out from Fifth Avenue through the trees as you march along, if you squint.
Museum of Sex
Revelers can order special Pride VIP entrance tickets this weekend, a spokesperson for the Museum (also called MoSex) told the Observer. Those tickets—not normally on offer—get you an "aphrodisiac treatment," goodie bag and entrance all the exhibits as well as to the 2 p.m. to 8 p.m. DJ sets by David Glam and Vivacious NYC from RuPaul's Drag Race on Sunday. The current show in previews is "Hardcore."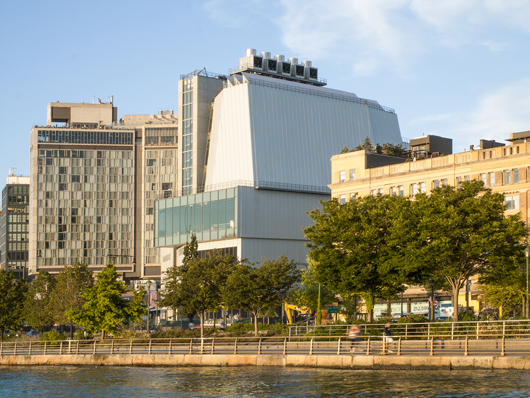 Whitney Museum of American Art
Later in the month, catch "Sailors and Floosies: Sexuality and Queer Identity in American Art," a special tour that explores LGBT themes in "America is Hard to See," the inaugural show at the Whitney's new Downtown location. The show, taken from the Whitney permanent collection, is on until September, but the LGBT tours are only on offer June 25 through 27, and select evenings thereafter.
The Brooklyn Museum
You could also take this opportunity to check out Zanele Muholi: Isibonelo/Evidence at the Brooklyn Museum. Ms. Muholi's photos, video and installation works document the lives of transgender people and lesbians in South Africa. The exhibition is on view until November at the Elizabeth A. Sackler Center for Feminist Art.
Ailey Extension
As the New York Times spotted in its uncharacteristically whimsical post entitled "The Gayest 36 Hours You Can Possibly Have in New York," one legendary vogue dancer has brought his work to the masses. Cesar Valentino appeared in the 1990 film Paris Is Burning, a documentary that won the Sundance Film Festival's Grand Jury prize. The film explored the the underground drag balls of 1980s New York City—a center of free expression at a time when transgender and cross dressing were far less accepted, even here. Mr. Valentino is likely one of the few castmembers still alive, but he is not just here, he's keeping the art form alive, too, offering instructions to amateur voguers through the Alvin Ailey American Dance Center's extension program. The Times says his "all styles vogue" class tomorrow will be free to anyone who wishes to attend.