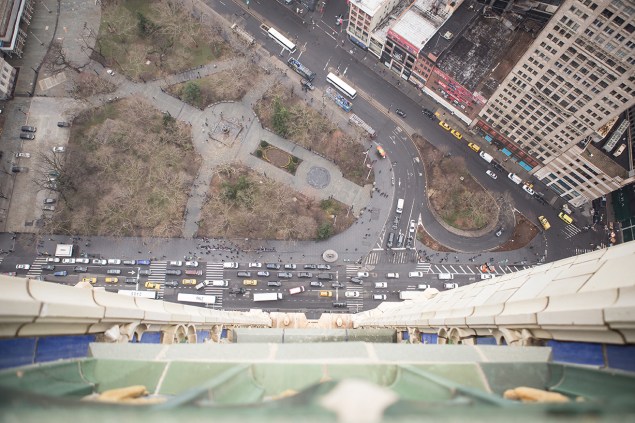 The 40th floor of the Woolworth building is, at present, a mostly gutted expanse of some 7,000 square feet, but for many years it was where Frank Woolworth kept his office, a magisterial perch in the clouds built with the proceeds of his unabashedly plebeian five-and-dime empire, to which he ascended each day via a private elevator graced with his trademark "W" motifs.
Woolworth's old office, and the top floors of the 233 Broadway, have presented something of a conundrum ever since the company he founded ceased to occupy them—the Woolworth Corporation closed what remained of its empire in 1997 and sold off the neo-gothic tower that had long served as its headquarters the following year. Since then, they've sat empty, essentially by virtue of being thought too lovely to go on housing small law firms and dentists. But the upper stories' small floor plates, as well as the building's location across from City Hall have stymied many a grander plan proposed, and ultimately abandoned, by a string of developers over the intervening years: boutique office space, private hedge fund club, hotel, luxury rentals.
That is, until Kenneth Horn, the president of Alchemy Properties, purchased the top 30 floors for $68 million in July 2012 with a plan to build 34 lavish condos, a handful of which "officially" hit the market a few weeks ago, following a soft launch in the fall. (The lower floors will remain commercial space.) Soon, vast quantities of oak, maple and creme de mafil marble will be carted up to bedeck the condos. The most opulent, dubbed the "Castle in the Sky," will occupy the building's five-story cupola and comes with an outdoor observatory, a two-story living room and a $110 million price tag—just a sliver under the $126.5 million that the Witkoff Group and Cammeby's International paid to take possession of the entire building in 1998.
Of course, a lot of things have changed over the last decade and Alchemy is quite obviously banking on the global elite's recent and seemingly insatiable appetite for Manhattan ultra-luxury condos, as well as the rapidly blurring geographic lines of where masters of the universe will and will not live. The Woolworth, however, as one of the most charismatic buildings in the city, presents challenges far above and beyond its floor plates and location, the conversion to residential space being "second only to placing penthouses atop the Chrysler Building or the Empire State Building" as the Times once put it.
Completing a transformation that both honors the landmark's character while catering to a buyer pool that has shown a marked preference for extremely generic luxury would be a difficult project for even the most experienced of very-high-end developers—an elite cadre to which Alchemy, known for much more modest condo projects like the Isis on the Upper East Side, whose penthouses asked just under $5 million, does not belong.
If the Woolworth conversion, which Mr. Horn admitted will be Alchemy's most expensive project, and also its most complicated, is deemed a success, that is likely to change in short order. It won't be an easy feat to pull off, though—the building's beloved status ensures that it will come under closer scrutiny, and harsher judgment, than almost any other project in the city.
***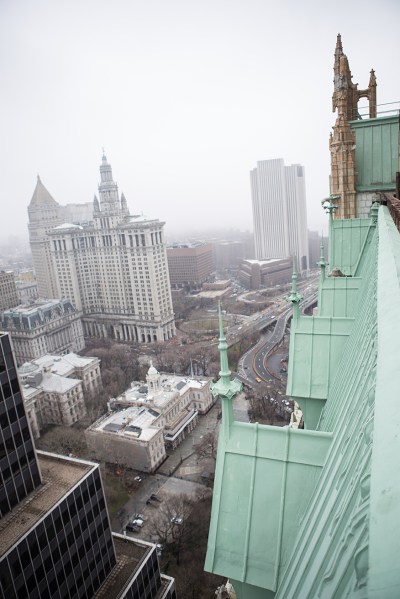 The Observer arrived at the almost hidden door of 11 Warren Street, where the Woolworth Tower Residences sales gallery is located, late one foggy morning in April. As a rule, luxury sales galleries aren't advertised from the street, but the Woolworth Building's seemed to be making a deliberate point of its discretion. "I had a hard time getting in," Mr. Horn said when he entered the hushed space a few minutes later. He wasn't joking—he'd had, in fact, a hard time tracking down the concierge.
An enormous photo of the Woolworth Tower printed on canvas for oil painting-like effect hung on one wall and a map of old New York on another. In the center of the first room sat an ornate ceiling coffer taken from Woolworth's office—the coffers are in the process of being restored to hang in the new residential lobby at 2 Park Place.
"We've brought in craftsmen we wouldn't ever bring into other types of projects—the amount of money we're spending on the interior rehab is considerably more than a new building," said Mr. Horn, who has previously estimated the renovation costs at $82 million, as we walked through the hushed space. "We never cut corners, and the idea of cutting corners on the Woolworth building…" he left off.
The tallest building in the world from its construction in 1913 until 1930, when the Chrysler Building surpassed it, the Woolworth tower is, with what The Times once referred to as its "spun sugar, piercing gothic pinnacle" of 792 feet, both fanciful and imposing at the same time, a fairytale confection adorned with gargoyles, finials and tracery that architect Cass Gilbert designed with almost uncanny perfection as the "cathedral of commerce" that Woolworth had longed for.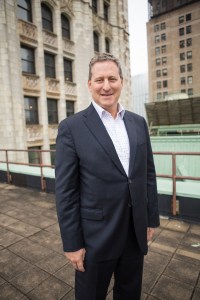 "Woolworth wanted the building to become a true landmark and for years it was ranked on the same level as the Brooklyn Bridge," said Gail Fenske, a professor at Roger Williams University who penned the definitive architectural history of the tower, The Skyscraper and The City: the Woolworth Building and the Making of Modern New York.
Ms. Fenske said that by 1916, the observatory at the pinnacle was drawing 100,000 people a year from 60 countries. In 1921, it reportedly drew 375,000, "but that was in all likelihood an exaggerated number, as it would have been difficult for the tower to accommodate more than 1,000 people per day," she added.
"I think that the reason it had such a grip on the imagination is that it reminded people of some of the most beautiful buildings in Europe," she said. "Woolworth and Gilbert put so much care into it—the silhouette, the limestone, the terra cotta, the copper ornaments—the detail had the highest level of craft. They really believed they were going to build something that would last, that would contribute to the city like the cathedrals and city halls of Europe."
It's an allure that Mr. Horn, who grew up in Brooklyn, is well acquainted with. He said that he initially went to see the tower, which Witkoff and Cammeby's had previously been shopping around in a 17-page prospectus, "more out of curiosity than anything else" and was "literally overwhelmed."
After the closing, which took three days, everyone was "very excited," but also weighted with responsibility, he added. "As a developer looking at the upper luxury niche, unlike One57 or 432 Park, we didn't create it, we adopted it."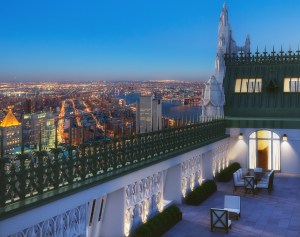 Mr. Horn and his team interviewed a number of the top design architects for the renovation, dismissing outright those who put forth modern visions of all-white cabinetry—as much in line with current design trends as out of it with the neo-gothic grandeur of the Woolworth building. They settled on Thierry Despont, whose impeccable bona fides included the Statue of Liberty restoration and hotel renovations of the Carlyle and Claridge's in London.
Mr. Despont's interiors evince a dark Art Deco glamor, with prewar layouts arrayed out among mostly full- and half-floor units—finishes that call to mind the lair of a superhero, or perhaps a super villain.
"It really does feel of the period, without trying to be 1913—as if the original Woolworth was designed as a residence," said Mickey Conlon of Douglas Elliman.
"The prewar details are just beautiful—his millwork, the herringbone floors, even the platinum fixtures—it's as good as you get," opined Warburg broker Deborah Lupard, who specializes in the downtown market. "It's perfect, it makes sense. My problem is that it's so stylized. It's very stodgy, like cigar smoke and whiskey. I just don't know who the buyer is for it."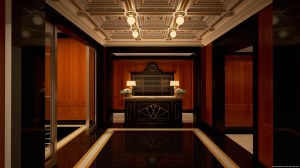 Ms. Lupard said that she thought pied-a-terre buyers would flock to projects like 30 Park Place and 100 Barclay instead of the Woolworth. "They're—I don't want to use the word generic—but more for everyone," she explained. "I think that [Woolworth] buyer will be moving downtown, but maybe it's a little too soon."
"I can see it in Paris," she continued. "It's very sophisticated but it's too specific. Don't get me wrong though, I appreciate every nail in there.
Tara King-Brown, a Corcoran broker who also focuses on downtown, concurred that Woolworth's look couldn't be expected to play well with everyone. "You feel like you're walking into a gentleman's club from the 1930s," she said. "Is it my taste? I think it's for the Frank Sinatra-type guys who are in an old mansion uptown—it's the palette they're used to, but maybe they want to try something new and get out of the old paneled walls of Park Avenue."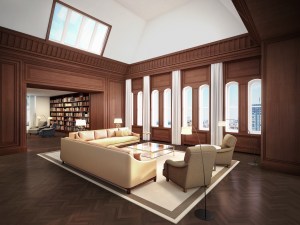 She admitted that she had also been "surprised when I heard it was Alchemy—one might expect that it would be one of the top five developers in terms of portfolio who might take on a project like this." But, she added, "it was refreshing to walk through the sales gallery for the first time and see what their vision was. I think it was a bit of a passion play for the developer and it's nice that a building like this was not just another conversion."
Mr. Horn said that he hadn't had preconceived notions of what he wanted the layouts to be, "just the caveat that all of the apartments had to have grandeur." Though he added that Mr. Despont's original suggestion that they do all floor-throughs, "was a little bit too much."
Not too much, however, was restoring Woolworth's original mosaic-tiled pool. "Do you keep the pool for 34 families?" he asked. "Yes, because it has historical significance."
***
"The people who buy into that building have to have a love affair with New York," remarked one real estate insider. "I think whoever buys the penthouse has to be like a rags-to-riches person that always dreamed of living in the Woolworth building."
Indeed, despite its international renown, the Woolworth's condos have been more popular with domestic buyers than most of Alchemy's projects, according to Mr. Horn, with the breakdown so far 70/30 domestic to foreign rather than the usual 60/40.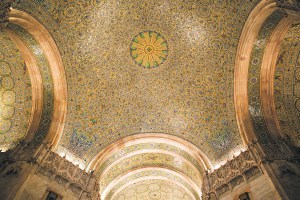 Alchemy declined to provide the current percentage of units sold, but when we met in April, Mr. Horn said that 25 of the 34 units remained, and that all of the one-bedrooms were in contract (the 40th floor, which we toured, has also been claimed).
Alchemy's slow rollout of sales with very little fanfare—they're not even on Streeteasy—would also seem to imply that everyone who would buy in the Woolworth already knows about it. Which may well be true, but is somewhat unusual in the context of Harry Macklowe flying sales teams for 432 Park to the Moscow Ritz-Carlton to hob-nob with oligarchs and reportedly spending $1 million on a four-minute film with famous tight-rope walker Philippe Petit. One insider posited that perhaps Alchemy just wasn't familiar with the courting rituals of the global elite.
Mr. Conlon, however, argued that the Woolworth building, unlike the One57s or 432 Parks, needs no introduction. "To say that you live at the Woolworth building is almost the equivalent of having a brand-name handbag," he said. "Whenever you can convert a high-profile address into a condo there's going to be an automatic draw."
If it succeeds, Mr. Conlon went so far as to suggest that it would define the neighborhood much as One57 helped to redefine humdrum 57th Street.
And though one broker remarked that it's far nicer to look out at the Woolworth building than from it, when we completed the clattering ride up to one of the mechanical-cluttered roofs that will soon become the terrace of a private residence, it was hard, even for a view-jaded real estate reporter looking out into fairly dense fog, not to feel a sort of sweeping grandiosity peering past the mint-green turrets at the city below.
Mr. Horn, standing beside us, lamented that the weather had hindered us from enjoying the truly transformative power of the vista. "On a clear day, when you look out at the view going west, New Jersey looks like farmland," he told us. "Which is a feat unto itself."