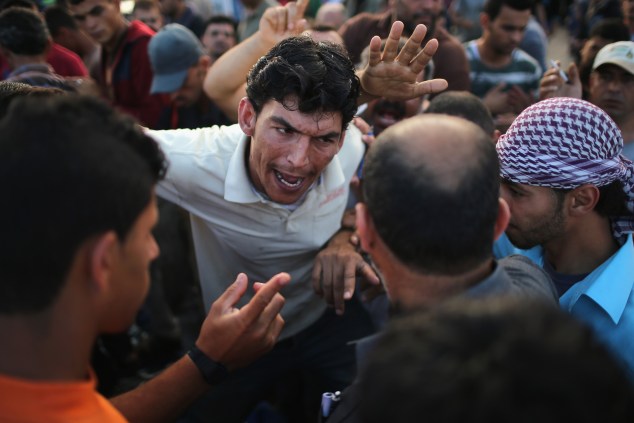 Three headlines out of the Middle East went little noticed in America; and there was even less coverage in Europe. The stories need to be re-read together, not just by the White House but placed side-by-side on the desks of our European allies—those most vocal in declaring they want peace between Palestinians and Israelis.
The first headline was a surprise only because of the source: Amnesty International. The organization has long been disapproving of Israel but uncritical of – indeed nearly blind towards – the murderous behavior of Yasser Arafat and his corrupt successors. So when Amnesty International released a report accusing Hamas of killing at least 23 Gazans – many in public executions — and torturing dozens of others because they were suspected of "collaborating" with Israel, it should have been head-turning news. It wasn't. The report received substantial coverage in Britain but little media coverage elsewhere in Europe.
And despite Amnesty International's lament that not a single person was held accountable, there was collective silence from Washington and the European capitals.
But Hamas' attacks against Israeli cities continue despite the west's willful blindness about Hamas' intentions; and wishful thinking that if Israel completely lifted its blockade of Gaza, all would be well.
The second story appeared just a few days later. The German foreign minister, Frank-Walter Steinmeier, visited Gaza and urged Israel to ease its blockade of the territory. But he also urged Hamas to "prevent" rockets from being fired at Israel. After all he noted, as long as the city was a "launching pad for rockets into Israel," it would be difficult to rebuild Gaza.
The third headline, sadly but not unpredictably, was that there has been a new round of rocket attacks against Israel in recent weeks. Happily, they have caused little damage and no casualties. But Hamas' attacks against Israeli cities continue despite the west's willful blindness about Hamas' intentions; and wishful thinking that if Israel completely lifted its blockade of Gaza, all would be well.
In response, Israel conducted air strikes against terrorist infrastructure. Sadly, though obviously, too much of the international aid that is being allowed into Gaza is being used to continue its murderous ways.
Little of the billions of dollars in aid promised to Gaza by international donors has materialized – in large part because so much previous help was diverted to purchase weapons and build tunnels intended to kill Israelis. The World Bank recently issued a report that detailed that even Turkey, the Gazan's most vocal ally, had delivered only $520,000 of its promised $200 million. (America has fulfilled its $200 million pledge.)
Juxtaposing these three articles makes it clear that there are two problems thwarting any real chance for peace in the Middle East. The first is Hamas itself. The second is some European leaders' belief that by merely declaring the creation of a Palestinian state, peace will ensue. It has been reported that France intends to introduce a resolution at this September's opening of the United Nations General Assembly creating a Palestinian state on the West Bank with a capital in Jerusalem.
Carving the West Bank (governed by Fatah) from Gaza (ruled by Hamas) at first appears intriguing. But it ignores the realities of how Hamas came to power in 2007 and is too cute by half. Hamas, with Iran's on-going backing, took over control of Gaza from Fatah in 2007 after more than 600 Palestinians were killed in clashes between the two groups. Hamas' brutality towards Palestinians has only increased. The recent spate of killings and torture are just the latest in a long history of fanaticism.
To assume that Hamas' ambitions stop at Gaza's borders is folly. One would think that Hamas' non-stop calls for Israel's destruction would add a bit of realism to European perception of the problem. It has not. Nor have the ongoing rocket attacks.
However one may like to sugarcoat it, as long as Hamas rules the territory, there is virtually no chance for peace, much less a peaceful political and territorial solution. And as long as Israel is treated as the aggressor, Hamas has little incentive to change its ways.
Until the United States takes the leadership position and says forcefully and clearly that the behaviors of the two sides are not equivalent, there is little chance for peace in the Middle East. European allies will hide behind the pretense that they are treating the parties fairly and even-handedly. That gives cover to Hamas and guarantees that no real peace will be achieved.
Jeffrey Robbins was the Clinton administration's delegate to the United Nations Human Rights Convention. In a statement made exclusively to the Observer, Robbins said, "Any fair-minded person who looks at the Israeli-Palestinian conflict should acknowledge that three times within the past 15 years Israeli leaders have offered the creation of an independent Palestinian state in return for peace—an offer which was rejected by the Palestinians each time."
Robbins' greatest frustration lies with our European allies. "When Europeans—who hold themselves out as progressives and as interested in an end to the conflict—condemn Israel, or worse, seek to boycott her, they open themselves up to the charge that they are not above-board. Their professions to being fair-minded do not hold water, and that, at bottom, they harbor an ugly bias when it comes to Israel."
This vicious cycle will not end until western leaders hold Palestinian leaders accountable for their actions; and we Americans hold European leaders to a single standard.