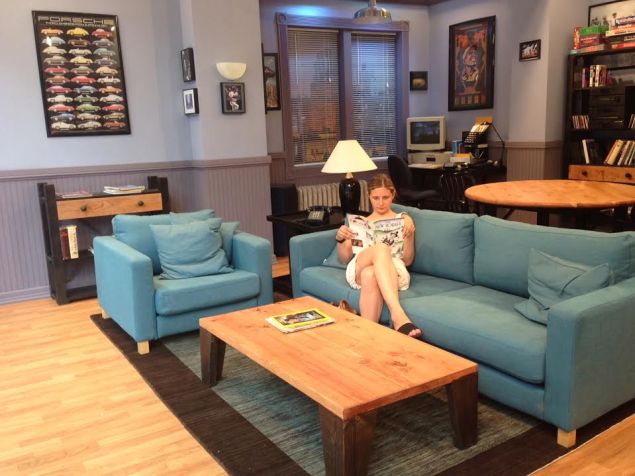 Hulu is going back in time to lure subscribers with unlimited Seinfeld episodes. The streaming service is banking on the power of the best sitcom on NBC's golden '90s "Must See TV" lineup to get some 2015 Netflix money.
Reruns of the show have been airing on multiple channels since even before the series finale in 1997, so it hasn't exactly been hard to watch. In fact, reruns of the show have been a staple of life for many of us who grew up watching four self-involved Upper West Siders debate the finer points of everyday etiquette over diner coffee.
"I'm like everyone else. If I'm flipping around the channels and I accidentally pass an episode of Seinfeld, it doesn't matter where I was heading," Larry Thomas, a.k.a. "The Soup Nazi," told me yesterday when I visited Hulu's recreation of Jerry's iconic apartment. "I stop and watch it. It's like a train wreck. You can't stop watching it."
I'm a longtime Seinfeld fan who, to the annoyance of the person I live with, very often invokes incidents from the show to describe my real life. I grew up blocks away from where Jerry and Kramer were supposed to live, and I think Seinfeld is responsible for the mistaken assumption I had as a kid that the world depicted in the show was normal, that walking down Broadway debating the minutiae of each interaction was how all grown-ups lived.
Like Mr. Thomas, an actor who is still talking about a role he played almost two decades ago (can't say I blame him—I am also still talking about Seinfeld, and I just watched the show), I am practically incapable of flipping past a Seinfeld episode without stopping. It's one of the reasons I like having a TV. I can come in to any episode at any point and, within seconds, I know exactly which episode it is and can recite dialogue and plot lines.
But, despite my lifelong fandom, I can't really imagine watching the show on Hulu now that I can access all the episodes any time. How would I decide which episode I am in the mood for? There is something that has always felt magical to me about Seinfeld reruns: the episode was the right episode for me to watch when and if I caught it. When I was a kid, I would mark my birthday's beginning and end by watching the 11:00 Seinfeld rerun on Channel 11. If it was an episode I especially liked, I would take it as a good omen for the year.
There is something to be said for mindlessly turning on the TV and seeing what's on rather than making decisions. If I can watch Seinfeld whenever I want, shouldn't I be doing something that isn't watching a show I've seen hundreds of times?
But then again, I can't say I won't watch Seinfeld on Hulu. It's a time capsule to a time when we didn't have cellphones or endless entertainment options.
"The true secret to Seinfeld is the ins and out of the ways they treated people and each other, which is eternal. The technology changes, but people still treat each other a certain way," Mr. Thomas told me. "But it is really interesting that young kids do love Seinfeld today and none of their technology is there."
And that's what Hulu is hoping for—that those kids use the new technology to watch a show about nothing.