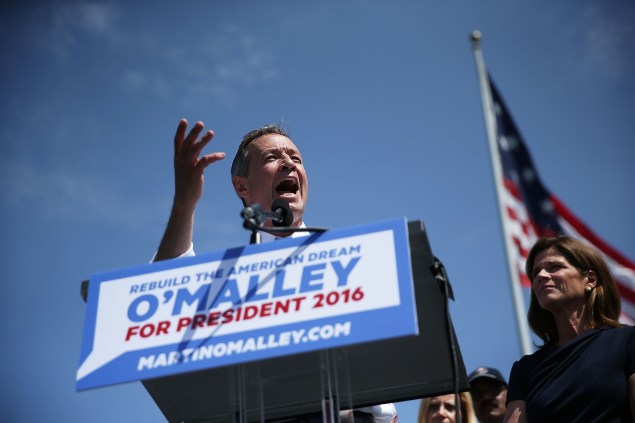 In another year, Martin O'Malley would look like a front-runner for president of the United States.
He's a photogenic former governor of an influential state, Maryland, and boasts a record of progressive achievements that should thrill grassroots Democrats. At age 52, he's old enough to command some gravitas and young enough to look like a candidate of tomorrow. He even plays a mean guitar.
But Mr. O'Malley, as of right now, is not being taken seriously. Hillary Clinton, the former secretary of state, is the juggernaut of 2016. Vermont Sen. Bernie Sanders, an independent who calls himself a socialist, is electrifying liberals in Iowa and New Hampshire who are sick of the Clinton dynasty. Much of the chattering class thinks there's simply no oxygen left for the nice-looking guy from Maryland.
Unsurprisingly, the O'Malley camp is dismissive of such talk. And they're convinced Mr. O'Malley is exactly where he needs to be, even if he's garnering single-digit support in national and early voting state polls.
"Hillary Clinton's never loved running for office. Her strength has never been running for anything. I don't think she loves the campaign politics," an O'Malley campaign source told the Observer. "She's still gotta prove herself. The last time we saw her in the political arena she was running a not great 2008 campaign."
Mr. Sanders' unexpected popularity–one straw poll showed him trailing Ms. Clinton only 8 points among Wisconsin Democratic Party delegates–could end up being a boon for Mr. O'Malley, the campaign believes. It shifts the perception among voters that Ms. Clinton is invulnerable, creating an opening for the former governor, who is two decades younger than Mr. Sanders–and therefore more likely to be thought of as a Democrat who can face down Republicans under the age of 50 like Wisconsin Gov. Scott Walker and Florida Sen. Marco Rubio.
"Look, I think Bernie has something to say. I think he's helpful to us and shows that this is a race," the O'Malley campaign source argued. "We were never the candidate who super liberal activists get really excited about. That's not the type of campaign we are–and that's not the campaign that usually wins."
Mr. Sanders, the O'Malley source believes, will eventually lose steam. "Look, every presidential campaign has a moment like this. It was the same with Howard Dean, Michelle Bachmann, the pizza guy [Herman Cain]. There's always somebody who appeals to a certain group during the summer."
"Bernie's fun, I like him, he's great. When it comes to looking at who's gonna be president, it's a different story," the source added.
The O'Malley camp hopes voters, particularly in the crucial early states of Iowa, New Hampshire, Nevada and South Carolina, are lured by Mr. O'Malley's executive experience and ability to tick off easily-defined accomplishments. As governor in deep-blue Maryland, he hiked the minimum wage, passed marriage equality, abolished the death penalty and passed the Dream Act. He was able to win election as mayor of Baltimore, a majority minority city.
"You can run a statewide race in Iowa with $5 or $6 million. You don't need $100 million," the O'Malley source said. "You can get there and grind it out. You don't need to go everywhere and do everything. Why Bernie was recently in Colorado, I have no idea."
Mr. O'Malley worked for Gary Hart, the former Colorado senator who nearly defeated the unequivocal Democratic front-runner of 1984, Walter Mondale. Mr. Hart endorsed Mr. O'Malley and the Hart veterans are already jumping on board.
The advantage Mr. O'Malley has over Mr. Hart? "When Hart got hot, he still ran out of money. He was still trying to wander around and do it the old-fashioned way. Nowadays, you can raise money online and have $5 million tomorrow."
Still, there are plenty of reasons to not be bullish about Mr. O'Malley. His anointed successor in Maryland, former Lt. Gov. Anthony Brown, fell to an unknown Republican, Larry Hogan. Riots following the April death of Baltimore man Freddie Gray lent fodder to Mr. O'Malley's critics; many knocked his tough-on-crime approach to policing when he was mayor of Baltimore and said he had failed to reverse decades of poverty and segregation. Walking the streets of smoldering Baltimore,  à la John Lindsay, did little in the short-term for his image.
He earned just 3 percent (compared to Ms. Clinton's 63 percent) in a poll of Maryland Democratic voters conducted last October. Historically, presidential contenders have been far more popular in their home states.
And he backed Ms. Clinton in 2008, a strike against him among some Democratic primary voters.
Conventional wisdom, though, is something Team O'Malley is taking with a grain of salt.
"I don't think Gov. O'Malley would've been elected mayor of a majority minority city if he listened to conventional wisdom," the source said.