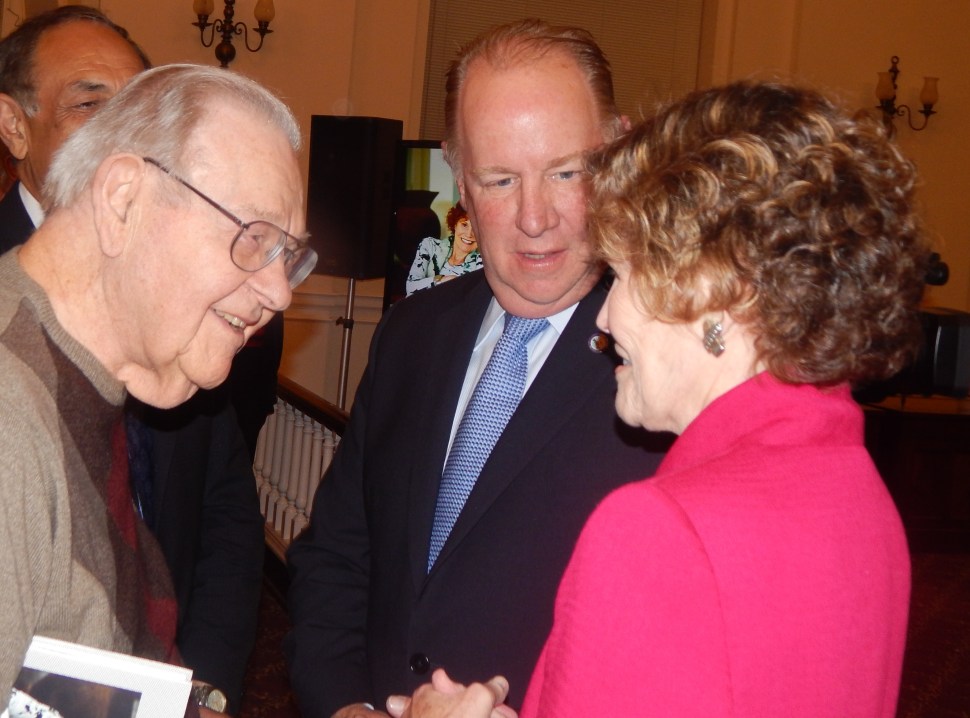 PolitickerNJ did a special edition of Winners and Losers on Wednesday. You can find that here. What follows is spillover from the June 2nd Primary…
WINNERS
Peter Murphy
The former chairman of the Passaic County Republican Party won the bulk of party committee seats in Little Falls, Passaic, Paterson, West Milford and Woodland Park, reasserting his presence in party politics.
Gene McKnight
After the Musical chairs debacle of the 31st district selection process, Angela McNight was the top Vote Getter in LD31. Uncle Gene Proved he is the defacto political boss of Ward F. He ran all the Board of Education campaigns that Jersey City Mayor Steven Fulop won before becoming mayor, including  Fulop's Mayoral campaign in Ward F, Balmir versus Dublin,etc. Former Mayor Smith,Viola Richardson, Dublin, Joe Cardwell, all the Cunningham people, have all come up short against Gene McKnight, a close confidant of Tom Bertoli. Every statewide candidate who wants to go through the African-American community in Jersey City must go see
Uncle Gene.
Anthony Salters
In conjunction with former Mayor Joe Menza, the Hillside political leader won the lion's share of county committee seats in a showdown with longtime local Democratic Party boss Charlotte DeFilippo. Salters has enough support to become party chairman.
Reed Gusciora and Liz Muoio
Under the radar outside of Mercer County, the LD15 establishment-backed incumbent Democrats had to break a sweat to beat challenger Dan Toto, but they ended up winning 4-1 and winning every district except two in Trenton's South Ward.
Mark Padula
After a long fought GOP Primary battle against Mike Lopez, Sharon Zappia on Tuesday night won 63% of the vote in the 5th Ward

of Atlantic City.  The interesting dynamic here was that Lopez had the backing of Republican insiders, while Zappia had the support of Atlantic City Republican Chairman Mark Padula, who two years ago asked Don Guardian to run for Mayor of Atlantic City and worked on his campaign day and night.
Leonard Lance
At first blush, Tuesday night's countywide win by John Cesaro over John Krickus in Morris County would appear to translate into a loss for the 7th District Republican congressman, who cut checks to Team Krickus. The political minder behind perennial Lance challenger David Larsen of Tewksbury, King Penna ran Cesaro's campaign. But an examination of the numbers reveals a different story. Consider the following: of the total votes Tuesday night in NJ7 MORRIS, Team Krickus on Tuesday claimed 5,785 (60.4%) while Team Cesaro claimed 3,790  (39.6%). Although they lost countywide, in Lance Country Team Krickus won 8/11 towns, compared to 3/11 by Cesaro's team.
Arlene Quinones Perez
The DeCotiis Law Firm partner received LUPE Fund's special Power of Women Award on Thursday night in Newark.
LOSERS
Scott Rumana
The 40th District assemblyman found his grasp on Passaic County GOP political power loosened Tuesday night when Murphy sawed off votes in key towns.
Tom Mastrangelo
The 2016 Morris County Freeholder primary began hours after the polls closed on Tuesday. The bitter political enemy of Freeholder John Cesaro, fellow Freeholder Mastrangelo is not only stuck with him on the board, but up for re-election next year. He'll be challenged hard, in what is certain to be another primary barnburner. King Penna and Mastrangelo despise each other, and Penna will be extra motivated to defeat Mastrangelo.
Charlotte DeFilippo
The former Union County Democratic Chair and longtime ruler of the Democratic Party's Hillside empire lost her local seat on Tuesday night.  The end of an era in Hillside.
Gerard W. Ryan
In a closely watched local election in Essex County, the incumbent Maplewood councilman went down in defeat on Tuesday night, blown away by Greg Lembrich and Nancy Adams: 29.3% to 39.42% and 38.79% respectively.
Mark Dykoff
Incumbent Mayor Gary Quinn and his running mate won on Tuesday night, dealing the second half of a double impact bruisng to the departing Dykoff, ditched as a mayoral ally after a much-publicized meltdown. In line to succeed Quinn as mayor, Dykoff blew it when he allegedly punched former Township Committeeman David Most at a Republican Club picnic in Gille Park in September 2014. Dykoff received a summons on a charge of simple assault. For more on that story, go here.
Dan Toto
Former Mayor Tony Mack's campaign manager teamed up with Paul Perez (Mayor Eric Jackson's last opponent), the Democratic Primary challenger in LD15 spent $20,000 as part of a campaign that included taking out full page ads and going full bore on 101.5 FM and still lost 1-4 to Assemblyman Reed Gusciora and Assemblywoman Liz Muoio.