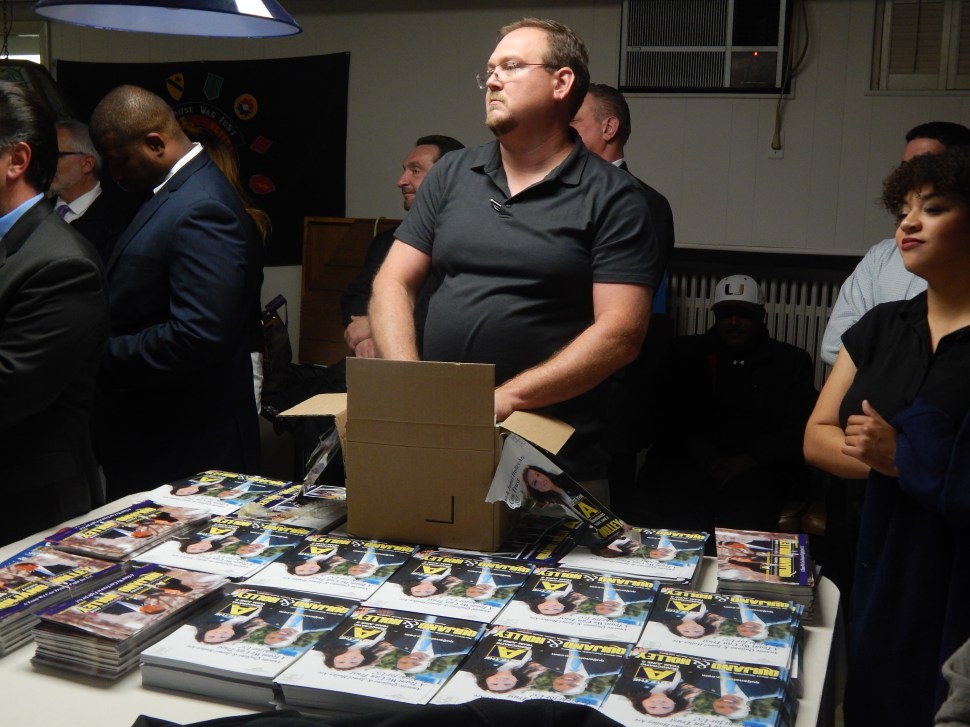 All right, don't complain. You don't like it? Fine. You think this state is a disaster area? Okay. But don't complain. Just do not dare complain. Road rage? Suck it up. Violent crime? Suck it up. High property taxes? Suck it up.
Too much blood bled with the expectation – or at least the post-game public explanation – of that American-protected right to vote.
Last night, we didn't earn the right to complain, as rain-bullied and civics-bothered "voters" allowed machine and independent expenditure PAC politics to blanket New Jersey in the absence of people power.
Let's take a look at the most – on paper – competitive counties, which roughly contain the same-sized population. In Union County, the top countywide Democratic candidate won with 10,167 votes, or the participation of 8.5% of eligible Democratic voters in heavily Democratic Union. In Morris County, the top countywide Republican vote-getter received 10,102 votes, or the participation of 8.8% of eligible Republican voters in the GOP stronghold.
All right, Morris County! What a way to show Union how it's done!
In the words of one operative, with his head in his hands: "The people clearly don't give a shit anymore."
Don't get us wrong. There were pockets of greatness. Every election teases out the plot lines of a state so saturated by them that it never gets old – even when rigor mortis dominates. We'll have a more thorough and detailed winners and losers – a part 2 – by the end of the week.
This, for the moment, is a fast piecing together of what just happened.
It was one of those chilling elections where you wanted to grab that small little circle of champagne-soaked revelers at the end of it and say, "Enjoy the party now, because it's over," but the reality is that last night there seemed to be few parties, as the state, including the people who play politics for a living, hit a snooze alarm on the Democratic process; as though even those haggard souls returned to elected office felt the joke too stale to celebrate.
Congratulations to those winners and those who put the time and effort in (including, in some cases, the losers), and to the rest of us – time to wake up.
One last word about Senate President Steve Sweeney (D-3).
It's still early in terms of the 2017 gubernatorial contest and he has the capacity to bounce back, but Jerry Green's local loss in Plainfield was not good news for the senate president, who counts the Union County assemblyman (and sitting party chairman) a political friend. Green's implications-undeniable loss opens the possibility for Jersey City Mayor Steven Fulop (whose candidates won last night in a snoozer LD31 election) or former U.S. Ambassador to Germany Phil Murphy to horn in on Union County. Or maybe Lesniak really does run for governor.
But Sweeney – an ironworker by trades who will have a leg up on Building Trades support if he runs for governor – doesn't get on the losers list by virtue of the fact that labor projected power last night in a vacuum.
He remains close to the center of elections-demonstrable power…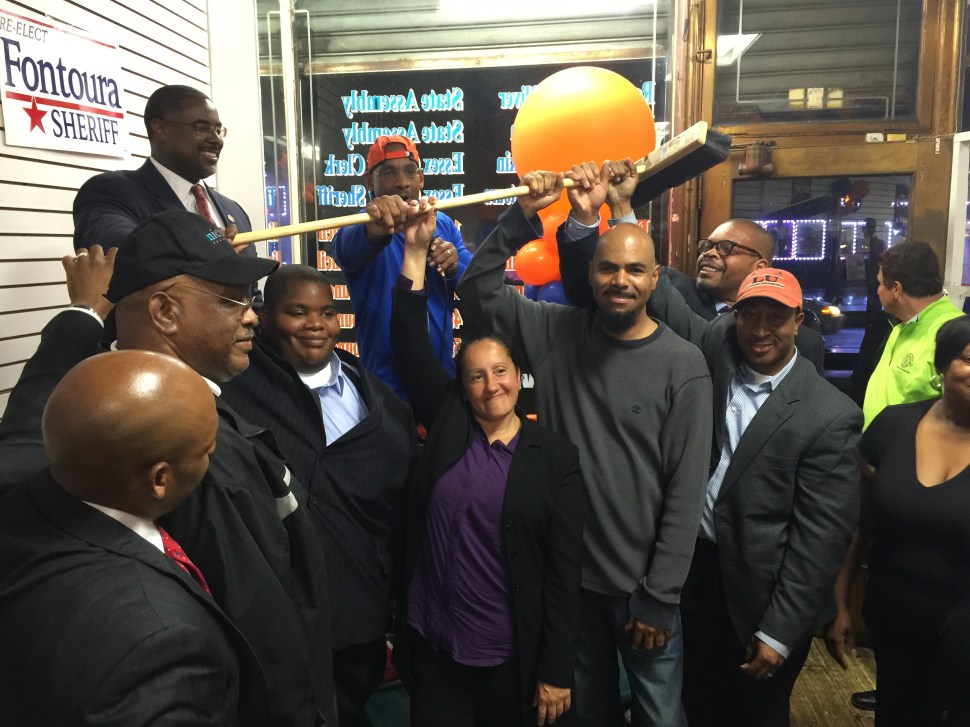 WINNERS
Labor
Multiple building trades backed victors John Cesaro and Christine Myers in the Morris County Freeholder contest, and they are the beneficiaries of two allies on the freeholder board. The two-thirds win by labor candidates also signaled future efforts for the trades to expand their influence in Morris County. Labor – particularly 32BJ SEIU and NJEA – came out big for the Democratic incumbents in LD20.
Jamel Holley and Annette Quijano
This was a New Jersey election where machines dictate who's in power, we get that, but there was some question owing to Joe Cryan's absence from the ballot whether new generation types like Quijano and Holley would have the stamina to roll the boulder up the hill. They did, both winning reelection; with their numbers, moreover, too close to say either one or the other has the edge to be the senator when Ray Lesniak runs for governor in 2017.
Adrian Mapp
The Mayor of Plainfield put the hurt on local Democratic Chairman Jerry Green, setting himself up to take charge of his town's Democratic Committee.
Joe Pennacchio
The classy gentleman dentist from Montville showed a ruthless streak by cutting out from the Buccos, securing his own storage locker of resources and backing a ticket two-thirds of which won in the Morris County Republican Primary for Freeholder.
Deborah Smith
Her two running mates went down in defeat but the no-nonsense, NRA-friendly daughter of a cop with a work product in elected office totaling 19 years owned top vote-getter status in Morris County freeholder contest. Smith finally stood above a field of testosterone-raging field of combatants in the most closely-watched primary race of the year. In case there was any doubt about voters receptivity to women in office in this contest, Smith's rival, Christine Myers on the John Cesaro ticket, also won a seat on the freeholder board.
John Cesaro
There were those in the Morris County Republican establishment who dismissed the Republican freeholder's political strategy when he broke from his 2012 running mates and recruited his own ticket. But the Parsippany-based Republican, a close ally of Pennacchio, gutted out a win.
The Grahams
Fingered as the culprits – along with Pennacchio – behind the Cesaro insurgency – the Fairview Insurance family led by a Democratic Party patriarch picked up two out of three countywide on Tuesday night and went two for three in Parsippany.
Wilda Diaz
The Mayor of Perth Amboy summoned a county committee victory in Perth Amboy that will enable her – and by extension LD19 ally state Senator Joe Vitale – to assume control of the local party apparatus.
Lester Taylor
The mayor of East Orange (pictured above, third from left) racked up local wins in his hometown last night, a sweep for the local right arm of Essex County Democratic Chairman Leroy Jones and ally of Democratic State Committee star Chris James (also pictured above, fourth from left).
Realtors
They went in big in LD20 – $125,000's worth – behind incumbents Holley and Quijano.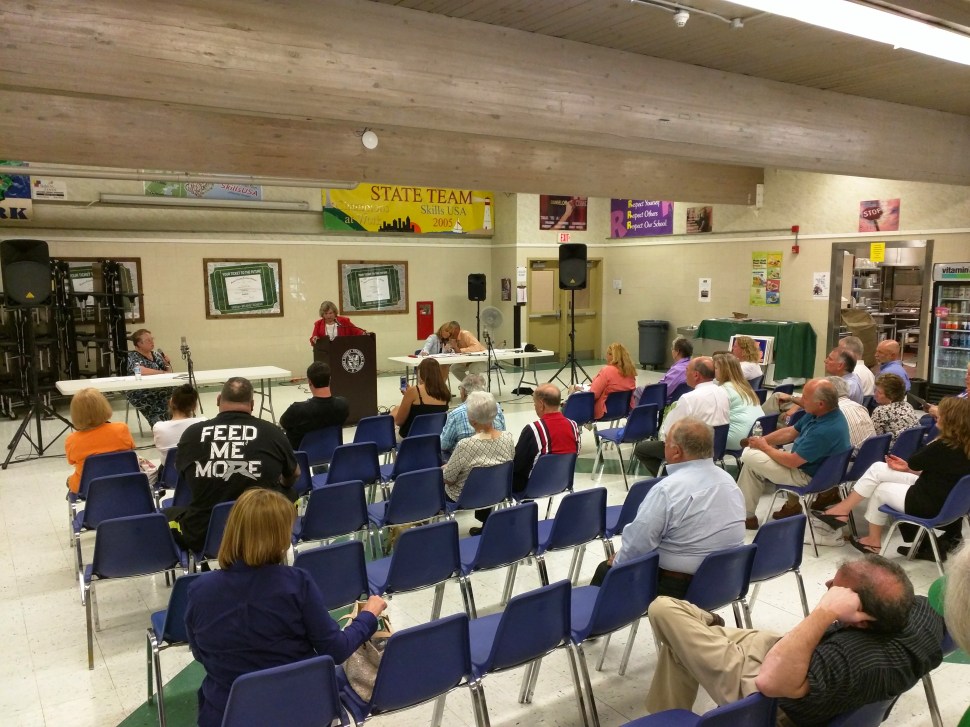 LOSERS
Democracy
It's difficult to think of those soldiers from past American conflicts – the Revolutionary and Civil War bloodbaths come to mind – dredged up among us now observing our absolute disdain for Election Day. Think of any number of dysentery, frigid winter and musket ball besieged men coming back and watching this selfie-absorbed, twittering culture of would-be next generation standard bearers.
The Elizabeth Board of Education
They can make the case that they're stockpiling resources for November and Board of Education elections, but the organization affiliated with longtime Elizabeth political maven Rafael Fajardo suffered a serious setback last night in LD20, where veteran player Tony Monteiro and his running mate Giuliano Farina essentially put up non-competitive numbers compared to past district-wide efforts.
Jerry Green
The veteran lawmaker from Plainfield lost his grip on the Democratic Committee in his home city last night, going down in defeat to local antagonist Mapp. In a politically charged county where a longstanding rivalry between Sheriff Joe Cryan and state Senator Ray Lesniak simmers constantly and everyone is super conscious of strengths and weakness, the loss made Green look vulnerable. After sustaining a local beat down, there are real questions now heading into county reorganization about Green's capacity to continue to carry the Democratic Party in Union County.
The Buccos
Senator Tony Bucco and his son, Assemblyman Tony Bucco, Jr., jumped publicly into the Morris County Freeholder contest last week, supporting the Scapicchio-Krickus-Smith team. Both Bucco-backed incumbents lost, leaving only board-newcomer Smith to claim victory and leaving the vaunted Bucco Empire trying to collectively grin through a 1 for 3 night.
John Sette
Like the Buccos, the longtime Republican chairman got into the freeholder race, switching his backing of "the incumbents" to straight support for the Scapicchio-Krickus-Smith Team. Again, he went 1 for 3, essentially trading Cesaro for Smith, both of whom won, and absorbing the loss of allies Scapicchio and Krickus.
Ailish Hambel
The classy Republican chair of the Sussex GOP proved the establishment's most arms-length sacrificial lamb in the aftermath of Parker Space's and Gail Phoebus' establishment victories. Hambel said she would retire after last night's election rather than perpetuate the Mahler-like dirge of a divided party.
Leslie Dominguez Rodriguez
Embarrassed by last year's ballot fraud case, the veteran leader of the local Democratic Committee in Perth Amboy got mopped out of power last night by a majority supported by Mayor Wilda Diaz.
Barbara Buono
It was deja vu all over again, as the former state Senator (swamped by Gov. Chris Christie in 2013) ate allegations by the state Election Law Enforcement Commission (ELEC) that her campaign misused senate funds toward her gubernatorial run.
John Krickus and Dave Scapicchio
They didn't get badly beaten, but they lost by virtue of giving up a statement-making chance to beat the machine of money pumped into the election cycle by independent expenditure and Democratic Party-affiliated PACs. Had the Scapicchio-Krickus-Smith slate won, they could have had a Morris County stranglehold on a Mr. Smith Goes to Washington narrative that every public interest-serving elected official wants. It was not to be.
Jim Fazzone
As a Democrat, the Burlington City Mayor backed Christie's 2013 gubernatorial reelection bid, then changed parties with the support of the Burlington Republican Committee, and last night got run over in the GOP Primary.