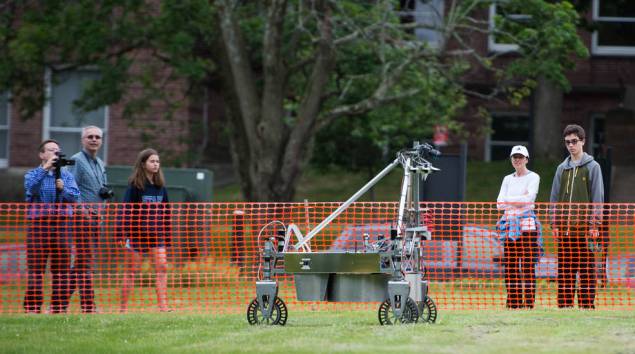 Twenty robotics teams have sent their pride and joy creations out on a mission to find some stuff and bring it back.
They're competing in NASA's fourth annual Sample Return Robot Challenge, a scavenger hunt-like competition in which robotics teams comprised of groups ranging from university students to small businesses will compete for cuts of a $1.5 million payout. The competition began June 8 and runs until June 13 in Worcester, Massachusetts.
"With missions to other planets and deeper space in our sights, it is increasingly valuable and necessary to see these technologies through," Sam Ortega, program manager for Centennial Challenges at NASA's Marshall Space Flight Center, said in a news release. "Robots are our pioneers, and solving this challenge will be a breakthrough for future space exploration."
The Challenge requires the autonomous robotic systems to locate and collect a specific set of geologic samples from a large and varied landscape and return them to the starting zone without human control. The roving area includes open rolling terrain, granular medium and soft soils along with a variety of immovable obstacles like trees, large rocks and water hazards.
There are two levels of competition—the second of which is harder than the first. A team's robot must retrieve and return one item in the 15-minute time frame to successfully complete level one and advance to the second round for a chance to win.
To complete level two, the robots must collect and return at least two items in two hours. The more geologic samples collected in the final round the better, though; each has a point value and the more points, the bigger the payout.
Returning teams who made it to level two in last year's competition are allowed to skip the first stage this time around. Out of the eight returning teams, this only applies to two—team Survey of Los Angeles and the West Virginia Mountaineers of Morgantown. So if you thought this robot scavenger hunt sounded like easy money; think again.