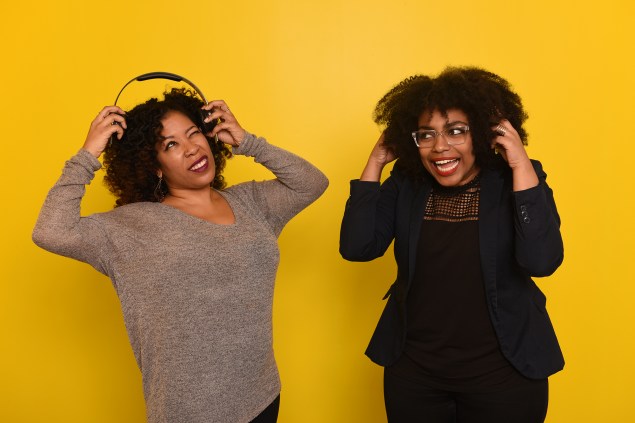 Podcasts are having a moment, and Buzzfeed is getting in on it. Among the crop of Serial-impersonators and public radio expats comes Another Round, the show produced by the company's audio division. Hosted by Heben Nigatu and Tracy Clayton—two black women writers on Buzzfeed's staff—the show, which launched in late March, has already climbed to iTunes' podcast top 100.
The half-hour show touches on issues ranging from the deeply important — difficult subjects like police brutality and black mental health — to the deeply funny. Another Round, with its distinctly black, youthful, and bourbon-fueled sound (the hosts drink while they 'cast), is a departure from the usual NPR-inspired fare and speaks to a broader audience.
The team behind the show— the co-hosts, along with producer and Buzzfeed's Director of Audio, Jenna Weiss-Berman — sat down with the Observer last week in the Beyonce conference room at the company's Flatiron office for a Q&A:
What's the story behind 'Another Round'? Where did the name come from?
Ms. Weiss-Berman: They came over to me one day and they were like 'Jenna! We came up with a name for the podcast' and I was like 'what is it' and they were like 'It's called Here's The Thing.' And that's Alec Baldwin's podcast.
Ms. Clayton: Who even knew that he had a podcast??
Ms. Nigatu: Who is like 'You know what I want to hear more of? Alec Baldwin's opinions!' But really, I think we settled on this because it captured the conversational tone and the physical thing about being at a bar with your girlfriends.
And obviously the title references alcohol, which you drink during the show. What exactly are you drinking?
Ms. Clayton: Usually bourbon. Usually Woodford Reserve.
Ms. Nigatu: Yeah, we've learned how much we should and shouldn't drink.
How do you prepare for an episode?
Ms. Nigatu: So the pre-production is mostly having ideas, and then we'll have a prep meeting and be like "what do you want out of this interview" "what's a good balance for this show tone-wise". It's thinking about is this too serious or too fun…
Ms. Weiss-Berman: We do that the day before we record. People think when they hear podcasts that it's just two people talking about whatever they thought of in that moment, and then we just put it on the internet. But we really plan it, and we spend three full days editing it down and scoring it. Not everyone does that with their podcasts, but I really care about good sound and editing quality.
Who do you imagine as your audience?
Ms. Clayton: Us. That's who I imagine. The voices and the people I'm concerned about reaching are people like us, whose voices aren't that accessible and aren't that represented in the podcasting world and the media world and in American society in general.
It's also really cool that people who do not look like us really like the show. We get a lot of emails from non-black people in general. A lot of them will start off with 'I'm know I'm not the target audience but I really love the show.'
Ms. Nigatu: That's so cute, that they think they're not the target audience!
Ms. Clayton: It's perfect that they know that they're not the target audience. I feel like they should… It's very present on my mind who I'm not trying to cater to. I'm not concerned by, like, how do we get white men to listen to the show.
Ms. Weiss-Berman: There are a few podcasts on race now, and they have a white guy weighing in. Our show is different because there isn't a white voice represented. And I don't think any of us felt the need to represent a white voice. There are plenty of white voices being heard.
What has the reaction been?
Ms. Weiss-Berman: We get just so many constant beautiful emails and tweets from people who say that, like, 'I've never heard my voice in a podcast.'
Ms. Clayton: I think my most favorite was just a one sentence email: 'Thank you for validating the fuck out of me as a black girl.'
Who do you see as your contemporaries in podcasting?
Ms. Clayton: That's a question that I can't answer, because I don't listen to podcasts.
Ms. Nigatu: I think we're a combination of three styles of podcasts: friends talking about stuff, but also we're going to pointedly talk about some pop culture thing every week, and we're going to try to do This African American Life.
Ms. Weiss-Berman: In podcasts, a few things that are hard to find are shows for younger people, shows for people of color, and shows hosted by women. This show is all of those things, and I was really psyched about that. We also have an all-girl pod squad. That's awesome, and it's also extremely rare.
Tracy and Heben, you both write for Buzzfeed. How has doing Another Round affected your writing?
Ms. Clayton: Buzzfeed is a very white site. When you're a black writer writing for a white site, there's a lot you have to be mindful of. The podcast is owned/sponsored/supported by a white site, but it's still a very black podcast. I don't have to be as mindful of how to make my voice fit anything but my own ears.
Ms. Nigatu: I feel like I never think of myself as a humorist or as a particularly funny person, but I think about it now in a more pointed way.
Dream guests? Who would you love to have on the show?
Ms. Clayton: All of my dream guests are people that I'm in love with and want to convince to marry me. Obviously Tom Hanks. But really, Erykah Badu would be a great one.
Ms. Nigatu: Kanye West. The Obama kids. Sasha and Malia… that's going to happen.
Ms. Clayton: And Obama. Like once Obama is out of the White House and is just ready to talk, like ready to dish…
Ms. Nigatu: Let it out Obama, we're here for you!
Ms. Clayton: We'll get you a little cup of Hennessy. Let's just do this. Let's just let it out.
Ms. Nigatu: We will pretend it's not Hennessy on air. We can't be that black.