LIVINGSTON — Inside was mostly camera flashes and fanfare, a welcoming party of friends and supporters encircling Gov. Chris Christie as he formally kicked-off a long-awaited presidential run.
Outside, though, was a different story — a swarming mass of public labor employees and activists bearing red shirts and blasting the Republican for failing to deliver on a series of policy fronts in the state, from the economy to Hurricane Sandy recovery to a beleaguered pension and benefits fund.
Protesters inevitably followed Christie here today. They gathered in the field outside around the school as the event began, chanting "Let's keep fighting!" and "Christie for President… hell no!." They erected a massive blow-up camel, mulling back and forth between its towering legs, and wielded picket signs reading "Liar" and "Not Fit for Any Office." They shouted through bullhorns.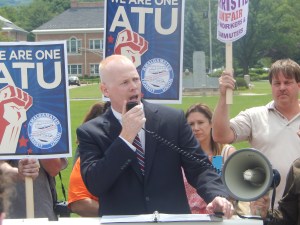 "I'm here today because Chris Christie has lied, to a lot of people," said one protester, Ken Magg. Magg taught in East Hanover until 2011, when he said Christie started the first round of his signature pension and benefits reforms and forced many public school teachers into early retirement.
"He's lied to the public, to teachers in general, to mostly public employees. He made a promise that he was not going to attack our pension and health benefits, and he has lied at every count," Magg said.
At one end of the crowd, protesters congregated around a state police barricade to listen to speakers take turns riling up the group. Among those speakers was Jim Keady, a former Belmar council person-turned 30th district Assembly candidate.
While Christie was inside bashing President Barack Obama, Keady, a Democrat, was bashing Christie.
"While our fellow residents continue to suffer, Gov. Christie has spent more than 200 days of the year outside of the state looking for a job that he will not get, while ignoring the job that the people of New Jersey elected him to do," Keady yelled. "Instead of being inside his high school alma mater, talking about his ego-driven vanity run for president, he should be in his office right now in Trenton, doing the work to get those families back home."
Keady, famously, is the man Christie once told to "sit down and shut up" at a Hurricane Sandy anniversary press conference. It's not the first time he's has turned up at a Christie-headlined event.
"Now along with the governor's mess that he made with regards to Hurricane Sandy, New Jersey's economy is still in recession, our unemployment rate is one of the highest in the nation, our public infrastructure is crumbling, our bond rating is in the toilet, and our public pension fund is on the brink of insolvency," Keady continued.
"Fiscal dishonesty. Failed public policy. Absentee leadership. Flat out lies. These are the hallmarks of Gov. Christie's tenure. We have overwhelmingly rejected him, and so will our fellow citizens throughout the United State. New Jersey and America deserves more," he added.
Keady wasn't the only pol who joined protesters in the field, though. According others in the crowd, Livingston Mayor Michael M. Silverman and two of the town's council people were also present outside, partly because they did not receive invites to the event.
Asked what Christie might do to reconcile his relationship with public workers, Magg, who was joined by his wife, had one word for him.
"Resign," he said.