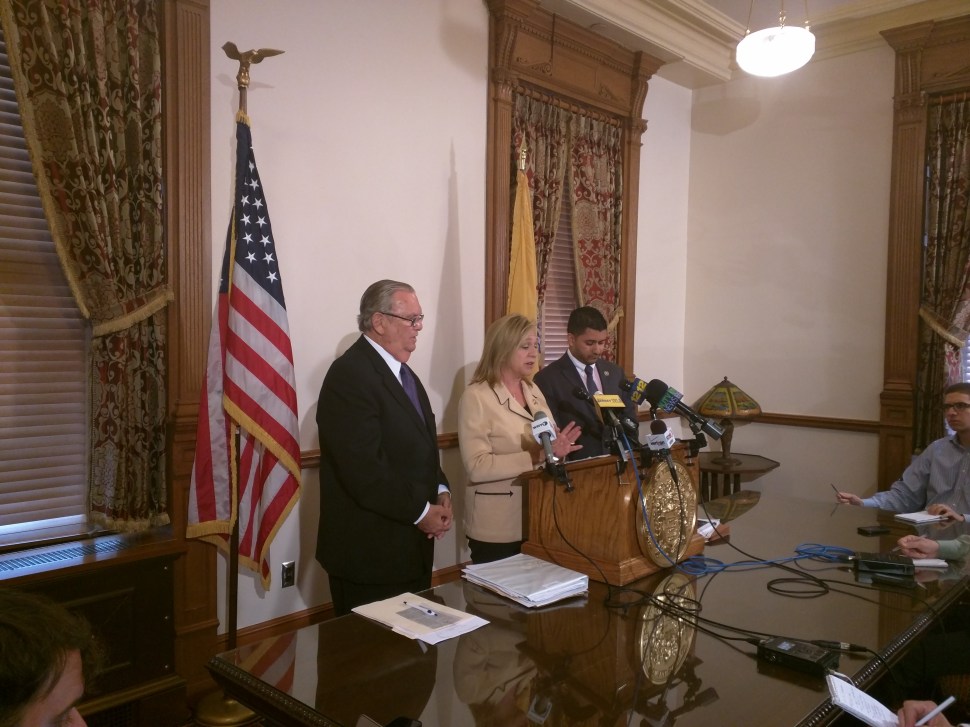 TRENTON — Acknowledging regional tension but arguing its ultimately time to turn the page, three North Jersey lawmakers called for legislation that would end a five-year moratorium on gaming outside of a beleaguered Atlantic City and ask voters to give the legislature the authority to open three potential casinos in the northern reaches of the state.
At a press conference in the state house this afternoon, Assemblyman Ralph Caputo (D-28), Assemblywoman Valerie Vainieri Huttle (D-37), and Assemblyman Raj Mukherji (D-32) proposed a constitutional amendment be put on the ballot as early as this year that would, if approved, allow the state to move forward with the construction of "no more than three" gaming halls in North Jersey. The likely locations for the casinos, they said, would be Essex, Bergen, and Hudson — from which each lawmakers respectively hails.
"We can't sit by any longer. The history of Atlantic City was one that I was part of. I understand the industry from the inside. You have a tremendous amount of competition from neighboring states, you've had a downturn in the economy," Caputo, who once worked as a casino executive, said. "Everybody knows that if you're going to survive at anything, you have to adapt. If you don't adapt you become extinct, and you become a dinosaur."
The amendment's introduction today represents something of a culmination of recent discussion among officials in the state over the proposition of expanding casinos outside of Atlantic City, to which it's been limited since gaming was legalized in 1976, and again when the legislature passed its five-year moratorium back in 2011. That moratorium sought to ensure that the economically-crippled shore town — where gaming revenues have fallen consecutively, now down about $2.8 billion since 2006 — had enough time to rebound, but growing gaming markets in neighboring states, such as New York and Pennsylvania, have threaten the state's ability to compete.
The issue has, though, has also begun to fracture the legislature along regional lines. While leaders of both parties have come out in favor of the idea — including Senate President Steve Sweeney (D-3) and, more recently, Gov. Chris Christie — many South Jersey lawmakers oppose it, including Assemblymen Chris Brown and Vince Mazzeo, a Republican and a Democrat respectively who are running for reelection in the second legislative district in November.
Both Brown and Mazzeo cite expert forecasts that suggest casino expansion beyond Atlantic City could end up cannibalizing the industry there and further exacerbate the city's own economic troubles.
But Caputo, Huttle and Mukherji said the amendment is about more than politics or regional interests, and that reviving New Jersey's gaming industry with new casinos could benefit the state as a whole. Under the proposed amendment, the state's share of revenues from those casinos would be used — as is done with Atlantic City casino revenues — for programs that assist senior citizens and residents with disabilities, but a portion of additional revenues from North Jersey gaming would also be dedicated to subsidies for non-gaming development in Atlantic City.
Few specifics on how much additional revenue would make it's way down to Atlantic City, or on the size and exact locations of the casinos in each county, were offered, however.
"There's been so much talk, we three of us decided we need to start the conversation," Caputo said, calling the moratorium "over, as far as I'm concerned."
In Hudson, a casino could be erected in Jersey City, where a 4.6 billion project to construct a casino that would also feature residences, a 107,500-seat motor sports stadium and what is billed as the largest Ferris wheel in the world has already been proposed and endorsed by the mayor. In Bergen, it would likely be in the Meadowlands, where details on a proposed Hard Rock casino are set to be unveiled next week.
They also did not say whether, once the amendment is passed, more casinos could be planned for other areas in the state, such as Central Jersey, where lawmakers today voiced their desire for gaming in their own districts.
"We are losing gaming tourists to our neighbors and it is time we bring them back home to New Jersey," said Vainieri Huttle. "Now is the time to finally focus on finding the best ways to utilize gaming to boost the North Jersey economy and our state as a whole. We can bring top-flight casinos to Bergen, Essex and Hudson counties while helping Atlantic City, benefiting everyone and ensuring New Jersey remains competitive."
Mukherji said North Jersey casinos could potentially create 20,000 direct jobs, 30,000 indirect jobs, and billions of dollars in growth revenue in the coming years.
"In these three counties, we have some of the most prized real estate in the north east, a talented labor pool, and we sit at the heart of major transportation corridors," Mukherji said. "This bill is about keeping New Jersey's gaming industry relevant and viable, but it's also about replenishing hundreds of millions in annual gross gaming revenues that we have lost to neighboring states in recent years."
As for when such an amendment could be put on the ballot, Caputo said he would like to see it added as early as this year, though he said he'd defer to Senate and Assembly leadership. August 3 is the deadline for ballot changes.
"If it doesn't happen now, we have to do it as soon as we possibly can," Captuo said. "But if everybody comes together, and reads the analysts reports about what does and does not work, we can make a decision that's above politics and that's good policy for the state. That's what I want to happen."
Caputo has sponsored two earlier amendments that would OK casinos in North Jersey.