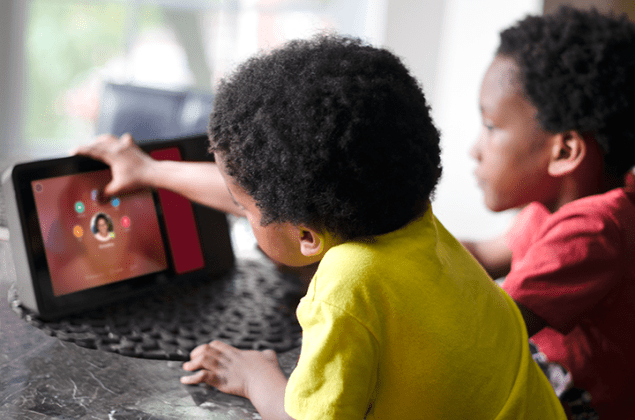 Between our phones, laptops, tablets and plethora of social media accounts, it's no secret that we feel connected—maybe a little too connected, in fact. But we fail to realize that communication isn't so easy for some of the people who need it most. Young children need both their parents' help and devices to stay in touch with grandparents, cousins and other relatives who may not live nearby.
Enter ILY, a new device that is set to cut out the middle man and finally allow young children and older people who may not be adept with technology to connect with others safely and seamlessly.
The device—named for the acronym for "I love you" and the last three letters in "family"—lets users make video and audio calls as well as share photos and drawings. ILY looks a bit like a tablet, but it isn't one and can't connect to the Internet for unintended uses, which means that screen time and unwanted activity isn't an issue. It's launching for pre-order today.
"We essentially built a communication application so you can video and audio chat, but a three-year-old can use it and so can a 93-year-old who doesn't like iPads and doesn't really know how to use Skype," Ilan Abehassera, ILY creator and founder, told the Observer when we met for a demo.
ILY is always plugged in, always on, always charged and always at the same location. It's a little reminiscent of the house phone, but with children in mind. All a young child has to do to call grandma is walk up to ILY (motion sensors will automatically illuminate the darkened screen) and tap her photo to place a call. On the other end, ILY lights up and rings like a regular phone until the call is accepted.
Even besides its ease of use, the device is kid-friendly. Firstly, you must approve members into your ILY circle to allow them to call you. Parents can also set certain times calls can be made with ILY so their kids don't bother others in the middle of the night. If a child tries to call outside of trhe permitted times, they can leave a recorded message to be heard later instead.
And the best part: you don't have to own the ILY device to connect. Other family members can receive audio or video calls on their phones, tablets and computers with the ILY app the same way they'd receive a phone or Skype call. The device uses Wifi or wired internet, so you don't need a landline, but if you have one, ILY can replace it and adopt your home number.
The device also features a family feed that shows the whole family's activity, a drawing app and simplified a Spotify page.
"My kids, they listen to Frozen all of the time, and I just hate that they're taking my iPhone and iPad," Mr. Abehassera said. "But I do like the fact that they're listening to music, so we're just making it easier for them."
Mr. Abehassera's kids—he has three aged two to seven—were the inspiration for ILY. This is actually his second tech company (his first, Producteev, sold to Jive in a joint deal for $7.6 million in 2012), and he's had such a busy career that, at times, it's been difficult for him to stay in contact with his kids, especially when his wife is busy also.
"The parents need to be there to connect their young kids to the rest of the family," Mr. Abehassera said. "I feel like with all of the technology we have today, that doesn't make sense."
He sought to see if others have the same problem, so he surveyed 500 grandparents. Of those surveyed, 75 percent said they don't get to talk to their grandkids enough. When asked why, the most prevalent answer (50 percent) was that the parents are too busy.
"I showed it to my kids very early on, Mr. Abehassera said. "My son was at the office early this morning, and he kept asking me, 'when will we have our phone?' They call it their phone, and for them, it's so natural to think they could call grandma without us."