Planning a week-long vacation to a gorgeous tropical island for you and your spouse, but then thought, "Hey, I'd rather blow $10,000 on a single night at a random NYC restaurant?" Duet Brasserie has the solution for you!
Yes, folks, for $10,000, the West Village eatery is offering the "Ultimate Date Night" package, available on any Sunday night for a three-hour period.
"We wanted to create an opportunity for New Yorkers to really experience an amazing opportunity with their significant other, and give them a chance to gift their loved one an extravagant night to remember," chef Dmitry Rodov told the Observer.
So what on Earth do you get for all that money? A helicopter? A private jet? A chance to meet Beyoncé? No, but you do get the entire two-story restaurant to yourselves. Then there's the customizable five-course menu, with pricey wine and champagne pairings.
"Cristal and Dom Perignon are top choices, along with an extensive wine list," Mr. Rodov said, "however we're happy to sit with the customer and make sure they like the options, otherwise we would be more than happy to accommodate to their liking."
There's also a private cooking lesson from Mr. Rodov, a small musical ensemble to serenade you, custom engraved commemorative dinnerware, and a personal photographer to capture your every love-filled move. A car service will also take you to and from the restaurant.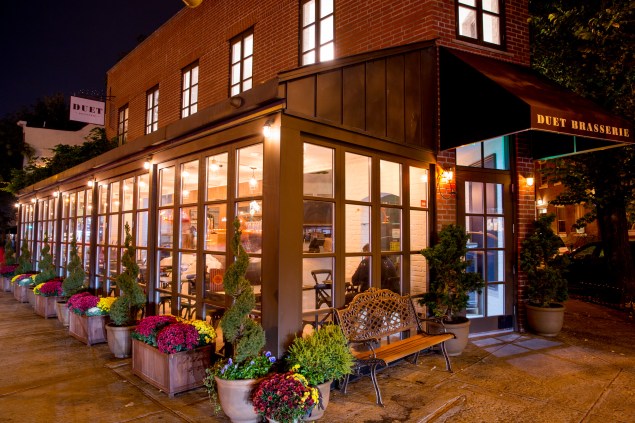 All of that sounds alright—except for the commemorative dinnerware; what is one supposed to do with commemorative dinnerware?!—but it's completely unlike something any tried and true New Yorker would ever in her right mind pay for. We're sure Duet Brasserie's food is fine, but there's no denying the restaurant is relatively unknown. New Yorkers have some of the world's most sophisticated palates, and as any of them will surely tell you, you can likely find yourself a far superior meal at one of the city's top restaurants for a mere 10th—nay, a 20th or 30th or 40th—of the price. And without the need to find a spot in your apartment for a pile of commemorative dinnerware!
We're sure Duet Brasserie a quaint neighborhood dinner spot, though we've never eaten there, nor do we know anyone who has eaten there. But in a city where chefs like Daniel Boulud, Thomas Keller, Eric Ripert, Marcus Samuelsson and Jean-Georges Vongerichten all preside over kitchens, there are indisputably better ways for foodies to shell out $10,000 on a romantic evening.