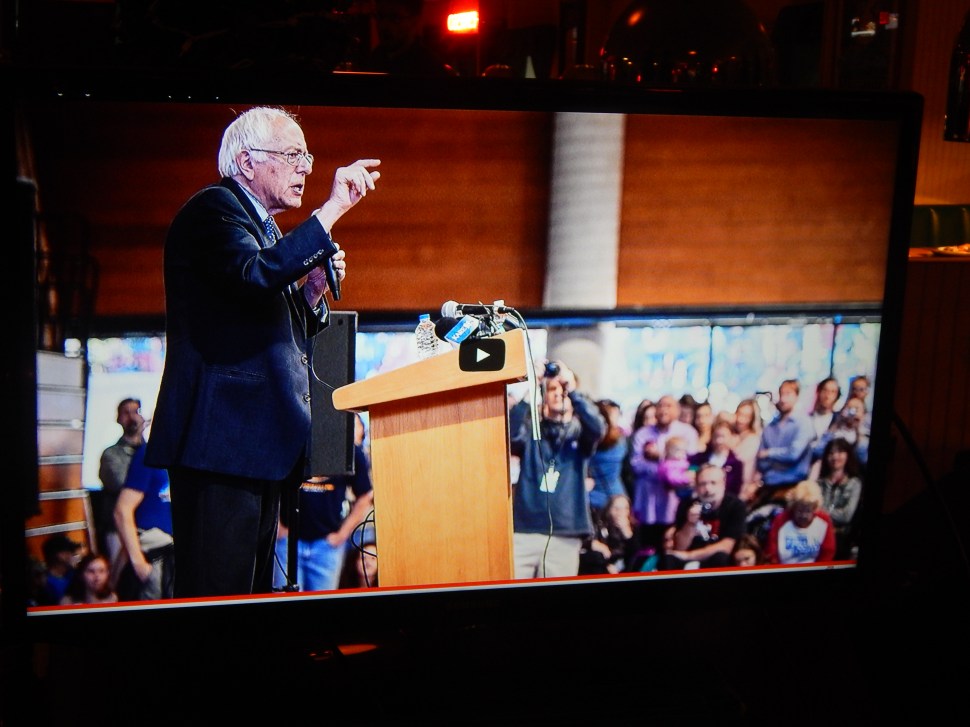 The early organizing efforts in New Jersey by the allies of presidential hopeful Bernie Sanders bring to mind somewhat the campaign for president by another Vermont Democrat over a decade ago.
There are, of course, significant differences, however, between Sanders 2016 and Governor Howard Dean 2004.
For one, Dennis Kucinich's and Al Sharpton's single payer healthcare presence in the Democratic Primary meant that Dean wasn't the only guy trying hard to corral the progressive vote.
But significantly the absence from the contest of an overwhelming early favorite like Hillary Clinton gave maneuvering room to the contestants in that long pre-Iowa harvesting period for endorsements. To our knowledge, Sanders at this point does not have the support of a single elected official in New Jersey, which Clinton, by contrast, has locked down.
It's interesting 12 years later to consider the fact that in the days and weeks after the first Dean volunteer meetings in March of 2003, the Vermont governor had the support of this eclectic group of electeds: Assemblyman Reed Gusciora (D-15), Assemblywoman Linda Stender (D-22), Assemblyman John Wisniewski (D-19), and Assemblyman Pat Diegnan (D-18). Future Newark West Ward Councilman Ronald C. Rice was also an early and enthusiastic Dean backer. In May of 2003, shortly after the New Jersey Democratic Convention in Atlantic City where Dean was the featured speaker, U.S. Rep. Frank Pallone (D-6) and Senator Loretta Weinberg (D-37) gave their endorsements to Dean.
By this time then, Dean already had at least six New Jersey elected officials in his corner. We're not rendering judgment about whether that's a good or bad thing, but it's reflective of the changed dynamics from 2004 to 2016 that sufficient opportunity for political expression within the establishment of elected officialdom existed then as opposed to now. There are other factors, too.
Does anyone remember who supported eventual nominee U.S. Senator John Kerry in the early going of that contest?
The answer (and it's a strange one): then-U.S. Senator Jon Corzine, U.S. Rep. Bill Pascrell, and state Senator Ronald L. Rice (D-28), like Kerry a Vietnam veteran. Corzine and Pascrell had been on different sides during Corzine's senate primary against Jim Florio just three years prior, and stylistically the two men could not be more different. But together with Rice they composed the starting core of Kerry's earliest establishment support for president among New Jersey politicians.
The strong core of Deaniacs consisting at its heart of grassroots supporters would contribute volunteer organizing muscle to general election legislative races that year. "What put us over the top with the establishment was we encouraged Dean supporters to volunteer on Assembly and Senate campaigns," NJ Dean for America organizer Bertin Lefkovic told PolitickerNJ."
That was the year the Democrats took both houses in Trenton, which they held ever since. Many Dean volunteers helped Democrat Ellen Karcher beat GOP incumbent John Bennett in a fiercely contested Monmouth County race for a senate seat that Karcher would lose four years later to Jennifer Beck. Shortly after the November elections of 2003 and with Dean harnessing anti-Iraq War sentiments nationally as Kerry struggled to explain his aye vote on the war resolution, the main frame of New Jersey Democratic Party elected power publicly went to the Dean camp at the Trenton Marriott.
"Mike Beson was a serious player," Lefkovic recalled of his statewide ally in the Dean cause. "He was a great fundraiser and opened a lot of doors for Dean."
By the end of November of 2003, Dean had then-Governor Jim McGreevey, then-U.S. Rep. Bob Menendez, state Senator Ray Lesniak (D-20) and most of the Democratic Party establishment.
Dean sank fast, leaving New Jersey pols to scramble for the safe company of Pascrell, Rice and Corzine.
Having cut his political teeth on the Dean campaign, Lefkovic all these years later is a diehard Sanders supporter, who last night attended one of many action events by the grassroots presidential hopeful. "
I just did some very rough math," the Democrat told PolitickerNJ. "Estimating around 3000 attendees statewide, which is 3% of the 100000 attending nationwide. NJ's 8.9MM people is 2.9% of the country's 310MM population. Not too shabby."
Sanders, incidentally, backed fellow progressive Kucinich for president in 2004.
While Lefkovic labors on at the grassroots level, the 2016 campaign version of consummate Trenton insider Beson is a committed Martin O'Malley supporter, and Sanders – again, not that he's looking – faces a coming campaign without those buttresses that Dean possessed.
"One of the reasons that we were able to be as effective as we were in 2003 was because Mike Beson [PolitickerNJ's Politician of the Year that year] was a really good fundraiser and that enabled him to have the ear of important people in the inner circles of Dean's campaign," Lefkovic reiterated. "It enabled us to get Dean to the NJDSC conference and he was able to see firsthand the grassroots energy here. It enabled me to get my calls taken and get a lot of help from them on the communications front. It helped us quickly build a statewide organization and county organizations."
In 2008, many of the Dean backers, including West Ward Councilman Rice, would resurface as supporters of Barack Obama, with a new core of grassroots urban influencers helmed by the likes of future labor leader Julie Diaz of Perth Amboy, but also reinforced and amplified by the likes of future U.S. Senator Cory Booker, who was then the mayor of Newark.
Now Booker is a staunch Clinton backer, as is his local successor, Newark Mayor Ras Baraka.
Is 2016 just so different from 2004 and the public disillusion so strong that such an absence of establishment heft will be an asset for Sanders, or is the post Citizens United game rigged for power and influence and Sanders doomed to be a mere voice in the 2016 maelstrom?
Or is New Jersey, on the continuum of primary election dates, simply irrelevant to the process?