The various socioeconomic groups of New York City all seem to melt together in the summer. There's this communal, egalitarian empathy that occurs when the heat of the sun hits concrete and people are sweating together. Were it not for the litany of parties, food and music festivals, New Yorkers would have very little reason to even travel outside when it's this hot, save for going to work or traveling to the nearest clean body of water.
What will become of the free music festival?
Among these outdoor events, the music series might bring people together the most. Programs with almost completely free events like Lincoln Center Out of Doors, Celebrate Brooklyn and SummerStage continue to attract emerging microcosms of musically adventurous fans in droves.
What, then, will become of the free music festival? Two formerly unticketed New York fests announced they would be selling tickets this year—the genre-bending, increasingly popular AFROPUNK and the Village Voice's 4Knots Festival. Last weekend, 4Knots kicked off in a new location on Pier 84 in Hudson River Park, after four years at the South Street Seaport and 10 years on Coney Island, back when it was called Siren Fest.
There was something bold and playful about indie rock bands playing out at Coney back then—literally at the end of the line, Coney is an area famous for a grimy but goofy boardwalk vibe that Siren Fest co-opted into a nautical, sideshow aesthetic. The dudes with the guitars on those stages out there, they were the true freaks! When Siren was re-branded 4Knots and moved to the South Street Seaport in 2011, that energy of the Coney days was gone.
So the Observer was pleasantly surprised that this year's 4Knots felt like a great success in Hudson River Park. Though the crowd seemed a little thinner than years prior, perhaps due to the $25 ticket or the parsing down of acts to just one stage, the room to breathe was welcome. The most unpleasant memories of Siren Fest involved weaving through the sweaty boardwalk throngs, just as the seaport often felt too crowded to see where you were going. By contrast, 4Knots on the Hudson felt downright comfortable, the park's soft, grassy lawn with shade-providing trees making for a venerable oasis after hours of sitting in the sun and listening to garage psych.
But how was the music? Having just one stage this year cut out sound bleed, a frustrating phenomenon where music from one stage can be heard over at the other, and a problem that has plagued Village Voice festivals past. The lineup, a smattering of local bands and more prominent independent acts, began with the scuzzy cluster-fuck of Brooklyn's Surfbort, who play riot girl fuzz with nonsensical spoken-word intros reminiscent of the Fuggs. To catch such an act on the Hudson, next to the fest's VIP yacht and the aircraft carrier-turned-museum called Intrepid, felt like a small miracle. Here is a band that knows how to get weird, evidenced by lead singer Dani Miller wearing a doll's head necklace.
Later on, as the bands partying on the top level merged with the paying patrons on the outside decks, shit started to get wild.
Heaters came by way of Grand Rapids, evoking the surf vibes of legends like The Ventures without forsaking any reverb to do so. The drums were a little too high in the mix to hear the guitar, but this is not an uncommon occurrence early in the day at outdoor shows. The Observer broke bread with Heaters about traveling around and playing surf music in the summertime.
"I think I actually kind of prefer winter, being from Michigan," said drummer Josh Korf from the VIP yacht. "Festivals are always fun because there's shit like this going on, you know?" added front man Andrew Tamlyn. "Most of the time we end up playing small dive bars with 30 people."
The yacht actually provided a nice shelter from the rays too, even if the lawn was still comfier. It got more crowded at various points during the day—concertgoers seemed willing to pay a little extra for a couple of drink tickets and some air conditioning.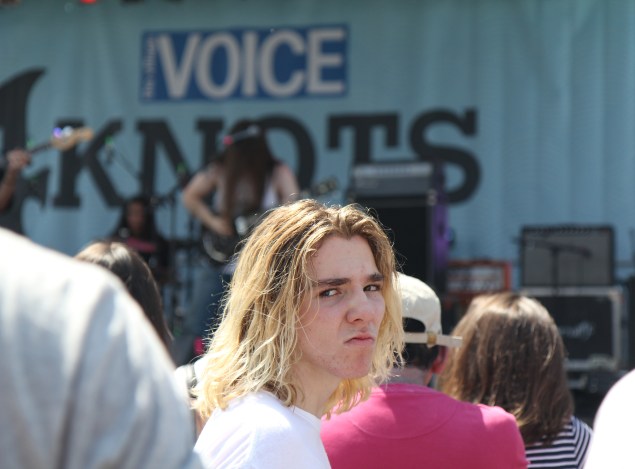 But it was later on, as the bands partying on the top level merged with the paying patrons on the outside decks, when shit started to get wild. We weren't the biggest fans of band Happyness that afternoon, as their songs sounded muted and not necessarily suited for an outdoor setting. Matty from Surfbort must have not been a big fan, either—band-mates reported him saying he didn't like indie rock and needed to cool off before jumping three stories off the yacht and into the Hudson. He was officially kicked out of the festival after that, but managed to get back after trying five different disguises.
California's Meatbodies was a great discovery that afternoon, introducing themselves as "The Minions, sponsored by Dreamworks." Though they sound a bit like Thee Oh Sees on record, Meatbodies do their own thing onstage, and they do it well. Psych-punk isn't a genre that needs reinventing, but you've gotta give it up for a front man who jumps into the audience for the last song, personally starts a mosh pit and then crawls back onstage to finish playing. "Thanks, we're Fugazi," said Meatbodies later on, effectively amending their prior introduction.
'This song is about taking mushrooms,' said one of them incredulously.
The craziest crowd of the afternoon belonged to Chicago's Twin Peaks, purveyors of good time rock and roll with a little garage, a little glam, a little pop and a little sneer. These dudes are all very young, which showed through their baby faces and their banter, no matter how much that one kid tried to give a Neil Young snarl. "This song is about taking mushrooms," said one of them incredulously while waiting for his band-mate to tune. Another said this was the first time he had ever been on a boat.
What they lack in seriousness, though, Twin Peaks more than make up for in tone. The band is tight, weaving through tunes off their latest LP Wild Onion with a swagger and confidence normally reserved for bands that have been in the game a lot longer. Who cares if "Making Breakfast" sounds a just like "Beast of Burden" by the Rolling Stones?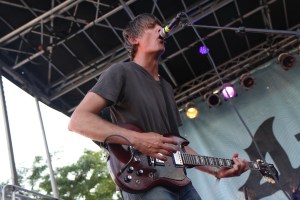 The two acts that most transcended music's garage-rock fetish du jour were the headliners, Pavement founder Stephen Malkmus & The Jicks and Welsh psych-pop act Super Furry Animals. Malkmus is simultaneously an anti-rock star and a man totally capable of shredding when he wants to, and that joke is part of his appeal. Sour notes in his solos are fine in a Jicks song—one drone on the bent strings of his Guild guitar stretched out into the air against the syncopated Jicks rhythm section and kept going until it reached space. When they closed with "Real Emotional Trash," a marathon 10-minute riff-jam off his album of the same title, Malkmus seemed flummoxed, as if he forgot how to play his instrument, before pulling it together for the song's close.
Proper headliners Super Furry Animals hadn't played a U.S. date in six years, and the fans of the Welsh band's spacey brand of psych-rock sorcery made sure to let them know they were missed. As the sun had almost set when their set began, the band pulled their weight too, performing in space suits while purple lights and projected visuals on the stage synched to the music. Lead animal Gruff Rhys donned an over-sized, red Power Rangers helmet early on, holding up signs with words like "Applause" and "Apeshit" like Bob Dylan in the "Subterranean Homesick Blues" video.
Such spectacle was a welcome end to the festival that was decidedly no-frills while the sun was out. But when Rhys picked up the acoustic for "Hello Sunshine," we were reminded why the Animals are mentioned in the same hallowed league as the Flaming Lips. By the time the Animals dedicated "Juxtaposed With U" to Malkmus, it became clear that the band is equally capable of pleasing both fans and new listeners. It was also a testament to why they've been playing for over 20 years. When they came back onstage to finish the set in their trademark fuzzy suits, the love between the band and the audience was all but consummated.
There were certainly gripes to be had with 4Knots in Hudson River Park. The late start time meant some acts played short sets. They oversold the VIP area and it was often much more crowded than the main area, leading to a smattering of hipsters with disposable income literally looking down at the show from the yacht's deck. The attendance probably would have been better with one more headliner, too. But all things considered, this 4Knots  was a success. The whole thing seemed quite sexy, too, when an adjacent tourist cruise let out a catcalling honk as it pulled out of the pier.