On the six-year anniversary of the end of the Great Recession, here are five things you should know about today's jobs report.
1) Job Growth
This month the economy added 223,000 total non-farm (TNF) jobs, and we are averaging 208,000 TNF jobs/month in 2015. If this monthly pace continues, we will add 2.5 million jobs by the end of the year, behind last year's growth but still better than any other year since 2005. While the Great Recession officially ended six years ago this month, job losses continued through February 2010. Since 2012, the pace of job growth has been steady—neither too robust nor too meager.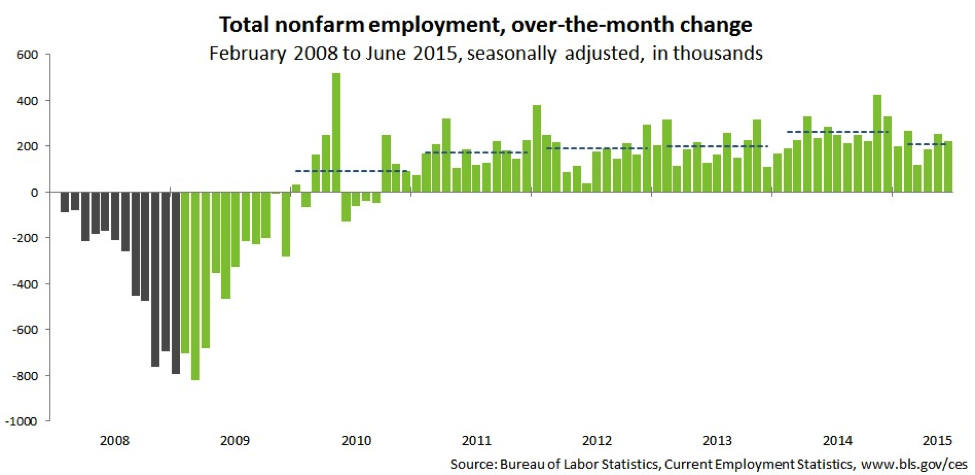 2) Wage Growth
Over the year, average hourly earnings have risen by just 2%, essentially flat since the end of the recession. Luckily, so far this year inflation has remained even lower (mostly from falling energy prices), meaning workers are seeing some real wage growth even if it doesn't feel like much. But the worry is that inflation will return to normal, leaving real wage growth stagnant. Anemic wage growth leads to growing inequality which itself hampers future economic growth, because my income is someone else's spending, and my spending is someone else's income.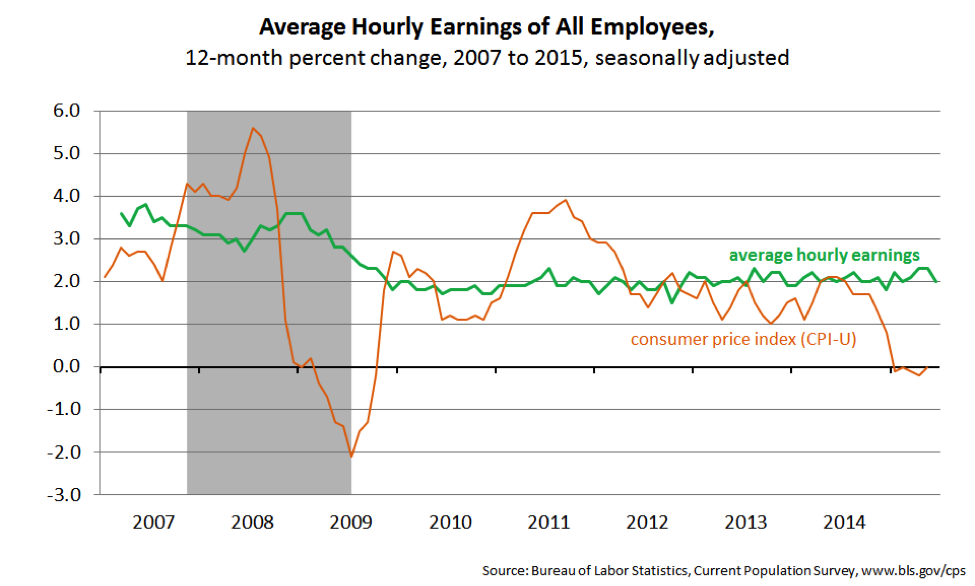 3) Unemployment Rate
Unemployment fell again this month and is now the lowest since April 2008. No economic indicator has improved so quickly to the surprise of many analysts, including the Congressional Budget Office, which projected an unemployment rate of 5.5% and the end of 2015.
4) Labor Force Participation
Falling labor force participation (LFP) at first glance suggests the unemployed are dropping out of the labor force. But the retiring Baby Boomer generation was always going to decrease the percentage of people working or looking for work. That's why it's useful to look at workers age 25 to 54, whose LFP has held steady over the last two years, even as the percentage with a job has continued to climb, suggesting job prospects really are getting better.
5) Part-time employment
Many people have tried to argue that part-time employment is too high. Part-time employment always increases in the immediate aftermath of a recession, and slowly part-time jobs are replaced by more full-time jobs as the recovery continues. So far in this recovery, the share of workers who are working part time is consistent with the recoveries after the recessions in 1991 and 1982. Overall since the end of the recession, the economy has added 8.3 million full-time jobs and 208,000 part-time jobs.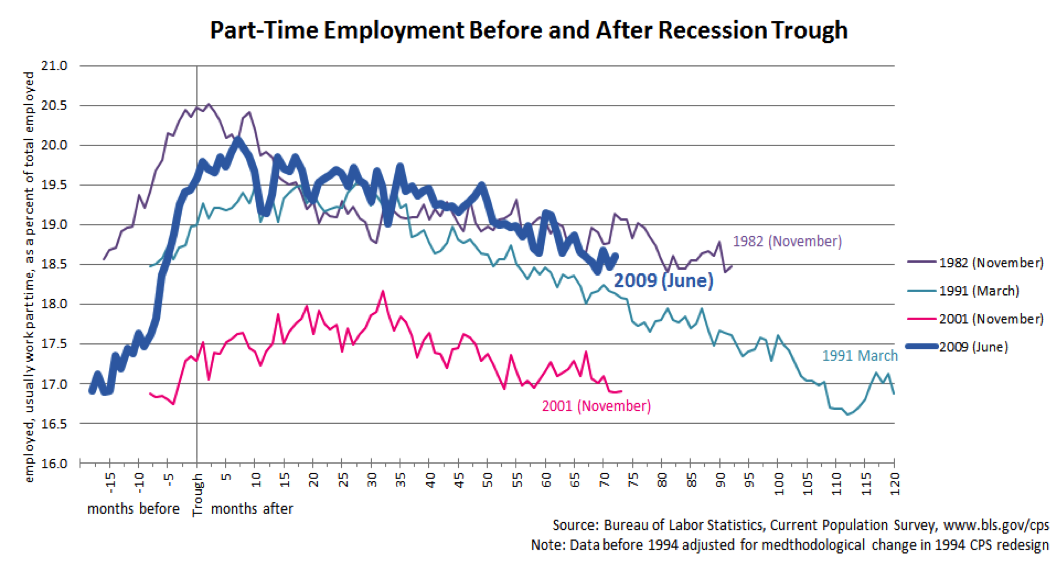 Harin J. Contractor (@harincontractor) & Charles Carson (@CharlesC1983) are former economic policy advisors to the U.S. Secretary of Labor.