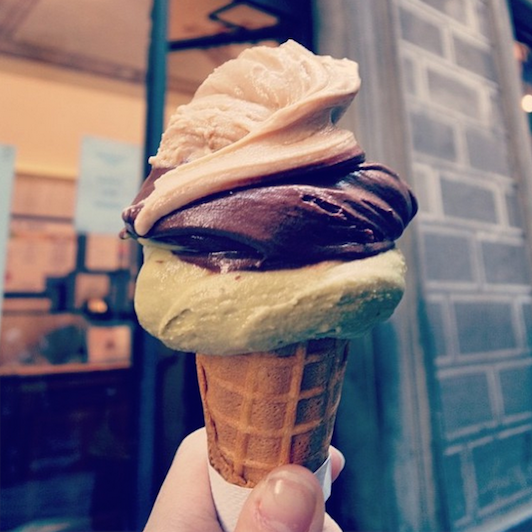 If you're going to splurge on ice cream this summer, you might as well make it count. Hit up one of these artisan ice cream locales throughout the city for delicious ice cream made with fresh ingredients in quirky flavors and concoctions.
Grom gelato
The authentic Italian gelato company, which was founded in Italy in 2003 and opened in New York in 2007, is based around the concept of making "gelato comme una volta" or "like it used to be made" by using only quality, all-natural ingredients and traditional Italian recipes. The liquid formula is made at the company's base in Italy with local ingredients and is then shipped to the various stores around the world, where it is whipped daily.
Go for: luxuriously creamy gelato made from the highest-quality ingredients—try salted caramel, made from sweet Himalayan pink salt, or a more traditional strawberry, made with select strawberries grown on the company's own Italian farm.
Location: 233 Bleeker Street (Greenwich Village) and 1796 Broadway (Upper West Side)
Price: $5.25 for a small gelato
Van Leeuwen Artisan Ice Cream
The artisan ice cream maker started as a single truck and now has trucks and brick-and-mortar locations throughout the city. Hipsters take note—the ice cream, which comes in both traditional and vegan recipes, is made from only a handful of fresh ingredients like hormone-free organic milk from cows in upstate New York, plus it comes in vegan recipes.
Go for: Idiosyncratic flavors such as honeycomb and earl grey tea, as well as cashew and coconut milk based recipes for vegans.
Location: Brick-and-mortar locations in West Village, East Village, Boerum Hill and Greenpoint and trucks in Williamsburg, SoHo and University Place
Price: $5.50 for a small ice cream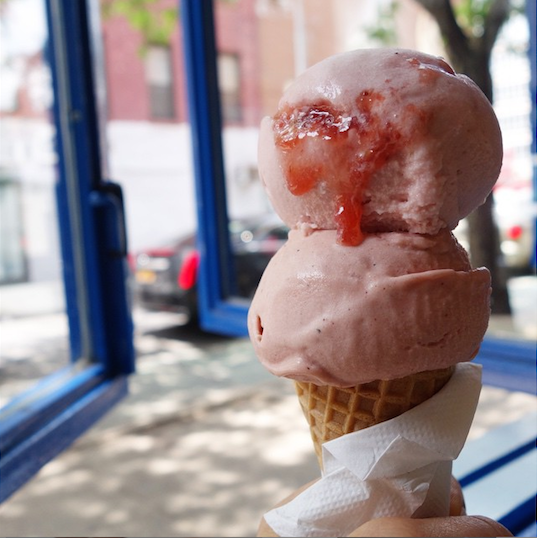 Morgenstern's Finest Ice Cream
The secretive shop, which requires employees to sign a legal document agreeing not to disclose the recipes, offers enough flavors to make your head spin (there are four versions each of vanilla, chocolate and coffee). This Spring and Summer, the shop is teaming up with a different chef each week for a flavor collaboration—look for "ode to Quaker" and "juicy juicy mango" in the upcoming weeks.
Go for: quirky ice cream concoctions like the $12 "new God flow," which consists of melting raw milk ice cream on Japanese white bread topped with caramelized honey.
Location: 2 Rivington Street (Bowery)
Price: $4.50 for a small ice cream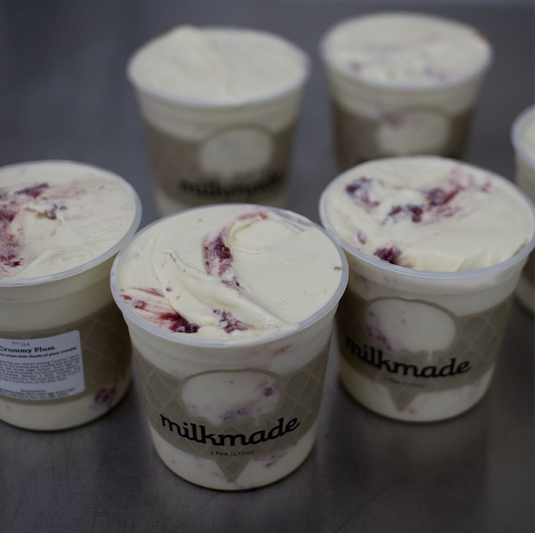 MilkMade
This luxury ice cream delivery service with a cult following will hand-deliver two unique flavors of ice cream to your door each month. For more spontaneous cravings, swing by the brand new brick-and-mortar location, the Tasting Room.  MilkMade sells some of the most expensive ice cream in the country at $30 for two pints,
Go for: besides the obvious perk of getting doorstep deliveries, join MilkMade so you can be the first to try the brand's crazy surprise flavors like Pop-Tart and chai latte.
Location: 204 Sackett Street (Cobble Hill) / Your doorstep
Price: $30 per month (two pints)
A. B. Biagi
As an Italian who grew up in Sao Paulo, founder A.B. Biagi has an eclectic mix of cultural influences that inspired a mashup of rotating flavors—including goat cheese, orange peel and anis, and cantuccini and port wine—that accompany the traditional gelato mainstays.
Go for: the shop's sophisticated take on an ice cream sandwich, gelato on sliced brioche that is then toasted in a sandwich press for a spine-tingling concoction that's cold on the inside and warm and gooey on the outside.
Location: 235 Elizabeth Street (Nolita)
Price: $6.50 for a small gelato, $8 for a pressed ice cream sandwich
Blue Marble Ice Cream
New York City's only certified organic ice cream, Blue Marble's purely delicious scoops in an array of simple flavors are made with natural flavoring like fruit, spices and cocoa rather than added sweeteners.
Go for: a sweet treat you can feel good about– Blue Marble's charity venture partnered with women in Rwanda to help them opened up their own ice cream shop.
Location:  196 Court Street and 186 Underhill Ave (Brooklyn)
Price: $3.53 for a small ice cream