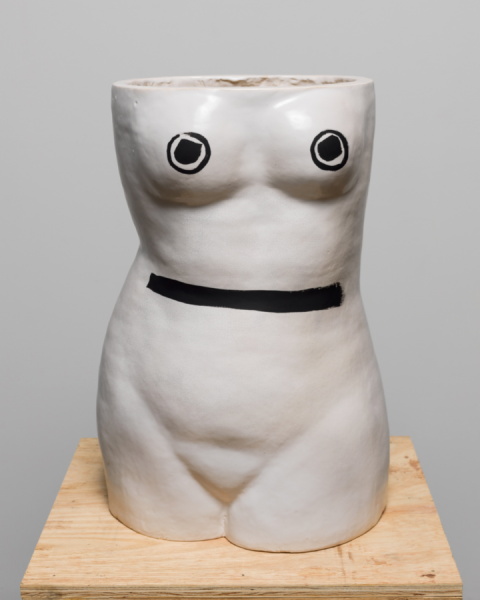 TUESDAY, JULY 7
Opening: "Torsos & Buckets" at Salon 94
Amy Bessone presents her black and white painted ceramic torsos and Matthias Merkel Hess exhibits his colorfully glazed stoneware buckets in this two-person show of Los Angeles-based artists. Ms. Bessone's feminine vessels make for a whimsical pairing with Mr. Hess' utilitarian receptacles.
Salon 94 Freemans, 1 Freeman Alley, New York, 6-8 p.m.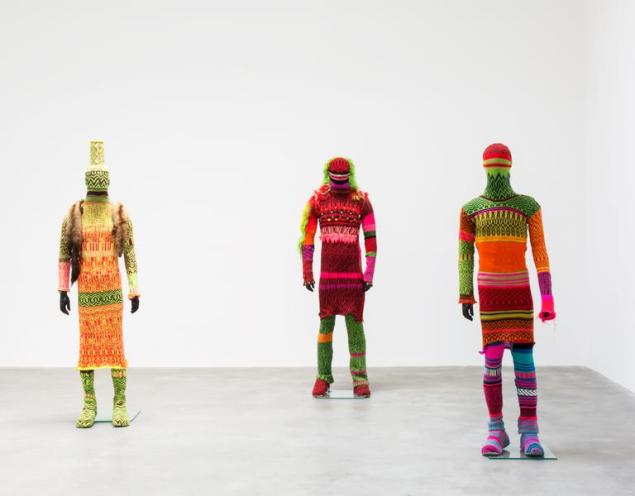 Opening: "What Nerve! Alternative Figures in American Art, 1960 to the Present" at Matthew Marks Gallery
One of the major group shows of the summer, "What Nerve!" mixes Chicago-based Hairy Who and San Francisco Bay Area Funk Art artists of the 1960s and '70s with artists related to Michigan's Destroy All Monsters and Providence, Rhode Island's Forcefield group from the '80s and '90s to present a compelling overview—curated by Dan Nadel, former PictureBox publisher and an expert in this field—of some of the most important alternative American art from the past 50 years.
Matthew Marks Gallery, 502, 522, and 526 West 22 Street, New York, 6-8 p.m.
WEDNESDAY, JULY 8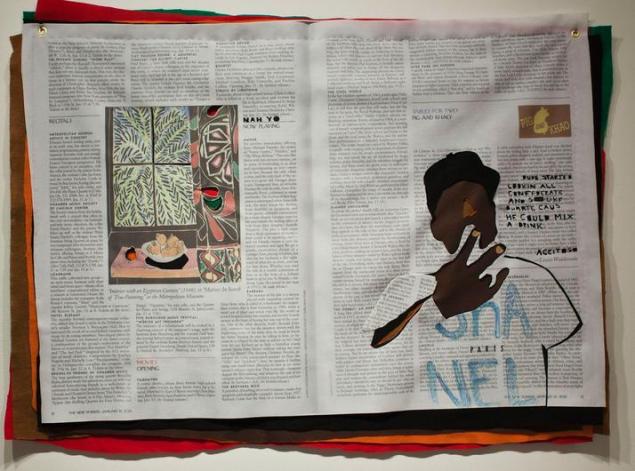 Opening: "Bronx Calling: The Third AIM Biennial" at the Bronx Museum of the Arts
The Artist in the Marketplace exhibition is traditionally one of the best places to discover new artists. The 13-week program for emerging artists provides professional development opportunities led by a faculty of local artists, gallerists and curators. Here's a chance to see the work of 72 contemporary artists, from the classes of 2014 and 2015, curated by Bronx-based artists Hatuey Ramos-Fermín and Laura Napier. With an alumni list that claims such talents as Chitra Ganesh, Diana Al-Hadid, and Letha Wilson, take a look at this show with collecting in mind.
Bronx Museum of the Arts, 1040 Grand Concourse at 165th Street, Bronx, 11 a.m.-6 p.m., free with museum admission
Performance: "Drawing Sound Part I: Billy Martin" at the Drawing Center
Over the course of three consecutive evenings, artist and musician Billy Martin, best known as a member of jazz-funk trio Medeski Martin & Wood, has invited renowned musicians and friends (including Chris Cochran, John Medeski, Ikue Mori, Ned Rothenberg, Yoshiko Chuma, and Paul Auster) to interpret and perform his graphic scores and automatic drawings in this dynamic downtown institution's intimate space—proof that the avant-garde is still alive and well.
The Drawing Center, 35 Wooster Street, New York, 7:30 p.m.
THURSDAY, JULY 9
Opening: "Between History and the Body" at The 8th Floor
Mixing artists of diverse cultural backgrounds working in a variety of media, this savvy show displays figurative work that deals issues of identity. Representing the Americas, Europe, Asia and Africa, the 12 exhibiting artists include such boldface names as Ana Mendieta and Nick Cave alongside emerging talents like Saya Woolfalk and Shaun Leonardo.
The 8th Floor, 17 West 17 Street, New York, 6-8 p.m., RSVP required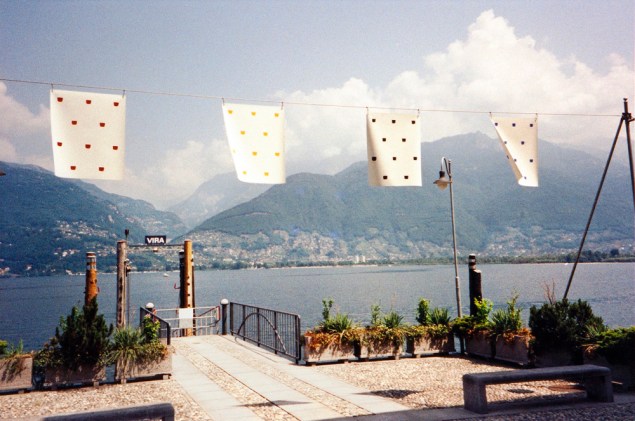 Talk: "Joachim Pissarro on Repetition, Romanticism, and Radicality in the work of Niele Toroni" at Swiss Institute
Niele Toroni is having his first solo exhibition in the U.S. in 25 years, with a survey at New York's Swiss Institute that showcases 40 years of the Swiss conceptual artist's work. On Thursday, professor of art history and director of the Hunter College galleries Joachim Pissarro discusses Toroni's signature mark—the imprint of a no. 50 paintbrush, applied at 30 cm intervals—in relationship to the BMPT group (Buren, Mosset, Parmentier, Toroni) and the politics of Paris in the 1960s, when the artist and the group first got their start.
Swiss Institute, 18 Wooster Street, New York, 7 p.m., RSVP requested
Opening: "Weird Science" at Marianne Boesky Gallery
Okay, they had us with the title of the show, "Weird Science," and then brought it home with the list of artists, which includes Asger Carlsen, Jay Heikes, David Opdyke, Jacolby Satterwhite, and Nick van Woert. Organized by Boesky assistant director Aniko Berman, the exhibition offers work in a variety of media—from classical painting to digital imaging—that mixes reality with fantasy, the natural with the grotesque.
Marianne Boesky Gallery, 118 East 64 Street, New York, 6-8 p.m.
Opening: "Paris Holiday" at Galerie Perrotin
Who doesn't want a Paris holiday in July? But if you can't get all the way to France, Galerie Perrotin has the next best thing. Its summer group show celebrates the French capital through the work of ten international artists. The Austrian artist collective Gelitin recreates the Louvre's famous Mona Lisa in radiantly colored clay; TED-prize winning French artist JR shows photo documentation of his giant wheat-pasted images of women's eyes along the banks and bridges of the Seine; and Sophie Calle exhibits documentation of the night she stayed at the top of the Eiffel Tower while visitors told her stories to keep her awake.
Galerie Perrotin, 909 Madison Avenue, New York, 6-8 p.m.
Opening: "Party Beuys or what comes after farce" at Andrea Meislin Gallery
The German artist Joseph Beuys (1921-1986) was internationally celebrated for his shamanistic artworks and performances, as well as his exaggerated personal mythology related to being shot down over enemy territory during WWII. Now, his artistic activities and storytelling are the point of departure for a group exhibition exploring "what comes after farce." Highlights include Gareth James' offbeat photo of a museum installation in progress, Assaf Evron's massive photographic mural of mountain peaks overlaid with framed pictures of architectural friezes, and Ilit Azoulay's "Howling for Beuys," a large-scale photomontage of different forms of aluminum scrap.
Andrea Meislin Gallery, 534 West 24 Street, New York 6-8 p.m.