TUESDAY, JULY 14
Screening: "Pierre Huyghe: The Host and The Cloud" at MoMA
In conjunction with MoMA's Sculpture Garden presentation of the French artist's Untilled (Liegender Frauenakt)—a concrete sculpture of a reclining female nude with a bee-hive inhabited by live bees covering its head—the museum is screening his surreal cinematic commentary on capitalism. The wacky, staged film involves Ronald McDonald, the 1980s French radical group Action Directe, puppetry and voodoo. The New York Times called it "a slow form of strangulation," but find out for yourself!
Museum of Modern Art, 11 West 53 Street, New York, 7 p.m.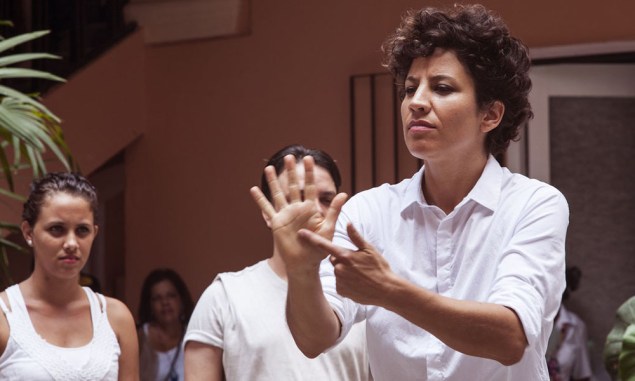 Performance: "Francesca Benitez: As you lean on me and I lean on you, we move forward" at the High Line
A visual and performance artist who's interested in examining boundaries confronting inhabitants of urban spaces, Francesca Benitez constructs three interrelated performances at specific sites along the High Line for three nights this week. A continuation of the Chilean-born, New York-based artist's use of sign languages, her new performances involve collaborative improvisation by performers versed in sign language "jamming" and deaf poetry.
The High Line, starting at West 14th Street, New York, 7 p.m.
WEDNESDAY, JULY 15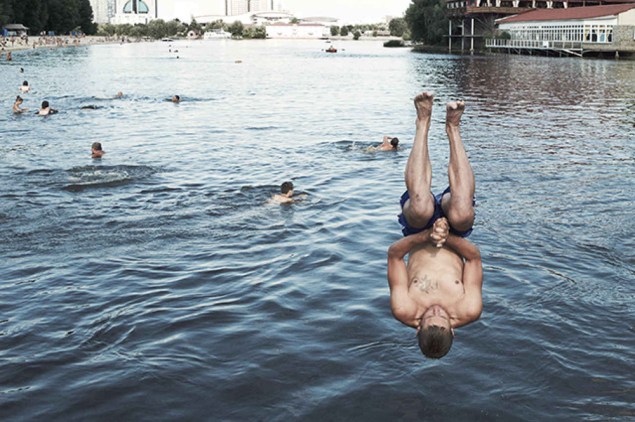 Book Launch: "Daniel King: Ukraine Youth" at Happy Ending
Traveling to the Ukraine at the end of 2013, Australian photographer Daniel King moved into an apartment with a group of Ukrainian teenagers, who would become the subject for a photo documentary series capturing the lives of these youthful revelers as their country was about to fall apart. Meet the photographer at a celebration for his new monograph, "Ukraine Youth: Between Days," published by Damiani, at this downtown hot spot, and pick up a signed copy.
Happy Ending, 302 Broome Street, New York, 6-8 p.m., RSVP requested, email rsvp@dapinc.com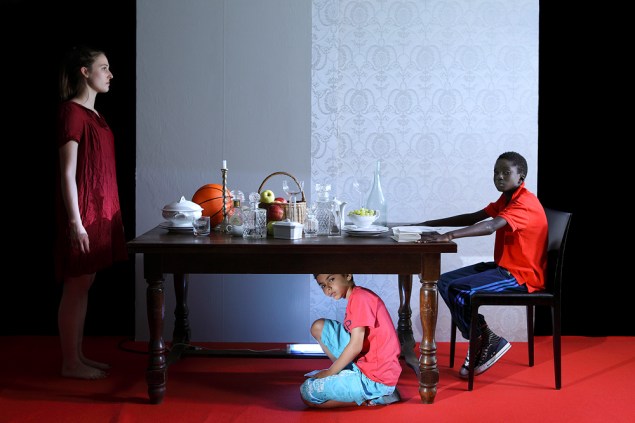 Opening: "Guess Who's Coming to Dinner?" at Richard Taittinger Gallery
Organized by Hood Museum of Art curator Ugochukwu-Smooth C. Nzewi, "Guess Who's Coming to Dinner?" introduces 12 contemporary African artists—including Halida Boughriet, Amalia Ramanankirahina, Gopal Dagnogo, and Beatrice Wanjiku Njorige—who are working in a variety of media and dealing with global concerns that transcend issues of national identity.
Richard Taittinger Gallery, 154 Ludlow St, New York, 6-9 p.m.
THURSDAY, JULY 16
Talk/Book Signing: "Joni Sternbach: Surf Site Tin Type" at Garnet Hill
Using an old-fashioned photography process and a large-format camera, Brooklyn photographer Joni Sternbach has traveled the globe for more than ten years taking portraits of surfers on some of the best beaches for riding waves. Her one-of-a-kind, wet-plate collodion images (known as tintypes) give her work the look of ethnographic photography, which makes her contemporary subjects seem like figures from the distant past. Ms. Sternbach talks about her complex process of portraiture, before signing copies of her eye-catching Damiani book, "Surf Site Tin Type."
Garnet Hill, 2424 Main Street, Bridgehampton, 5-7 p.m., RSVP requested, email rsvp@cerconebrown.com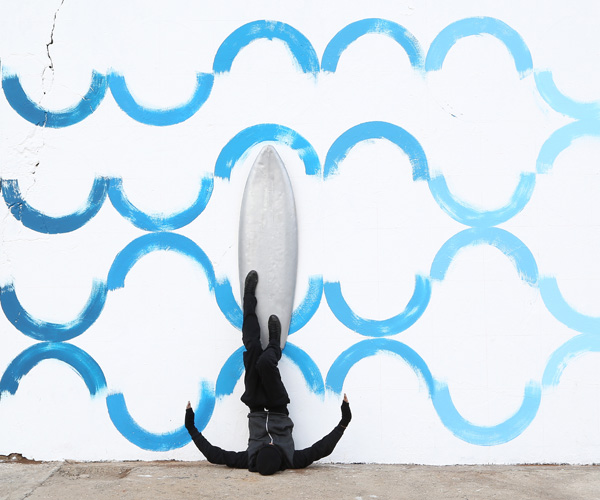 Opening: "Robin Rhode: Drawing Waves" at the Drawing Center
Widely known for his stop-action photographs and short animated films that capture whimsical acts of drawing on urban streets and studio and gallery walls, the South African-born, Berlin-based artist brings works that deal with waves to this summer solo show. "Breaking Waves" simulates the action of a boy surfing the sea through the movement of his body and a surfboard overlaying painted abstract waves, while "Paries Pictus—Draw the Waves" is a mural with vinyl cutouts of 17th century mercantile ships, around which participating children draw waves with absurdly giant crayons—an act referencing the troubled history of Mr. Rhode's homeland.
The Drawing Center, 35 Wooster Street, New York, 6-8 p.m.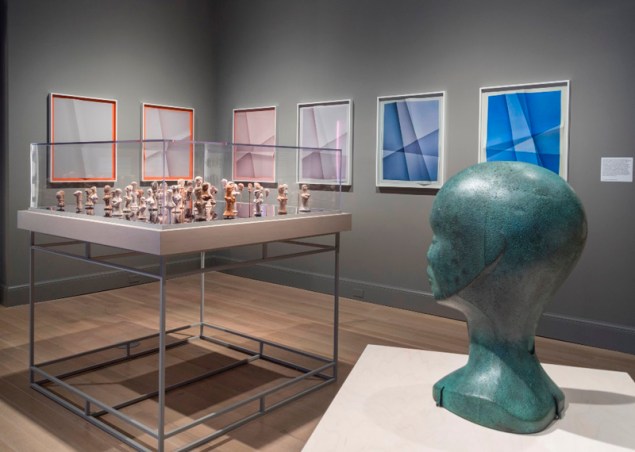 Talk: "This Is How We Do It: Repetition and Difference" at the Jewish Museum
Jewish Museum curators Susan L. Braunstein and Daniel S. Palmer lead a gallery walkthrough focusing on the inspiration behind their group exhibition "Repetition and Difference," which mixes artworks by contemporary artists that make multiples and serial works with ritualistic objects from the museum's collection, such as skullcaps and pillar figurines, which are mass produced. As part of the museum's "This Is How We Do It" series of gallery talks, the curators discuss the process of putting the show together based on the works on view.
The Jewish Museum, 1109 Fifth Avenue, New York, 6:30-7:30 p.m., free with Pay-What-You-Wish admission, space is limited, RSVP recommended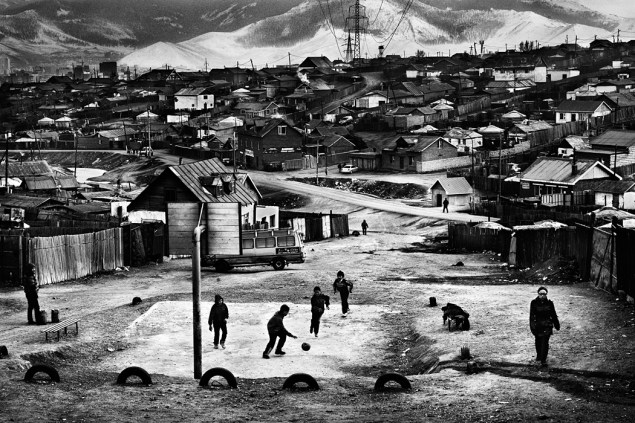 Opening: "Jacob Aue Sobol: Arrivals and Departures" at Yossi Milo Gallery
An exhibition of some 60 black-and-white photographs, taken along the route of the Trans-Siberian Railway by Danish photographer Jacob Aue Sobol, "Arrivals and Departures" documents life in the big cities and rural communities of Russia, Mongolia, and China. Shot over the course of three month-long trips from 2012 to 2014, Mr. Sobol's stark images capture both harsh realities and scenes of passion along the 6,000-mile ride.
Yossi Milo Gallery, 245 Tenth Avenue, New York, 5-8 p.m.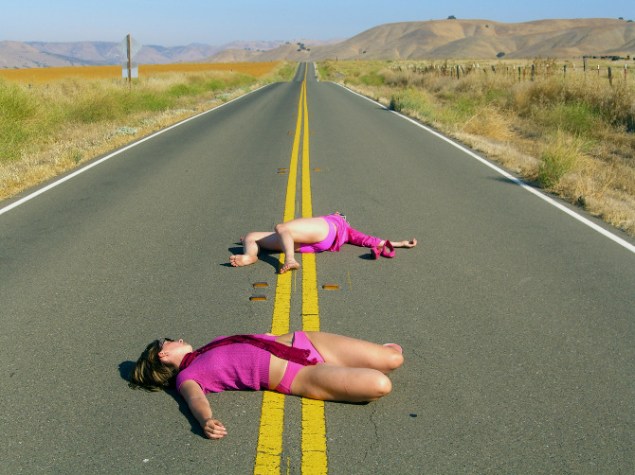 Opening: "Organic Situation" at Koenig & Clinton
A group show featuring the work of a dozen artists and artist collectives that explore our relationship to natural and constructed environments, "Organic Situation" includes Peter Scott's witty photograph of people posing for, or photographing, one another on the now iconic High Line. The site he chose frames visitors like a billboard. Additional works in the show include photo documentation of headstand performances by Fluxus artist Geoffrey Hendricks.
Koenig & Clinton, 459 West 19 Street, New York, 6-8 p.m.