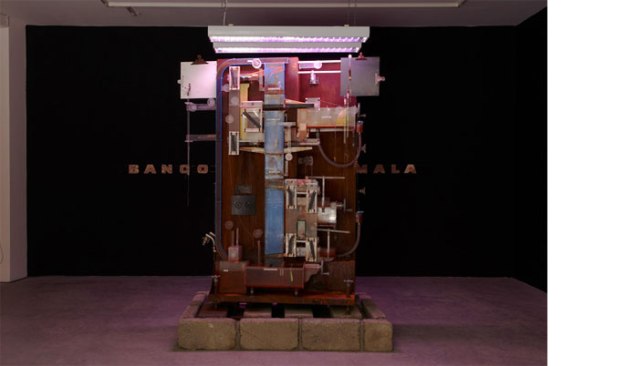 TUESDAY, JULY 21
Talk: "Drawing From Modern Archeology" at SculptureCenter
Three art and culture experts, including the New Museum's tech-savvy curator Lauren Cornell, talk about the complex research, storytelling, and economic issues related to Michael Stevenson's sculpture "The Fountain of Prosperity," which is currently on view. The New Zealand artist constructed a functioning replica of one of economist Bill Phillips' hydraulic analog computers, following his research into the Central Bank of Guatemala in the 1950s (which had one of these devices).
SculptureCenter, 44-19 Purves Street, Long Island City, 6 p.m., free with museum admission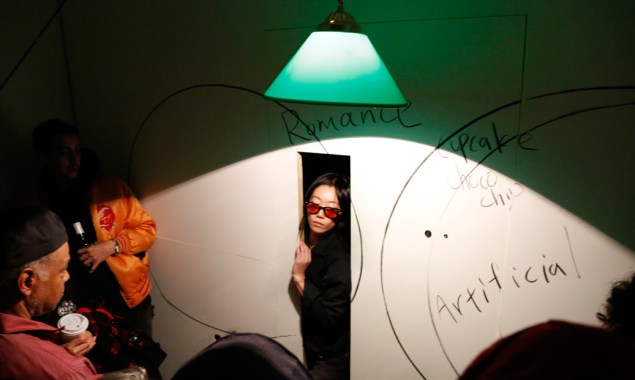 Performance: "Aki Sasamoto: Food Rental" at the High Line
After a standout show at Take Ninagawa's 2014 Frieze New York booth, where she exhibited modified furniture as sculptures, and her performance-driven installation at Frieze Projects in May, Japanese-born artist Aki Sasamoto is back with her latest project. On three evenings this week she presents "Food Rental," a custom–built food cart, from which she'll offer a menu of short yet amusing performances and demonstrations with a variety of everyday objects.
The High Line, High Line at the Rail Yards, New York, 7 p.m.
WEDNESDAY, JULY 22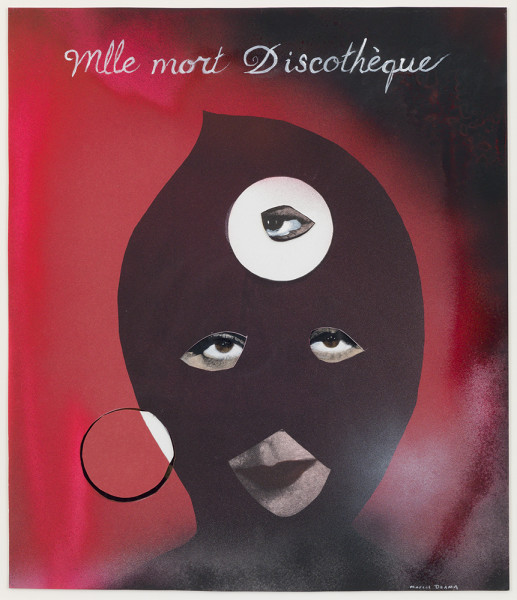 Opening: "826NYC Exhibition & Auction" at David Zwirner
Organized by the remarkable Zwirner-artist Marcel Dzama and online art marketplace Paddle8, this exhibition and auction benefits 826NYC, the local branch of a nationwide creative writing and tutoring organization. Artists from Zwirner gallery's blue-chip stable, including Raymond Pettibon, Neo Rauch and Chris Ofili, join writer Dave Eggers, who co-founded the not-for-profit 826, and filmmaker Spike Jonze, as well as other established and emerging talents, in contributing works.
David Zwirner, 533 West 19 Street, New York, 6-8 p.m.
Opening: "Object'hood" at Lesley Heller Workspace
A sprawling group show, "Object'hood" offers the work of 25 artists in mediums ranging from painting and photography to architecture and design. Isidro Blasco assembles his photos of a 360-degree view of Shanghai into a 3D, pop-up-book; Matthew Deleget makes a mural from black garbage bags mounted on the wall via static electricity; and Kate Gilmore offers photo-documentation of her act of bashing a hole through a partially painted sheetrock wall on a beach—thus providing a pathway to the sea.
Lesley Heller Workspace, 54 Orchard Street, New York, 6-8 p.m.
Reading: "Jonathan Galassi: Summer Readings" at Sean Kelly
In conjunction with the group exhibition "By the Book," which explores the influence of literature in contemporary art, author and publisher Jonathan Galassi reads from his debut novel, Muse. The new work is a story about a rivalry between two independent publishing lions in New York who are obsessed with a big-selling author of sensual poetry. A Q&A and book signing by Mr. Galassi follow the reading, which takes place amongst the art on view at the gallery.
Sean Kelly, 475 Tenth Avenue, New York, 6-8 p.m., RSVP requested
THURSDAY, JULY 24
Talk: "Studio Salon: Black Macho and the Myth of the Superwoman" at the Studio Museum in Harlem
In conjunction with Lorraine O'Grady's "Art Is…"exhibition, SMH Assistant Curator Amanda Hunt offers a tour of the 40 photographs on view. The Studio Salon continues with a conversation between Michele Wallace, controversial author of Black Macho and the Myth of the Superwoman, and Ebony.com Editor Jamilah Lemieux. The pair discusses the 1978 book's contribution to the black feminist movement.
The Studio Museum in Harlem, 144 West 125 Street, New York, 7-9 p.m., free with museum admission, RSVP requested. RSVP to programs@studiomuseum.org to pre-register, and all seating is first-come, first-served.
Opening: "Tom Phillips: Pages from a Humument" at Flowers Gallery
Appointed a Commander of the British Empire for services to the Arts in 2002, Tom Phillips began working on his epic series of collages, titled "A Humument," in 1966, after stumbling across a copy of A Human Document, a Victorian novel by W. H. Mallock, in a London thrift store. Since then, Mr. Phillips has produced several versions of his visual interpretations of the original book, along with paintings, sculptures, musical scores and prints inspired by the overall project. The gallery will present 100 pages from "A Humument"—the largest showing in America since it was shown in its entirety at MassMoCA in 2013.
Flowers Gallery, 529 West 20 Street, New York, 6-8 p.m.
Opening: "Other Criteria x Glenn Horowitz" at Glenn Horowitz Bookseller
Damien Hirst's celebrated arts-based publishing company, Other Criteria, pops up at Glenn Horowitz Booksellers, an East End bookshop that's famous for its first editions and signed copies of art and design books. The pop-up carries an array of signed books, prints, and artist-designed beach items by Hirst, Ashley Bickerton, Rachel Howard, John Isaacs, Richard Prince and others. Also featured are rare, out of print books from Mr. Horowitz's shop selected by featured artists, including Chris Burden's 74-77, chosen by Michael Joo, and The Raven by Edgar Allan Poe, chosen by Olivier Garbay.
Glenn Horowitz Bookseller, 87 Newtown Lane, East Hampton, 6-8 p.m.
Event: "Art Off the Wall: FAILE" at the Brooklyn Museum
The artist duo FAILE—whose current exhibition features an arcade, temple in ruins, and new paintings that resemble torn street posters—program the Brooklyn Museum's continuing Thursday series "Art Off the Wall." FAILE (artists Patrick Miller and Patrick McNeil) starts the evening off with a tour of its show and a video game tournament in the "Deluxx Fluxx Arcade," before turning the night over to the curated sounds of DJ Runna and a special DJ set by music producer, rapper, and art collector Swizz Beatz.
Brooklyn Museum, 200 Eastern Parkway, Brooklyn, 6:30–9:30 p.m., Free with Museum admission