Royal wedding fans, rejoice! This weekend, Monaco's Pierre Casiraghi—son of Princess Caroline of Monaco, and grandson of Grace Kelly—will marry Italian aristocrat Beatrice Borromeo. The wedding will take place on Saturday at Monaco's Pink Palace, Page Six reports. There will be a "traditional Monaco garden party," as well as follow-up celebrations on the Borromean Islands in Italy's Lago Maggiore.
With the fanfare surrounding Prince William and Kate Middleton's 2011 union, the world is no doubt well-versed in British royal wedding traditions: the Westminster Abbey ceremony; the Royal Air Force fly-over; the new couple's kiss on the balcony of Buckingham Palace. But what do Monaco's royal weddings look like? Let us look back at some notable royal nuptials from the small, but lavish, European nation.
Prince Rainier III and Grace Kelly—April 19, 1956
American actress Grace Kelly wed Prince Rainier III in 1956, at a ceremony in Monaco's Saint Nicholas Cathedral.
Like the Duchess of Cambridge would do over half a century later, Ms. Kelly wore a gown with a delicate collar, long lace sleeves and A-line skirt. After the ceremony, they celebrated with a seriously enormous wedding cake.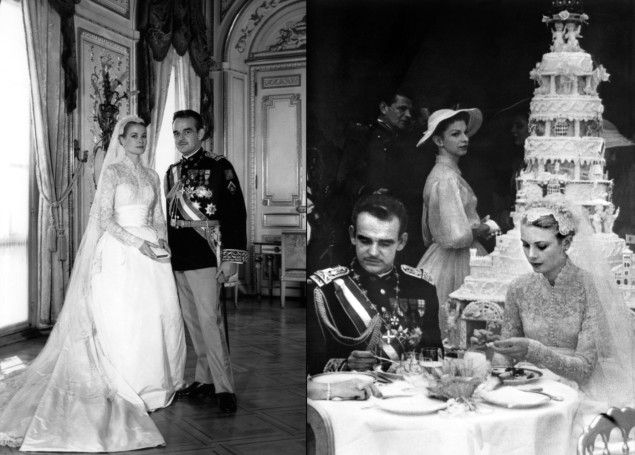 Princess Caroline and Philippe Junot—June 28 and 29, 1978
Though Princess Caroline is currently married to her third husband, Ernst August, Prince of Hanover, the eldest daughter of Prince Rainier III and Grace Kelly first married Parisian banker Philippe Junot in 1978.
[getty src="104709144?et=TPKjEM_iQtJ6j5RO8nnejg&viewMoreLink=off&sig=WN7q0OzhsOgMMjQgMcdUXu5_Btj8Z47bk6hefdIkRNk=" width="414″ height="594″]
Princess Caroline divorced Mr. Junot in 1980. She was married to Stefano Casiraghi from 1983 until his death in 1990.
Prince Albert II and Charlene Wittstock—July 1 and 2, 2011
The wedding of Prince Albert II and former Olympic swimmer Charlene Wittstock made plenty of headlines—not because of the exquisite ceremony, but because Ms. Wittstock allegedly tried to flee back to her home country of South Africa before the wedding took place.
The pair did ultimately wed, in a civil ceremony on July 1 at the Prince's Palace and a religious ceremony in the palace's courtyard the following day. Festivities included concerts by The Eagles and French composer Jean-Michel Jarre.
Ms. Wittstock wore a structured powder blue ensemble for the civil ceremony…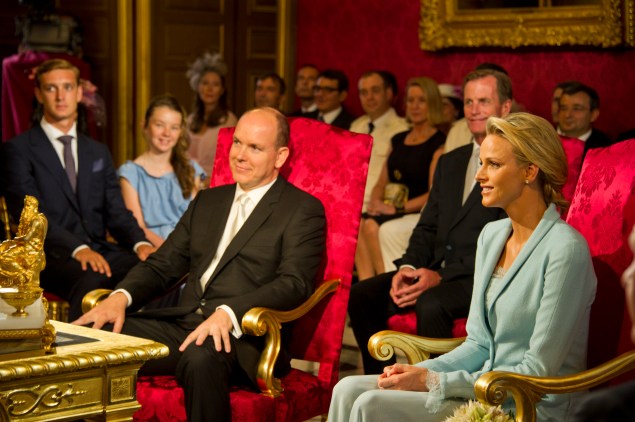 … but donned a traditional white wedding gown for the religious ceremony.
Andrea Casiraghi and Tatiana Santo Domingo—August 31, 2013 and February 1, 2014
Andrea Casiraghi, son of Caroline, Princess of Hanover and her second husband, Stefano Casiraghi, married wealthy heiress and socialite Tatiana Santo Domingo. The couple married in a civil ceremony in Monaco in August of 2013. Around six months later, the couple wed in a religious ceremony at Rougemont Church in Gstaad, Switzerland.
The bride's Valentino gown reportedly featured a lace bodice, ruffled skirt, and luxurious warm cape. It was wintertime in Switzerland, after all.