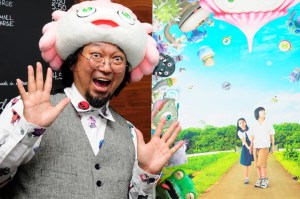 Takashi Murakami is at Opening Ceremony, a hip clothing store on the northern edge of Chinatown.  On his head is a plush hat in the shape of the title character of Jellyfish Eyes, his feature-film debut as a movie director. The soft helmet replicates a whitish-pink creature called Kurage-Bo, Japanese for jellyfish boy.
In the film, which opens tomorrow, July 15, at New York's IFC Center, only children can see the creature. But, outside, on the streets of Chinatown, Kurage-Bo is anything but invisible. A person in a fluffy pink Kurage-Bo suit is unloaded from a truck and posing for pictures with anyone who wants one. Joining him (it?) is a walking haystack-shape of grey shaggy hair called Luxor, a larger creature from the film.
The whole scene is absolutely kawaii, Japanese for cute.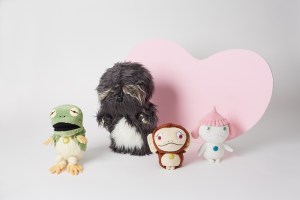 Murakami's art is sold by Gagosian and two other powerhouse galleries, Emmanuel Perrotin and Blum & Poe, often at seven- and eight-figure prices. (He's also good friends, really, with Pharrell and Kanye West, collectors and pals.) That's a lot more than the less-than-$100 that will get you stuffed figures of Kurage-Bo and Luxor at Opening Ceremony. In keeping with the lower prices, the evening's gathering lacks the snooty exclusivity of an art fair VIP klatch. Beer is being served rather than champagne. A smiling Murakami is autographing t-shirts and skateboards with his designs on them—and any other surface within reach of his black marker. Everyone gets a picture with him. No one in his discreet crew is tapping impatiently at a wristwatch or keeping admirers away.
This artist made his name with images and stories, as the standard description goes, that blurred the lines between the fine art and pop art, between culture and commerce.  He's had major retrospectives of his work at top museums in
New York and Los Angeles, among other cities. Now his film that gives itself over entirely to consumer pop is opening in the U.S., the story of a young boy weaponizing friendly creatures against predatory forces (and a monster) set loose in the aftermath of Japan's Fukushima nuclear disaster.
Given that Murakami is called the Andy Warhol of Japan, the wholesome Jellyfish Eyes, originally conceived as a cartoon, seemed to have little in common with any of Warhol's languid under-energized movies.
"That's funny," said Murakami earlier that day, wearing a down vest and a jacket in the office of Criterion Films, despite the 85 degree temperature outside. "I actually made the film thinking of Warhol's Frankenstein."
Warhol's films tended to be made with adults and "adult content," noted Murakami, who runs his operation, stores his work and his art collection, and lives in a huge factory north of Tokyo which out-Warhols in sheer scale any factory that Warhol ever operated. "My film is really geared toward children. It's a kaiju (monster) film," he said, referring to the Japanese genre that began with Godzilla (1954), the giant creature nourished in the ocean depths on American atomic fallout.
"I think people call me the Japanese Warhol just because it's an easy comparison," he said.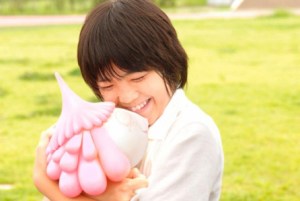 The man who has called Jeff Koons and Damien Hirst his peers identified another soul-mate, Stephen Spielberg. "I love Spielberg's work and the Spielberg family's work," he said, rattling off titles like Poltergeist, Joe Dante's Explorers and ET. "I always wanted to take the essence of these films and put it into my own work."