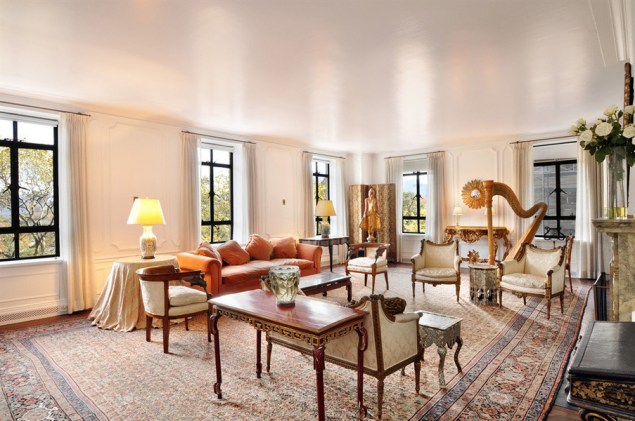 The San Remo, designed by Emery Roth, is inherently dramatic, its green-tipped double towers looming over Central Park West. It's no surprise that so much of the Hollywood set has found it appealing, among them Steven Spielberg, Demi Moore and Bono. But apartment No. 5C, which just sold for for $17.5 million, came with an unusual degree of drama.
Owned by Rona Maurer, the sale of the 12-room co-op at 145 Central Park West followed a lengthy legal dispute between Ms. Maurer, her late husband Jack Maurer, a financial research and consulting guru, and her estranged stepdaughter Lisa Bishop over the ownership of the apartment. Some years back, Mr. Maurer sued his wife (they remained married throughout their legal battle), claiming that she had tricked him into signing documents that gave her control over both the Central Park West pad and their Hamptons home.
The eight-year lawsuit resulted in a 2013 agreement that involved Ms. Maurer giving Ms. Bishop fifty percent of the profits from the San Remo sale, according to the Post. Which seemed to be the end of it, but this June, Ms. Bishop accused Ms. Maurer of hiding the pending sale in order to avoid paying Ms. Bishop her portion of the profit. It is unclear whether the lawsuit was settled before the sale was finalized; Brown Harris Stevens broker John Burger had no comment on the sale.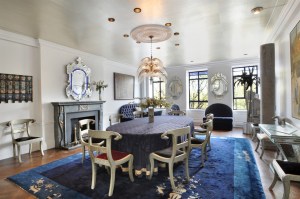 Mr. Burger's listing promises 65 feet of "unparalleled views of Central Park," herringbone floors and 24 windows spanning four exposures in the five-bedroom, 6.5-bath pad. A private elevator opens into a marble gallery, which leads off to no less than three entertaining rooms, all with Central Park views. Located between 74th and 75th Streets on Central Park West, it has a separate library, formal dining room and hard-carved mantelpiece framing a fireplace in the living room—definitely impressive, if perhaps a bit stuffy, decorated with a large doll, a rococo table and a harp. Then again, perhaps the bellicose Maurers required the celestial plucking of the instrument's strings when it was time to convene for tea.
All that, however, is likely to be changed by the new owners, architect César Pelli and his wife Diana Balmori, a landscape and urban designer. They got a bit of a discount for the apartment, which had last been asking $18.5 million, so they'll have some pocket money for making renovations to the grand, if somewhat old-fashioned, apartment. We might also recommend a psychic healer.