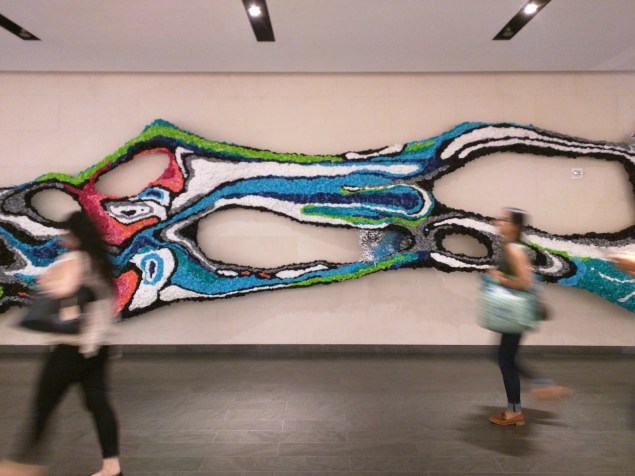 You have to ride an escalator to get the full view of sculptor Crystal Wagner's latest artwork. It curls up the walls of Viacom corporate headquarters in Times Square and into the company's second-floor lobby.
"It's the moment you feel you've made it as an artist," said Ms. Wagner and what's she's talking about is the moment an artist arrives in New York, or, in her case, wins the new Viacom residency that brought her to the city. The artist, originally from rural Pennsylvania, bubbled: "The city doesn't sleep—really."
Viacom is one of a handful of companies that in the past three years have started or greatly expanded residencies that import artists from all over the world to New York City. It isn't all philanthropy; it's a savvy business strategy. These programs give, or at least attempt to give, the sponsoring corporations instant cool and "cred' in the art world, and help them reposition their goods as more of a luxury purchase.
For artists, meanwhile, there's less of a stigma to working with corporate brands than there used to be: Jeff Koons launched his partnership with clothing retailer H&M two weeks after his Whitney Museum of American Art retrospective opened. Corporations have become just another way for artists to access the art world.
New York was "a before and after for me," said Dominican Republic artist Monica Ferreras De la Maza, another residency winner. "I was very productive, it felt natural, I felt very connected … I was in love with my studio!" And in New York, "I had to the opportunity to see what people are doing all over the world." Her residency was sponsored by the Oettinger Davidoff Group, which only launched its Davidoff Art Initiative in December 2012 but already has expanded it widely. The Swiss artisanal cigar maker has sent Caribbean artists to New York and brought artists to the Dominican Republic, where all of its cigars are made.
Davidoff has allied itself with the contemporary art world in other ways, sponsoring a Collectors Lounge in the various VIP rooms of the powerhouse Art Basel art fairs. The residency program ensures that collectors come in to the lounge both for the company's high-end product (a single handmade Davidoff Royal may be $50), and to look at the art or meet the artists. The company has added residencies in Beijing, Berlin and Switzerland, too, where art fairs or art scenes are based.
Meanwhile, the Davidoff Art Initiative has been more of a "delight," than he expected, said the company's CEO Hans-Kristian Hoejsgaard.
If the "art=luxury" strategy sounds familiar, it is. Credit Andy Warhol, and maybe casino magnate Steve Wynn. In 1985, the Pop art painter had dinner with the distributor of a then little-known Absolut vodka brand. Warhol agreed to do an Absolut Warhol ad featuring their "Product of Sweden" clear bottle for $65,000; Keith Haring followed. In the past, artists had been commissioned to do wine labels but the Absolut campaign eventually expanded to include dozens of artists. Meanwhile, sales of the vodka grew 42 percent annually from 1985 to 1988. (Today, Absolut is also one of the Art Basel sponsors.)
Fast forward to 1996, when Steve Wynn was building Bellagio Resort. An art collector himself, he launched it with his own art gimmick: The Bellagio Gallery and the Picasso restaurant, both hung with actual masterpieces. They sent a clear brand message to visitors to the overbuilt hotel town: "This is the luxury option."
Which brings us to Restoration Hardware, a California company with an unprosaic name that has been making a (largely successful) company-wide push into luxury markets and design— and in 2013 opened an artist's residency program and six-story art gallery in Chelsea to prove it. Artists were invited to New York to fill the gallery and share a roomy Dumbo, Brooklyn loft. "I don't want to leave," said Netherlands artist Gijs Van Lith, at a Meatpacking District dinner for the opening of his RH show last fall.
Explaining, in part, the strategy, CEO Gary Friedman told shareholders in a video that the company is the "leading U.S. retailer in Thai silk, Italian bedding, Belgian linen," but that information isn't widely known. So the company "developed a number of new product categories and extensions over the last several years, including Contemporary Art," he said.
Corporate priorities change, however, a pitfall of such programs. RH recently put the Chelsea art gallery building up for lease and the fate of the residency is unclear.
Ultimately, does allying with the art world help fix brand-image problems? Maybe. Restoration Hardware is a less glamorous name than it would like to be, and artists helped; Davidoff has had the problems in advertising and branding that all smoking companies have had, and the residencies change the conversation somewhat.
As for Viacom, it has in recent years united several disparate businesses: a spokesperson said the art program, which invited employees to help Ms. Wagner construct her sculpture, mingled people together and reminded them what a creative company it is.
Whatever benefit they are to the corporations, these residencies are indisputably a plus for the artists. For most people, for example, the long subway commute from Inwood Bronx to Brooklyn would be a chore, but, during his Davidoff residency, Dominican Republic photographer Polibio Diaz said, "I saw the commute not as a hardship but as a plus." It informed his art, which often deals with issues of immigration, and "I started doing some video."
Soon, "I couldn't believe I could do so many new works in such a short period of time," Mr. Diaz said. "New York stepped it up." And the benefits "are not over," even though he is back home now, he said. At a dinner for the Davidoff Art Initiative, the girlfriend of a third artist (she had accompanied him) talked about how much they missed New York pizza. But she concluded, simply, "He came back a better painter."