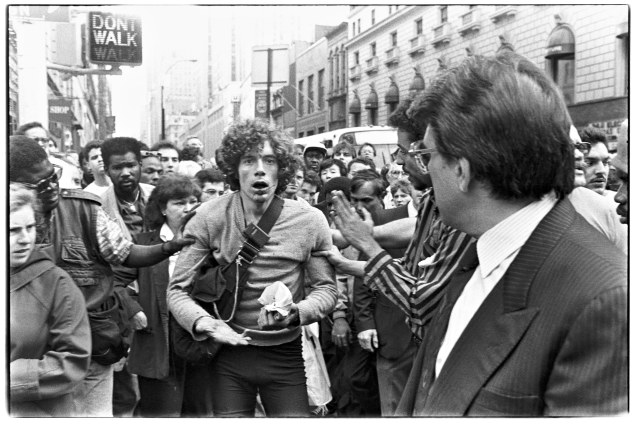 Andrew Savulich's first photo collection, The City, is both a tribute to tabloid photography in its heyday and the wildness of 1980s New York City. Sprinkled with a good dose of Mr. Savulich's dark sense of humor, the images are snapshots of everything from a furtive glance between an NYPD officer and a female bystander to a man pushing a sheep into the back of a taxicab.
The book has been an opportunity for the photographer, who has worked at the Daily News since 1993, to showcase his photos from his years roaming the city as a freelancer, most of which were never published in newspapers.
"Usually the stuff I like is a little quirky and slightly off beat," Mr. Savulich told the Observer. "The stuff that makes the paper or that the editors like is maybe more direct and obvious."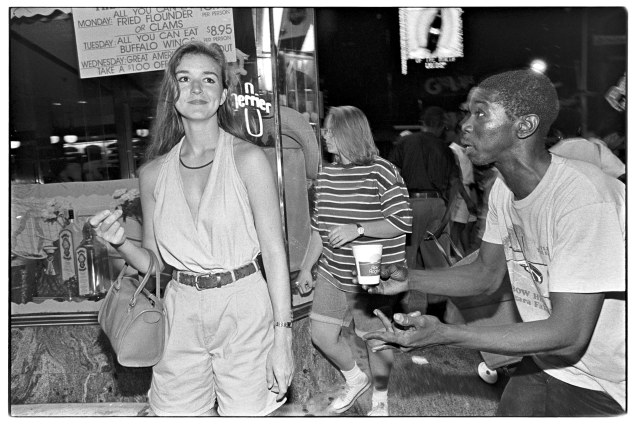 When Mr. Savulich, who moved to New York in 1975, began working as a freelance photographer he bought a police radio (incidentally the same one that he still uses now) on a friend's recommendation. Soon he was tracking down accidents and crimes, taking candid photos around the city, often in Times Square.
"It's elusive. You can't say I'm going out to get this type of picture, it just kind of happens… You almost have no real say in the matter" Mr. Savulich said. "I'm making it sound like an out-of-body experience. Maybe it is, to some extent."
Mr. Savulich cites the famous New York tabloid photographer Weegee as a major influence, whose grainy black-and-white photos of nocturnal New York are not so different from his own work. He also references German photographer August Sander, who used photography to document various social types in pre World War II Germany, in influencing his style of street photography.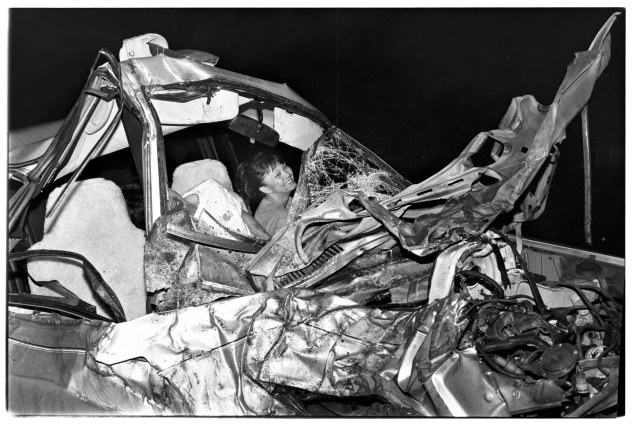 All photographs are accompanied by Mr. Savulich's signature captions—part of his process of filing photos into his portfolio. One caption, for example, reads "Taxi driver explaining how an argument with a customer caused him to drive into a restaurant." Over time, the practice became a sort of ritual, and he continued to write them for his own records.
"After years I just enjoyed doing it. It almost was part of the picture, I thought" he said.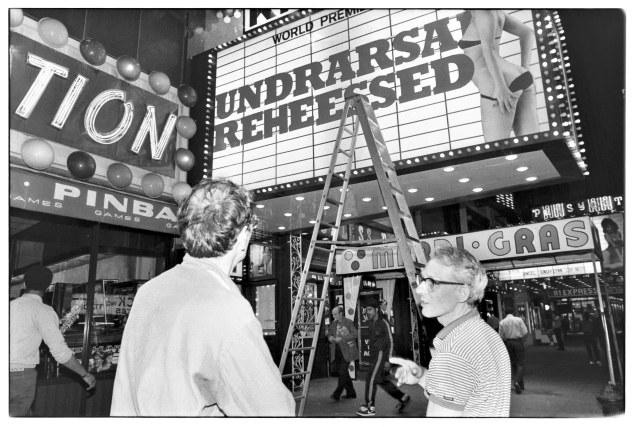 For those more familiar with New York's present state than its past, The City is a window into New York when it was wilder, more dangerous and, perhaps, more fun for a tabloid photographer.
"It was more of an open city… If you really wanted to you could get access to places, specifically crime scenes. There was a wildness. Times Square was much more interesting. It was still tacky, strip joints were still going strong. It just had this weirder energy to it than now" Mr. Savulich said. "It was sort of a magical time."
Despite witnessing an era of rampant crime Mr. Savulich retains a strong affinity for the 1980s. "I kind of think that society peaked in the '80s" he said.