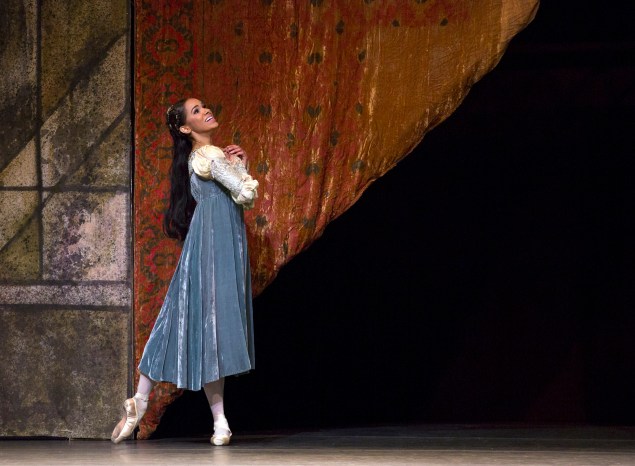 The big news story at ABT this spring was the promotion of Misty Copeland to principal dancer after a storm of publicity unmatched in my lifetime. She's been turned into a cause. And now she's officially the first African American female principal in the company's history. But was race a determining factor in her ascension? It can't have been her age—most principals are promoted well before they're 32.
In the endless stories about this story, almost no one writes about Copeland's abilities. Of course no dancer—no matter what his or her color, age or amount of publicity—rises this high in a major ballet company without real talent. The important question for ABT and its audience is the nature of her talent, and how it will be deployed.
What I've seen since 2001, when Copeland joined up, is a hard-working, pleasing performer, with two strong strings to her bow. She has a passionate explosive quality that's a lot of fun to watch, as she demonstrated early this season as a kind of gypsy bombshell in Othello (a ballet we fervently hope never to see again), and in such past demi-solo roles as a Don Quixote Flower Girl. More important, she made a good impression in 2012 in Ratmansky's Firebird, although overshadowed (as who wouldn't have been) by Osipova, who was first-cast. And then this season she displayed her other valuable side: a lovely lyrical quality that carried her successfully through Romeo and Juliet.
The hitch is that as of now, she hasn't shown serious classical chops. She's been given shots at Swan Lake, with no conspicuous success, and although she might do well in the first act of Giselle, I can't imagine her in the second, with its fierce technical demands. Or as Aurora in The Sleeping Beauty. These roles are the natural territory of Osipova, Vishneva, Gillian Murphy, Polina Semionova (injured this season, alas), and Isabella Boylston, the last ABT female to be made a principal. (Boylston, several years younger than Copeland, was quickly recognized as a brilliant classicist and rushed to the top—no doubts about her Giselle or Odette/Odile or Aurora or Bayadère's Nikiya).
There's certainly room for someone with Copeland's appealing qualities in the ABT repertoire. The question is whether she can find a meaningful place on the classical roster. Fingers are crossed. Meanwhile, she's taking another career step—more big publicity—substituting for City Ballet's Megan Fairchild in the current Broadway production of On the Town. Next stop a TV show of her own?
* * *
The main event of the season was undoubtedly Ratmansky's new version of Sleeping Beauty, which he was already strengthening in its second week—the Lilac Fairy, for instance, was given an appropriate dominating position at the end of Act One, after she's put Aurora and the court to sleep. This Beauty is more about style than meaning (unless you feel that the style is the meaning), so that it ends up more a historical revelation than a grand vision of life. But within the bounds Ratmansky set himself, it's a welcome success.
And in its second season, Ashton's Cinderella looked more comfortable on the company. (I suspect that the dancers' greater confidence here stems from the workout Ratmansky gave them staging Beauty.) The difficulties with Cinderella are the result of an excess of music combined with a thinness of dramatic material—Ashton was well aware of the difficulties the score presented him with—so there's a lot of highest-level vamping. The court jester goes on jesting and jesting until you want to squash him, although the young Gabe Stone Shayer was a charmer and a natural—he has the moves. Craig Salstein looked weary in the role, and who can blame him? He's more a dramatic dancer than a pyrotechnician. On the other hand, since last year he has refined his performance of the silly Step-Sister (Ashton's own role in the original production); it's become a triumph of forlorn humor, while both Roman Zhurbin and Thomas Forster gave us a true zany as the dominant sister.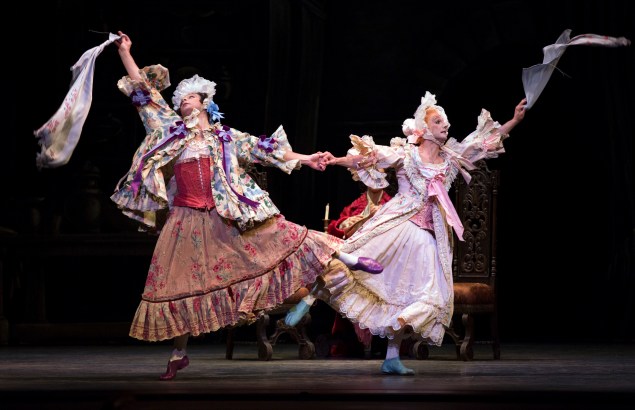 Marianela Nuñez, who was here last week with the Royal, was an attractive Cinderella—she's strong, clear, musical. The problem with this role isn't her, it's that Cinderella as a character doesn't exist. Who is she? A nice girl whose luck changes—someone things happen to, not someone capable of inner development. All she can do is live happily ever after. Still, what a break that we now have this Ashton semi-masterpiece in the rep—and how lucky for the ABT dancers!
At the beginning of the season there was a single triple-bill, honoring the company's beginnings (this was its 75th anniversary). A lackluster Les Sylphides, a horrifyingly cute Rodeo, but a commanding and deeply moving Pillar of Fire—Gillian Murphy magnificent, Marcelo Gomes ditto, Stella Abrera (another new principal) ditto. Hats off to Amanda McKerrow and John Gardner who staged it—and to Antony Tudor who created it.
All in all, the company named four new principals and six new soloists—this represents massive turnover. But I like to think that the growth of ABT as a company will continue smoothly. I understand that to cope with the insanity of having to fill the gigantic Met eight weeks a year, the powers that be feel that to entice the fans they have to keep recruiting more and more Russian or British or Danish stars, if only for a single performance. But that strategy isn't, obviously, what's turning the company into a real company. Something's going right, however; we may not grasp what it is, but it's palpable. If you carefully pick and choose what to go to—avoiding the dopey Swan Lakes, for instance, or the aberrant Othellos—the Met is the place to be at this time of year.