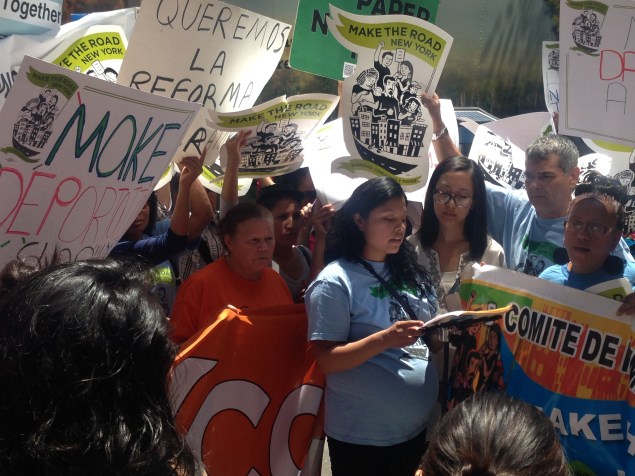 As the Fifth Circuit Court of Appeals in New Orleans heard arguments for and against President Barack Obama's stalled executive order on undocumented immigrants, pro-amnesty demonstrators targeted Republican mega-donor Robert Mercer's hedge fund headquarters on Third Avenue in Manhattan this afternoon.
Liberal groups like Make the Road New York, New York Communities for Change and the Retail, Wholesale and Department Store Workers Union protested outside the offices of Mr. Mercer's Renaissance Technologies. Mr. Mercer is known for his large contributions to Texas Sen. Ted Cruz, now a contender for the GOP presidential nomination, and to conservative think-tanks like the Heritage Foundation—forces the protesters blamed for a federal judge's February injunction against Mr. Obama's executive order to allow as many as 5 million undocumented immigrants who have resided in the United States for five years to register to avoid deportation and work legally in the country, if they have no criminal record.
"They're providing all this so-called research that's really just anti-immigrant rhetoric that has been supporting the delay of the immigration relief actions," said Thanu Yakupitiyage of the New York Immigration Coalition.
Brooklyn Councilman Carlos Menchaca, who is Mexican-American, highlighted how the city has used its municipal identification system to integrate foreign nationals and grant them access to local public services. He argued that the solidarity of immigrants lacking proper paperwork nationwide would force their cause forward, and chided Mr. Mercer for funding groups opposed to granting those people American citizenship.
"We are not one, we are not 10, we are millions of people making ourselves heard," he told the Observer. "We want to highlight the money funding very hurtful programs, hurtful type of data that is being used right now in the courts. That needs to be exposed. So if you didn't know about it, people now know about it."
A Renaissance Technologies spokeswoman declined to comment, but a four-person counter-demonstration occurred a short ways away.
"If they're good for our country they're a lot better for their own," Peter Katalanas, a New York City sanitation worker affiliated with the group New Yorkers for Immigration Control and Enforcement, told the Observer. "They're breaking the law. People need to follow the law."
Mr. Katalanas said that he had never heard of Mr. Mercer before learning of today's demonstration, but supported his work.
Several of the counter-protesters shouted their endorsements of Donald Trump's candidacy for the Republican presidential nomination. Mr. Katalanas, however, thought Mr. Trump's repeated claims that many Mexican immigrants are drug dealers and rapists lacked tact.
"I liked what he said, but I didn't like the way he said it," he said, adding that he had yet to decide who he supported for president in 2016.
(Disclosure: Donald Trump is the father-in-law of Jared Kushner, the publisher of Observer Media.)