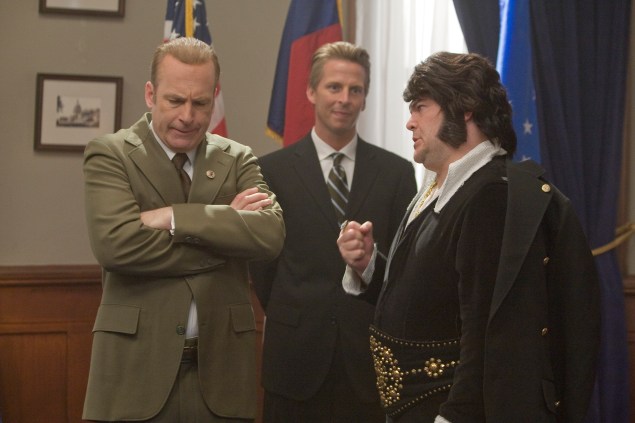 The 4th of July is a time to reflect on the moments in history that have made the United States the great country that it is. Yay, right. We all know it's more about picnics and fireworks.
Well, if you find that between your hot dog and apple pie you're interested in learning a little something by watching some hilarious re-enactments of historical events, then Drunk History is just the thing you're looking for. Yes, there is an actual television program in which consuming alcohol and acting out are encouraged. And, yes, it is actually called Drunk History.
The Comedy Central show is based on the popular web series of the same name and is the liquored-up narration of our nation's history. Host Derek Waters, along with an ever-changing cast of actors and comedians, travel across the country to present rich tales about the evolution of the United States. Booze helps bring out the truth. It's just that sometimes the truth is a little incoherent.
In each episode, an inebriated narrator struggles to recount an event, while thespians enact the  anecdote while lip-synching the narrator's dialogue — slurring, burps and all. (It might sound a bit crude and it's really not, it's much more humorous than offensive.)
In the thus far produced 18 episodes, tales about Benjamin Franklin, the Aaron Burr-Alexander Hamilton duel, the short Presidency of William Henry Harrison, the assassination of Abraham Lincoln and the Watergate scandal have been presented.
While it's awfully fun to watch someone get drunk as they try to tell a coherent story, much of the real surprise in Drunk History comes in the form of the actors who appear in the re-enactments. Past participants include Jack Black, Bob Odenkirk, Will Forte, Dave Grohl, Connie Britton, NIck Offerman, Winona Ryder, Terry Crews, Kristen Wiig, Jason Schwartzman, Luke and Owen Wilson, Abury Plaza, Casey Wilson, and Patton Oswalt…and this is just a very small sampling. You never know what famous face might suddenly appear onscreen as an historical figure.
For those of you who say, 'I'm not interested in political and presidential stuff,' there are also episodes entitled "Sport Heroes' and "American Music" which feature…well, sport heroes and American music. For example, the music episode contains an awesome vignette about the birth of rap featuring Rhetta from Parks & Recreation…and Jaleel White – yes, Urkel! See, I told you you, never know who might pop up on this show! Like as St. Nicholas or Dolly Parton or Rosa Parks.
Speaking of Rosa Parks, it was through watching Drunk History that I learned that she wasn't exactly the first person to be arrested for resisting bus segregation. Another young lady preceeded her 'sit in' by about nine months. This series is very educational!
This is just one of the facts you may absorb as you watch the narrator work hard to stay upright whilst relating an informative narrative about an important culture event – spoiler alert – some of them don't suceed.
It's important to point out that the narrator is chaperoned by Waters so that he/she does no harm to him/herself. Waters does share a cocktail with each episode's host, but he never imbibes to the point of not being able to make sure that the story reaches it's completion by the narrator.
Also, please be aware that because the narrators' are telling these stories in their own words, there is often profanity within the re-enactments. Some viewers may consider this offensive but others may find that it makes these tales interesting and more relatable.
Bottom line, if drinking and profanity offend you Drunk History might not be for you (not really a shocking assumption, right?), but if you're looking for some good ol' informative, alcohol laden television, expecially as you celebrate the 4th, you're in luck. Comedy Central is airing every Drunk History episode in a big bombed marathon starting at 8:28am est on July 4th and continuing until 5:28pm est. (yes, these are the exact times listed on the Comedy Central website.)
To sample an episode, click here to view "Philadelphia," which features snippets about General von Steuben, Benedict Arnold and the election of 1800.
Episodes are also avialable for streaming on Hulu.com. and new installments of Drunk History will debut on Comedy Central on September 1st.