TheMittani.com took a tantalizing approach to launching a media venture, one that would be the envy of any similarly inclined entrepreneur. It started with a large audience before it ever even purchased a URL.
The Observer spoke to Alex Gianturco, the site's founder, during a recent telephone call from his home in Madison, Wisconsin. Described by the Wall Street Journal in 2014 as the most powerful of Eve Online's half-million players, Mr. Gianturco explained for The Observer how the community of readers on the current site grew out of a few other communities that preceded it, going all the way back to forums on SomethingAwful.com.
"Eve is the only game that allows for an espionage meta-game. In most games, when you try to spy on people, mechanically, it doesn't support it."
TheMittani.com is one of the major websites that cover the events that take place inside Eve Online, the massive multiplayer game that first started in 2003. Eve is a sandbox, meaning when something happens in Eve, it's part of history (like in the real world). There are no do-overs. With thousands of players across a virtual space, people want to know what's happening in sectors far from their spaceship. That's why we recently wrote that covering virtual words like Eve is the future of journalism.
TheMittani.com doesn't limit itself to Eve, though. It's also a media concern that doesn't just describe what's happening in the games it follows, it also guides its readers' play, as Mr. Gianturco explains below, as well as how starting a real world company from one inside a virtual world saves a great deal of time in terms of searching for talented partners.
The company relies on a large base of volunteer writers, whose work is overseen by employees of TheMittani.com. Mr. Gianturco declined to disclose how many people are currently on staff at the company.
The interview has been edited for length and clarity in collaboration with Mr. Gianturco.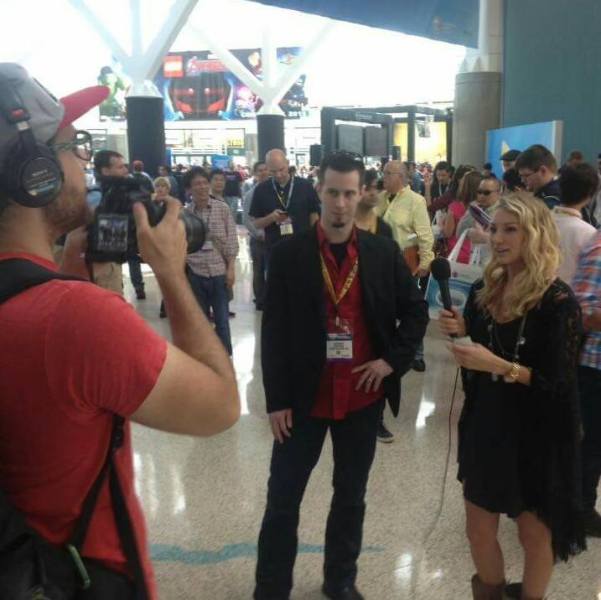 So was your plan always to go from being an Eve player to turning your status into a business?
Everything came later. We would say it was a happy accident—I was committed to our alliance's goals in the espionage directorate, eventually becoming the leader of the alliance itself, and our community's desire for better media coverage of our favorite game was the seed from which TheMittani.com developed.
What's it like being both an Eve player and a person who's covering what goes on in there?
TheMittani.com is a neutral website, but we used the Goonswarm Federation brain trust of contacts to start it. If you are the leader of an Alliance, you have 40,000 people connected. And you can send broadcasts out to people.
A coalition and even an alliance is larger than most multinational corporations.
An alliance is a collection of corporations. A guild of guilds. The Goonswarm Federation alliance has about 12,000 players. A coalition is an organization of alliances.
Goonswarm came from the SomethingAwful.com community. We are a group of people who come from a massive forum on the Internet that plays a whole bunch of games together.
The members of SomethingAwful refer to themselves as Goons. 4chan came from SomethingAwful, too. Moot was a goon. The Weird Twitter guys are almost all goons. It's kinda like a secret society on the internet.
The players of Eve are mostly mid-30s professionals with established careers and highly developed skill sets. And, usually, even people who are former players of the game still keep up with what's happening.
It sounds like information has been the secret to your success? When did you figure out spying was a key strategy for your faction?
I came into it and wanting to do that. Eve is the only game that allows for an espionage meta-game. In most games, when you try to spy on people, mechanically, it doesn't support it.
I knew the guy who'd founded Goonswarm from a previous corporation within Eve. He invited me to come be a director in the early days, but I didn't want to be a director who did nothing, so I took up espionage. Back then, there wasn't much espionage in Eve, but it's become a prerequisite now. When you hear about those huge battles that happen, you can guarantee that there are spies on both sides, reporting on what's happening.
The way espionage tends to work in Eve is that people have multiple characters controlled by one human, so characters can infiltrate another Alliance pretending to be part of it. When you have these wars with 50,000 characters on each side, you also have spies on each side that are reporting on field commander orders, ship movements, just like in a real battler.
There's been a lot of coverage of The Disbanding of Band of Brothers. We used a top tier defector within Band of Brothers to essentially disband that alliance entirely.
When we did the Disbanding, Warren Ellis posted on his blog, 'Hey, the Goons finally took over EVE. Nice.'
(Note: Mr. Ellis is a legendary writer of comic books, including, among scores of others, the graphic novel Red, which became the Bruce Willis/Helen Mirren ensemble action series).
EveNews24 combines old school reporting with a dose of 'chillzone.'
What's the vision for TheMittani.com?
What makes the Mittani.com special is that we are not merely a news site but a place for our entire community to come together. We play games together. We create news in games together.
It's an interactive community process rather than the one-way street that you get from normal news sites.
Our contributors are pulled from the games we are playing.
We also invade other games. We invaded H1Z1. Under the architecture of TheMittani.com we attacked a completely different game. We brought thousands and thousands of players into that game and wreaked havoc.
H1Z1 is a zombie survival sandbox game. There's a huge confluence of interests.
We are a multiplatform community. We are playing other games together, in an organized way, so we get victories. The more victories you have, the stronger your bonds, which spirals forward in a positive way.
When you speak of your community, are you referring to SomethingAwful, The Goonswarm Federation or the readers of TheMittani.com?
The readers. This is a development, an evolution. In 2007 our organization, our community, was just the Goonswarm Federation, and in time that grew into a coalition called the Imperium. Simultaneously, our community of readers far beyond our alliance and coaliton began to form out of the readership of TheMittani.com as a whole. The community has many different banners, but it is essentially the same seed.
It sounds kind of like what you're saying is that what makes The Mittani different is that it calls people to action? In other words, other media just talks about what's happening in places, but TheMittani.com makes things happen, as well. Is that right?
What makes us different is that most media interests start as a blog or newscast or networks that start out without an audience. TheMittani.com is the outgrowth of an expanding and existing community. The community came first, and then we decided to create the media for it.
We are not merely providing coverage, our community is interacting with each other. It's quite interesting.
Are there other virtual worlds that are coverable?
"TheMittani.com is the outgrowth of an expanding and existing community. The community came first, and then we decided to create the media for it. We are not merely providing coverage, our community is interacting with each other."
One of the reasons the Imperium went to H1Z1 is because it is getting there. Richard "Lord British" Garriott is making Shroud of the Avatar. He created Ultima. (Note: Ultima is thought to be the original sandbox game) I think Shroud of the Avatar looks that way, as well.
I have met Lord British and that's why Shroud is so interesting to me. They have a really interesting vision. And most of the games online can trace their history back to Ultima Online.
Shroud of the Avatar exists in some form today and it already has some novel, creative mechanics.
Any time there's something that is not scripted, you can report on it. Wired did that with Second Life.
Critical mass is a big component of making that sort of reporting work. The reason why it happened in Eve is because you begin to have a scalable organization that goes beyond one blogger. You have to have an organization to thrive in Eve Online. Eve is like Somalia in space. There's no rules—the only ways you can survive is to network and cooperate.
What's the challenge of covering virtual worlds?
The challenges of covering the virtual world are similar to those of covering the real world. Veracity, sourcing, eyewitness biases. When something happens, it's really hard to pin the truth down. When something happens, once there is reporting on something, one side, usually the losing side, will dispute it.
Is it structurally hard to report? Is there a way that you can effectively run out there with a virtual camera and record what's happening?
There are a bunch of ships you can use that have cloaking devices. Also, our organization grew out of Goonswarm, which has the largest single spy network in the game, which means we usually know exactly what's going on everywhere.