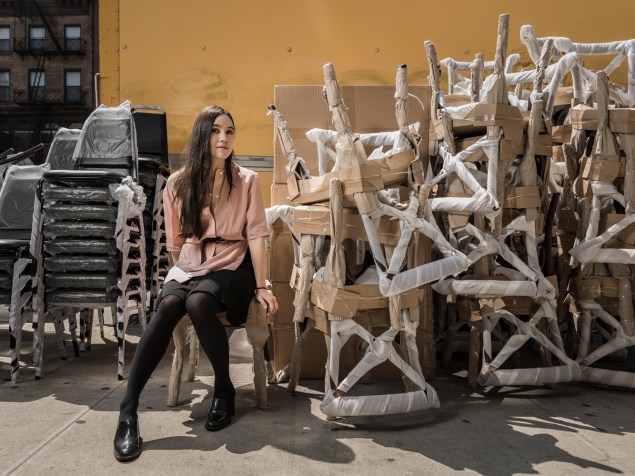 Alexandra Kleeman borrowed the title of her debut novel from a slogan in an ad for the bodybuilder Charles Atlas, whom she discovered, as a kid, while reading through her dad's old comic books.
"You'd flip to this page and there'd be this grossly, inhumanly muscly man," Ms. Kleeman recalled recently over coffee at the New Museum. "Below, it would say, 'You too can have a body like mine,' and I just thought that was a really scary idea—seeing a man like no man I had ever seen before and feeling, viscerally, the promise that I could somehow come to be like him."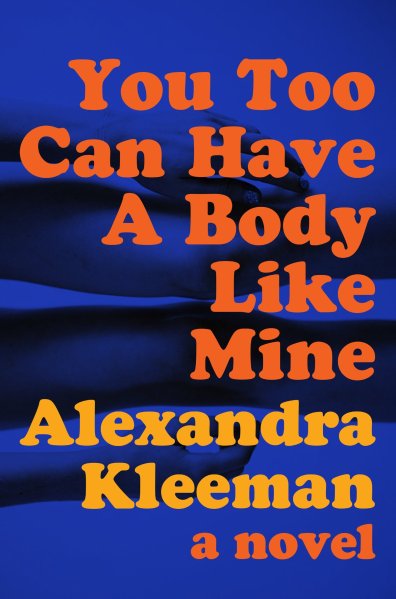 That fear underpins Ms. Kleeman's first book, which comes out next month. There are no steroidal men, but You Too Can Have a Body Like Mine (Harper) ties into the modern, paranoid obsession with health and food and fitness, a fascination of the author, who has written about the fruitarianism movement. (When we met, she was carrying a bag of sour cherries and gooseberries, which she called "zombie grapes.") "I think a lot of us have some version of this fear that what we consume will change us now," Ms. Kleeman said.
The book is a kind of satire of capitalist consumption, with hints of George Saunders. There's a not-so-subtle critique of Scientology in the form of a crazily named cult—New Christian Church of the Conjoined Eater—as well as disturbing descriptions of oranges that may turn you off the fruit for a while. It's told from the perspective of a character named "A"—each of the three main characters has a letter name—who becomes a vastly different person in mind and body by the end.
Ms. Kleeman, 29, has just been hailed by Publisher's Weekly as a writer to watch, and her hope in releasing this rather original novel was to defamiliarize the reader with certain aspects of daily life we take for granted—commercials, grocery stores, makeup, digital communication. If that sounds intimidating, it's worth pointing out that Ms. Kleeman, quiet and reflective in conversation, can be unexpectedly funny on these topics, in an absurdist kind of way. "I really wanted to picture them in a light that would make them seem as strange as I sometimes feel they are," Ms. Kleeman told the Observer.
There is, for instance, this paragraph on sexting, in which the novel's narrator ponders the possibility of sending her boyfriend a dirty text message:
I thought about sending him something explicit. Something I'd like to do with him. But in all honesty all I really wanted to do was stay here in bed until everything changed around me. Besides which, it was a challenge for me to compose erotic messages. I always got lost in the parts of speech: if I wanted something involving one particular part of his body, I had trouble not using the preposition "with," telling him to do something "with" it, or else I would be telling him to "put" it someplace. Both structures made the part eerily passive, something he could pick up and set down and use or not use, like a hammer or telephone. The same thing happened when he talked about things he would do to a particular part of my body: the body that emerged from his description seemed to have only three or four parts, linked hazily by what I would assume was more body. Talking about my body in any way took me apart. Afterward I would lie still and try to put myself back together, naming the parts one by one silently, in order, beginning with the small bones of the foot.
Ms. Kleeman, who lives on Staten Island with her fiancé, the novelist Alex Gilvarry, has a scientific mind and is ridiculously well educated. Her parents are both professors, and she grew up all over, in places like Japan and Colorado. She got into writing in high school. "I was pretty big in the Asian-American web log community," she joked. Before she published her first short story in The Paris Review, at 24, Ms. Kleeman went to Brown, where she studied cognitive science and creative writing, an unusual combination but one that gives her a unique angle on the literary world. Just as workouts and diet regimens can change the physique, Ms. Kleeman seems to think of language as a kind of Bowflex of the mind.
She worked in a lab studying aphasics and running language-processing experiments, but found the work ultimately unstimulating—too many Excel spreadsheets. She is currently completing a dissertation on rhetoric at the University of California, Berkeley, though the novel has kept her away from it. "In that dissertation, as in this book," Ms. Kleeman said, "what was interesting to me about language was that it's not very passive. You can feel your brain changing as you read something that is really not comfortable for it to read."
Ms. Kleeman had that experience during a "tortured weekend" in college, when she dug into Gertrude Stein's "Composition as Explanation," which offers, with weird, disorienting grammar, a kind of theory of the perception of innovation. "She's sort of the one who made me go, 'Oh, I spend my days in this language-processing lab studying how people understand language,' " Ms. Kleeman said, "'but the language we give them is just like the tiniest tip of the iceberg for what language can do to a person.' "
Novels, she decided, were a more effective instrument. Aside from You Too Can Have a Body Like Mine, Ms. Kleeman is also working on a series of short stories, which will be published next year, as well as an article for Harper's on the history of bed rest. She recently returned from a writer's retreat in France, and next fall, she'll teach a writing class on the subject of time at Columbia University, where she got a master's in fiction.
For now, Ms. Kleeman seems to be adjusting to the impending release of her first novel, which is sure to make a splash. She refers to herself, in air quotes, as a writer, though the novelist's life, the process of molding language alone in a room for long periods of time, certainly seems to have changed the way she thinks about herself.
"Sometimes you go for weeks without writing successfully and you don't feel like a writer anymore," she observed. "When friends ask me how my week was or how I'm doing, I think back on it and I've just been by myself."
"Like, I'm just a sketch," she said.