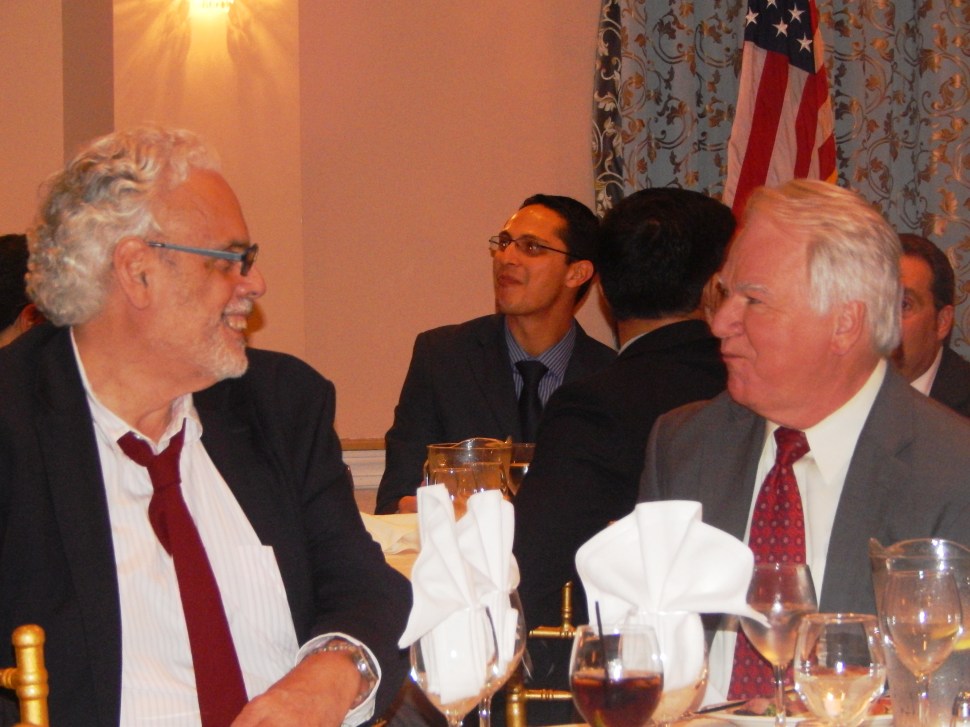 As you get older in life, things get taken from you, Al Pacino intones in Any Given Sunday, and so it was this past Saturday that PolitickerNJ savored the Jersey Journal's Political Insider column and protected the reading of it and the re-reading and pondered its sentences with mortal mournful attentiveness as at no time previous, knowing that the column is possibly one of those precious things soon to be taken from us.
Columnist Agustin "Augie" Torres announced on his Facebook page that he is getting laid off by the downsizing Journal and hasn't yet decided whether he's going to continue to write the column part time. Of course, we'd like it if he carries on in some capacity, and we'd love it if he comes and joins us at PolitickerNJ, but having that fulltime veteran's newspaper column twice a week is one of those very rare gifts in politics in this bedraggled state. Losing him this way as a full-time newspaper guy is, of course, a travesty.
A lot of people in this game talk about this stuff like they know what's going on. They don't.
But Torres – Torres goes back to when he covered the Bill Musto corruption trial, one of those watershed events in New Jersey politics., Always dug in on the dynamics of his home town of Union City, he chronicled the end of Musto, the rise of Menendez, the rise and political demise of Rudy Garcia, and the upswing of Brian P. Stack. Not only did he do the work as a reporter, but his love of writing evident in the column add up to the voice of Falstaff: wise, biting, battle-tested, distrustful of power, irreverent, and through all the cynicism and world weariness, zestful and of grand good humor.
We remember now without going back to the clips many of the times Torres made us laugh out loud with his descriptive passages and his eye for detail, like when he worked an entire column around a chair in Hoboken that Frank Sinatra once occupied, or how he talked about a relocated statue jumping around Journal Square like a piece on an electric football board, or described a politician "crumpled up like a GI Joe figure," or at the start of one of Stack's events, blandly ordered his always compliant chorus to cue the Max Steiner score.
Like Falstaff in the Boar's Head Tavern, Torres' presence at Hudson County Democratic Organization (HCDO) events suggests a fourth franchise boss sitting on a higher strata of existence, like a bearded inquisitor overlord in a painting by El Greco, pen scribbling, rendering final judgment.  But that judgment in the end is never of a peevish or hypocritical, unkind or ivory tower kind.
There is always an abiding good-heartedness under the most cutting qualities of the prose, and just when if looks like the blade will drop for good, another injection of humor arises. It is as though through everything, a hearty manly laugh abides.
"Outsider 'the temple,' the four bright search lights seem to be searching for Luftwaffe bombers. Follow Alice through the Schuetzen portal and you're met by incredibly loud sounds and bright lights creating almost a physical aura around each person, making it difficult to speak and listen."
That's one paragraph, and it is embedded with literature, history, politics, and culture, its urbanity batted out to the masses like no big deal, like a throwaway line. The casualness is the key. For just when you thought the game truncates the language and buries it, there is Torres having a good laugh, after all.
That's Torres, the Political Insider.
That's what he gives the bizarre and catastrophic world of New Jersey politics.
So if his column is going to soon get taken from us by NJ Advance Media, here's hoping that gives the Falstaff of Hudson a chance to take a little rest before writing again – columns, absolutely, and hopefully a book; in any event, whatever he chooses, we must relish the fact – and this is what makes him most praiseworthy – that it will be his speech. "Stand aside, nobility." Just like the whole comedy given to him and that he contributed to and will continue to create, whatever the humorless tone of the Journal at present, Torres will have the last laugh.