Amazon (AMZN) claimed it would pull out all the stops today for its "Prime Day," which promised Prime members "more deals than Black Friday." The sale does include steep discounts on Amazon's own products, such as the Kindle and the Fire TV Stick (which Amazon is still shilling for despite bad reviews), but there was widespread disappointment on Twitter this morning about the non-Amazon items on sale. The selection of movies and accessorie was limited and had a random "garage sale" feel to it—none of the items were things people seemed to be really clamoring for.
Here, 10 of the oddest deals (side note—one sale was so absurd it merited an article all its own):
Finish Powerball Tabs Dishwasher Detergent Tablets, Fresh Scent, 90 Count for $13.95
Amazon is publicizing this as one of the marquee deals on their home page, which tells you pretty quickly that Prime Day is scraping the bottom of the barrel.
Rubbermaid Plastic Easy Find Lid Food Storage Set, 42-Piece for $31.99
Anyone who likes Tupperware this much will go to Target on their own and shop to their heart's content—they don't need Amazon's help.
Sorbus Heart Shaped Silicone Mold for Chocolate, Jelly and Candy for $7.04
Cute for Valentine's Day, but why include this as part of a flash sale in July?
The Lord of the Rings: The Motion Picture Trilogy on Blu-Ray for $61.99
This is certainly a decent price for three movies and a boatload of extras, but considering this DVD set was first released in 2012, it's safe to assume that anyone who wanted this collection already owns it.
Phillips SHQ1300LF/27 ActionFit Sports Headphones, Lime for $17.99
Fact: nobody who wants to look sporty while listening to music on their run would wear lime green headphones.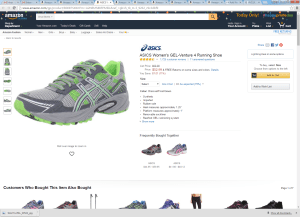 ASICS Women's GEL-Venture 4 Running Shoes, Lime for $52.99
The headphone principle also applies to these babies.
24″ Inch Extra Long Handled Shoehorn for $11.99
If you're a person who regularly uses a shoehorn, chances are you wouldn't go on Amazon to get one—you'd probably drive your old fashioned jalopy to get one from the shoemaker down the lane.
Airplane Seat Belt Extender for $13.58
Though the product description claims that this "fits most airlines," it doesn't specify why anyone, even someone who wants a little extra room on a flight, would be caught dead using one of these things. Airplane seat belts are unwieldy enough—why add more pressure?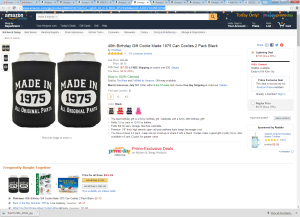 Made in 1975 40th Birthday Gift Can Coolie- 2 Pack, Black for $7.65
No matter how trashy you are, it's doubtful you'd want to ring in the big 4-0 by telling party guests that you have all your "original parts."
Pure Garcinia Cambogia Extract for $19.96
It's obvious that Amazon is just clearing its shelves with this deal- Dr. Oz's endorsement of this product has been discredited by John Oliver, among others.
If Amazon had put a hot item like Go Set A Watchman on sale, Prime Day would no doubt have been more successful.