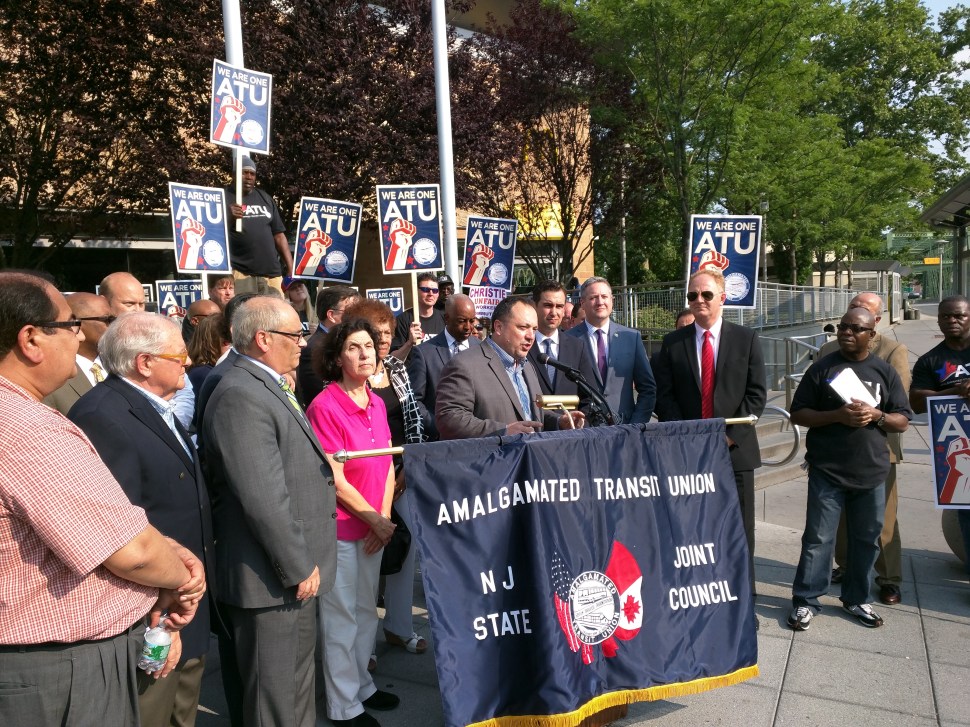 TRENTON — After watching him officially kickoff his long-shot presidential bid in the gymnasium of his former high school, one of the likely candidates clamoring to succeed Gov. Chris Christie in the front office suggested the Republican will have to try harder convincing voters on the campaign trail of the validity of his record — at least if he wants it received better than it has been at home.
Jersey City Mayor Steve Fulop, one of the handful of Democrats gauging a run for governor in 2017, told PolitickerNJ that he doesn't believe the upwardly-mobile pol was exactly honest in portraying his accomplishments in New Jersey in that speech — and that it's only a matter of time before voters in places like New Hampshire catch on.
"This is the first time you've saw him in that setting, meaning a long speech, and it's interesting. The sad thing is we've seen this movie before, and so we know that much of what was said was not factual. That's a big problem," Fulop, speaking after an unrelated press conference, told PolitickerNJ. "And I think as New Hampshire gets to see this movie again and again and again, they're going to come to the same conclusion. I think common sense rules, and so once people see it again and again, they're going to start to dig a little deeper, and they're going get a better understanding of what his record is."
Christie took to New Hampshire following his campaign kickoff on Tuesday, launching his 2016 bid for the party's nomination into overdrive with town hall meetings and and voter meet-and-greets. With the budget done at home and the legislature on break, he's expected to spend much of the next two weeks in the first-in-the-nation primary state.
But Christie's is not the only kickoff to have taken place this week — Fulop, too, is in the midst of a campaign with seeming political implications, though not for his 2017 bid. The Democrat is leading "Fight the Hike," a recently-created a non-profit organization designed to raise awareness of the latest proposed NJ Transit fare hike.
On Monday, the campaign took Fulop to Glenn Rock, where he and a platoon of labor leaders and Bergen County Democrats condemned the hikes as a tax on working families.
Yesterday, on his second anniversary as mayor, it took him to Trenton, where he joined a similar group labors leaders and Mercer County Democrats in blasting the hikes — as well as Christie, who they said has not done enough to address the state's transportation funding problems, among other things.
The group included Mercer County Executive Brian Hughes, Assemblypeople Liz Muoio (D-15), Reed Gusciora (D-15), Wayne DeAngelo (D-14), Daniel Benson (D-14), state Senator Shirley Turner (D-15), Chairman of the New Jersey Amalgamated Transit Union (ATU) Statewide Council Ray Greaves, and AFL-CIO's Eric Richard.
Ironically, the rising Democrat is already receiving many of the same complaints as he tests the waters of a gubernatorial run that critics have lobbed at Christie, who spent much of the last year out-of-state preparing his White House bid.
"It's hard to really tout your economic record when you have nine credit downgradings, when you have transportation issues that weren't funded, when you have pension issues that weren't resolved. And his crown achievement was obviously the pension issue, which has kind of fallen apart on him, to say the least," Fulop said. "So when you think about what is his trophy achievement, you have to scratch your head."
Lawmakers strove in vain to address many of the issues dogging the state and Christie's record during their recent budget negotiations in Trenton, but ultimately failed to include long-term solutions for any of them in the $33.5 billion spending plan the governor approved last week. Part of the problem, observers note, was stalemate — Democrats refused to engage Republicans on further reforms to a beleaguered pension and benefit fund, while Republicans, with Christie's help, stonewalled major tax hikes Democrats had proposed in their own spending plan.
Fulop, for his part, said fixing such problems require leadership — the kind Christie isn't offering.
"At the end of the day, he talks a lot about leadership, and you have to show some leadership," he said. "He's been the governor for the last six years, and at the end of the day he's got to find solutions there. He's got to be as accountable as Democrats are."