Some say that great artists create not out of want, but out of necessity. If this maxim is true, than Joe Gibbons' robbery of a Capital One bank in Chinatown last year may indeed be the piece of performance art he has claimed it was.
The botched heist began when Mr. Gibbons, 61, entered the Capital One on Dec. 31 and handed a teller a note reading, "This is a robbery. Large bills. No dye packs / No gps."
One dye pack did make it in the stash of $1,002 dollars he made off with, which soon exploded all over him. Mr. Gibbons laid low at The Bowery Grand Hotel until a tipster responded to publicized bank security footage, leading police to his room.
The pink and silver video camera that police found on Mr. Gibbons was just the first sign that he was not typical bank robber. As it turned out, Mr. Gibbons is a filmmaker and performance artist of some notoriety. He has given lectures on art at M.I.T. and his work has appeared at the Museum of Modern Art, the Centre Pompidou in Paris and multiple Whitney Biennials.
Earlier this week, Mr. Gibbons was sentenced to one year in prison for the robbery, but the art community sees his reasoning for robbing the bank—an act that Mr. Gibbons claims was part performance, part financial necessity—in the context of his career of similar, liminal "performances."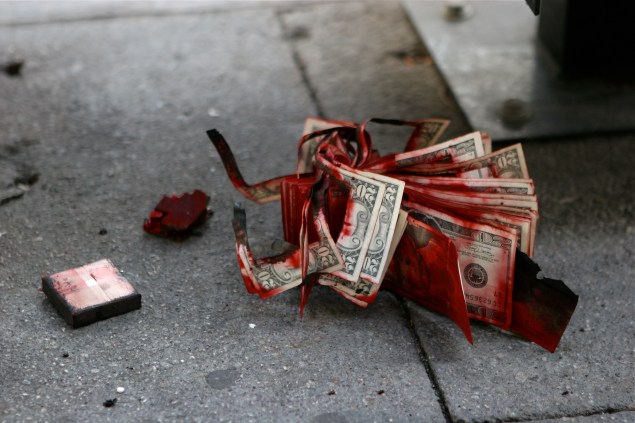 Indeed, the art world has come to Mr. Gibbons' defense.
For instance, Light Industry, a film and electronic art venue in Brooklyn, held a benefit for Mr. Gibbons last February. "Joe Gibbons [is] long regarded as one of the masters of small-gauge cinema," claims the benefit listing. "Though little else is publicly known about the case at this point, even these few details resonate strongly with Gibbon's body of work, leading some to speculate that this event may have been intended as part of a new Gibbons production."
And an Indiegogo page for Mr. Gibbons' legal fees, and costs of living upon returning to society, reached $8,799 of its $15,000 goal as of yesterday. The crowd-funding page claims, "The majority of Gibbons' films and videos center on a protagonist named Joe Gibbons. This guy looks, speaks and even behaves like the filmmaker, however you might say that he is an intensified, more performative and fictionalized version of the artist."
Even Guardian art critic Jonathan Jones praised the heist—atypical of his often vitriolic opinions about contemporary art. He compared Mr. Gibbons to groundbreaking performance artists Vito Acconci and Chris Burden.
"Joe tends to live on the margins," the crowd-funding page goes on to explain. "His slippery sense of narrative and faux-diaristic leaves one wondering if Joe is simply documenting his life on camera or instead living his life for the camera."
Unfortunately New York's finest aren't too keen on this "faux-diaristic" narrative. Mr. Gibbons was held on $50,000 bail pending his trial, and will need to serve six more months to fulfill his one-year sentence.
He does not plan to appeal the decision.