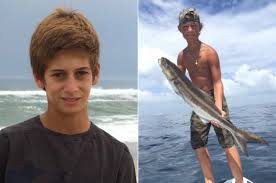 Heartfelt and fervent art-world prayers go out to Nick Korniloff, director and founder of Art Miami, Art Southampton and several other fairs, whose son is missing off the coast of Jupiter, Fla. The Coast Guard has been searching for his son, Perry Cohen, 14, and a friend and neighbor, Austin Stephanos, who have been missing since Friday.
"Please help," his mother Pamela Cohen, director of marketing, VIP and sponsorship of the fair, posted on Instagram earlier. "Spread the word to all marinas up the coast of Florida and throughout the Bahamas."
The family noted at press conferences and prayer vigils that the teens were experienced sailors. Their families are offering a $100,000 reward for their rescue and asking experienced boaters in the area to help in the search, according to CNN.
"They know the waters. They've been through rough water, they've been through thin water. … Those are salty dog kids, and they know what they're doing out there," said Mr. Korniloff, Perry's stepfather, who told reporters Sunday that the families would stop at nothing to bring their children home, CNN reported.
Mr. Korniloff, who has a high profile in the art world and runs the fair that is perhaps the chief rival to Art Basel Miami Beach, is a well-liked highly regarded art-fair manager with industry ties throughout the world. The moneyed Miami art world is particularly well-placed to be of aid.
The Coast Guard, according to CNN, has been searching an area the size of Maine for the young men, whose boat was found capsized Saturday, the day after they went missing.
Our thoughts are with the families.