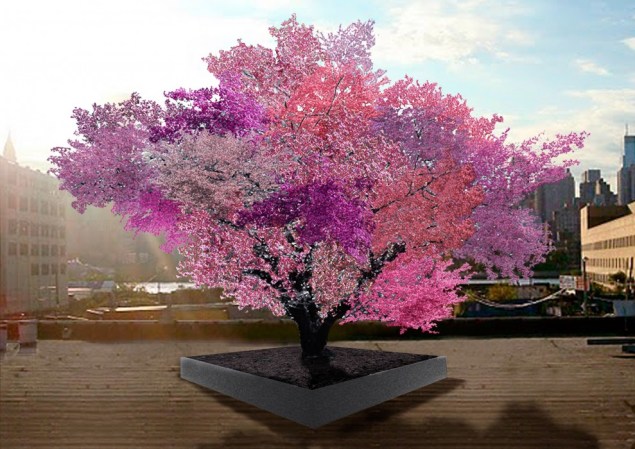 Syracuse University professor and artist Sam Van Aken grew up on a farm, but he never thought he'd become the agricultural equivalent of Dr. Frankenstein.
"I hadn't really thought about farming for twenty years," said Mr. Van Aken in his Tedx Talk from last year. That is until he picked up the lease on a 200-year-old stone fruit orchard in Geneva, N.Y. The orchard was one of the last growers of stone fruit trees in New York State, and it became a great opportunity for Mr. Van Aken to preserve a wide variety of ancient and lesser known species of fruit trees.
By using an ancient technique called "chip grafting," Mr. Van Aken began to transform a hearty native plum-tree into a hybrid tree that could bear over 40 different types of stone fruits, including peaches, nectarines, apricots, cherries and almonds.
This wondrous tree looks like any old tree, until spring, when it blossoms with multiple colors of flowers that range from white to fuchsia. Once summer rolls around, the tree starts to bear a plethora of different fruits.
All of the stone fruit tree varieties come from Mr. Van Aken's orchard, where he keeps hard to find varieties of stone fruit trees. One of his favorites is the Greengage plum-tree, which came to the U.S. from France and bears plums that look like Granny Smith apples.
Mr. Van Aken, who is represented in New York by Ronald Feldman Fine Arts, plans to use proceeds from the trees (which sell for around $30,000 each) to create an orchard that will serve as an archive of native and antique stone fruit tree varieties.
As for his Tree of 40 Fruit, as its known, dozens have been planted around the U.S.
"Part of the idea behind the Tree of 40 Fruit was to plant them in locations that people would stumble upon them," Mr. Van Aken told National Geographic.
You can find out where they are by clicking here.